City poised to bounce back with one of fastest economic recoveries in Europe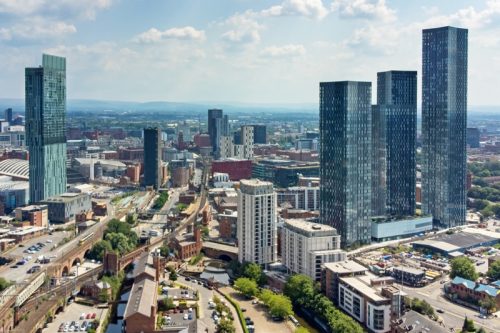 Manchester is firmly on the road to recovery after it achieved an eight per cent improvement in its 2021 economy.
This was the second fastest rate of growth of 30 major European cities, behind Dublin at 11.9% gdp growth, according to the latest research from Avison Young.
The report says that, in 2022, Manchester's economy is predicted to grow by 6.5%, a significant increase compared with a 10-year, pre-COVID average of 3.4%, with the growth driven by a rebound in the sectors which were hardest hit during the pandemic.
In the offices sector, demand for workspace in Manchester continues to be robust and 2021 saw a healthy proportion of grade A take-up, of which there is a limited supply. This is contributing to the relatively muted levels of rental growth and is underpinning prime rents at the top end of the market, but overall, there is more available space than at any point over the past five years.
Of particular interest is the growing tech sector in the city, with Roku and Cloud Imperium both committing to grade A space last year and due to occupy space during the course of 2022, bringing with them hundreds of new jobs.
Manchester's retail offer remains buoyant and continues to attract retailers across a broad spectrum of offers, but, like other major cities, has seen an increase in vacancy over recent years and is struggling to regain its pre-COVID footfall numbers. Vacancy for the city centre is at 17%, falling to 10% for prime space, with rents that were previously falling expected to start to plateau in the city.
In the hotel sector, Manchester is due to see the highest number of new openings outside London during the course of 2022, the success of which will be driven by football and big events returning to the city.
The industrial market saw unprecedented levels of demand during 2021, leading to prime rental growth of circa 15% across the North West.
This momentum is expected to slow in 2022, driven by a lack of available stock and a squeeze on land supply. As of Q4 2021, only 2.5 million sq ft of space was available across the entirety of the North West, which is lower than the five year average take up of 2.7 million sq ft.
The strong demand is also driving increases in land values in Manchester, where values have reached £2m at Trafford Park.
Another sector that performed well in 2021 was the housing market, which saw significant price growth and activity. In line with the wider prevailing trend across the UK, Greater Manchester properties with private outdoor space, or a high level of communal amenity space, have seen the most demand. While this trend is expected to continue into 2022, transaction levels and price growth will be moderate, but remain strong relative to pre-pandemic levels.
However, Manchester's lack of affordable housing supply is a constraint, and the city will see an increase in supply from for-profit registered providers in 2022. The deal completed at the end of 2021, for L&Q through Trafford Housing Trust and FEC to deliver 128 new homes as part of the Victoria Riverside development, most likely offers a glimpse of the future for further supply in the short-medium term.
The city's ability to deliver new space across all sectors is likely to come under pressure over the next few years, as a result of build cost increases and the rising cost of materials that are essential for more sustainable development, known as 'greenflation'. However, this is not just applicable to Manchester, and the city continues to reinvent itself across a number of sectors.
Chris Cheap, managing director UK regions at Avison Young, said: "In a year that was not without its challenges, Manchester has proven once again that resilience lies at its core.
"It's unlikely that some sectors will ever be the same as in their pre-COVID days, but that doesn't mean it's for the worse. Workspace landlords are evolving to create a more diverse offer, and demand for flexible office space is likely to increase during the course of the year. The leisure sector is also diversifying and with work set to start this year on the UK's first city-based wellbeing resort at Trafford Park, Manchester is continuing to champion new and exciting projects."
He added: "We expect to see significant amounts of development and regeneration across the Greater Manchester boroughs this year, not just in the city core, and those projects will undoubtedly be under greater scrutiny not just for their green credentials, but also for their deliverance of social value. Under Bev Craig's new Manchester City Council leadership, we expect to see these subjects brought into even greater focus which can only have positive ripple effects across the region."
The report also says optimism is high for Liverpool's continued COVID recovery in 2022, with the city forecasted to see GVA growth of nearly six per cent, compared with an average of just 0.6% before the pandemic. This will be driven by the rebound in the accommodation, food, arts and entertainment and education sectors.
The outlook for employment in Liverpool is also positive, with 6,000 jobs expected to be added during the course of the year, bringing the number in employment to 286,000 – a record for the city. More than 1,800 of these roles are forecast to be office-type jobs, while accommodation and food services is predicted to see around 1,000 new posts created.
Much of the positivity in the city is centred around the work going on in the Knowledge Quarter, building on Liverpool's global leading strengths in health and life sciences. There is a significant amount of high profile demand from quasi-office occupiers, set to capitalise on The Pandemic Institute's commitment to the city during 2021, in addition to the Royal College of Physicians also moving into The Spine.
Further office and lab space at Paddington Village is earmarked with HEMISPHERE, the first net zero carbon office building in the city, set to commence on site later this summer. The building will feature 116,000 sq ft of grade A office space for health, education, science and tech occupiers.
Upper Central, the new Littlewoods TV and film hub, as well as £250m of new transport and road infrastructure, will also bring significant investment into Liverpool. At the other side of the city, the new Everton stadium in the North Docks is igniting further regeneration and helping to accelerate the delivery of Liverpool Waters.
Liverpool has a reputation as an excellent shopping destination, with a larger retail offering than other comparable cities. While vacancy currently stands at upwards of 15% across the city centre, Liverpool One continues to attract a range of new entrants to the city and average rents are expected to stabilise during the course of 2022 as the retail and leisure offer continues to diversify. In towns across the city region, significant repurposing of retail space is expected to continue, with Knowsley, St Helens, Wirral and Sefton all seeking to transform their shopping centre offers.
The transport and storage sector is expected to see output growth of circa nine per cent, which is its highest growth for more than 20 years. The strength in this sector is driving Liverpool's industrial market, which has experienced significant reduction in available stock while demand has soared, leading to rises in rents and land values. Liverpool's freeport status will continue to drive new sources of occupier demand for a port which has already helped facilitate the city's handling of approximately 45% of the country's trade with North America.
Another sector that was booming in 2021 and is set to have another strong year, is the residential market. Liverpool saw exceptionally strong house price growth in 2021, at 17.9%, it was well ahead of the national average. This is partly driven by Liverpool's relative position in the housing market compared with the wider country, particularly southern locations.
The city benefits from relatively good affordability, enabling buyers to put upward pressure on pricing without being too financially stretched, and this will help it to continue its strong performance in 2022.
Stephen Cowperthwaite, regional managing director and principal at Avison Young, said: "It is incredibly reassuring to see that the data backs up the more intangible feelings of optimism across the region. Like any city, Liverpool had its challenges in 2021 as it navigated its COVID response and recovery, but it has demonstrated its strength in health and life sciences.
"Loss of UNESCO status, whilst disappointing, is merely the loss of a label that has constrained development of the city. There are so many development and investment opportunities right across the region, as well as sustainable repurposing of existing stock, that make it an exciting period brimming with opportunity."
He added: "A theme that will be present across all sectors in 2022 is ESG and we hope that the more it is discussed, it will help to generate positive actions across the real estate sector that benefit our environment, communities and the city's economy. Liverpool is well positioned to take the lead on the ESG agenda."