We can now go back to the office, but are they still providing what our customers want?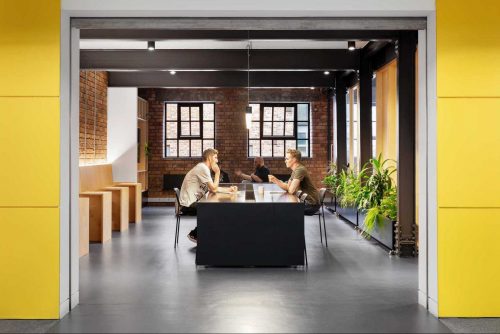 By Nathan Cornish, Group Board Director at Urban Splash
'Party talk' has dominated the news coming out of Westminster in the last couple of weeks, so you'd be forgiven for missing the Prime Minister's announcement on revoking the Work from Home advice, encouraging businesses to get back into their workspaces.
But is the commercial sector ready to give occupiers the space they need as we move to a new working world?
Many colleagues are now used to working from home – and there'll undoubtedly be trepidation about plunging straight back into office.
Every business will have its own needs, and it's hard to make blanket assumptions, but for me I think the answer is sticking to our guns by investing in great design and amenities and continuing to work on our portfolio – whilst making sure we listen to our customers. The idea that the demands of our customers have changed just because of the pandemic is misguided in my opinion, there have been changes coming for some time.
Whether by luck or judgement, we started re-investing heavily in our portfolio in 2018. Long before COVID was with us we'd already committed to investing £2m at Beehive Mill in Manchester, £1m at the Tea Factory in Liverpool and a further £400,000 in Vanilla Factory and £500,000 at the Matchworks – something that's helped us secure lettings on 130,000 sq ft of space in the last year alone.
What are now being touted as 'post pandemic' demands, are, thankfully, requirements we were meeting already. It was our response to increasing demands from businesses looking not just for great design, but for outdoor space, breakout rooms, showers, bike facilities and other amenities that met the needs of increasingly unconventional working patterns.
It sounds simple stuff, but it's the small details that count, and it's also vital they're delivered with thought and consideration – not just thrown into a scheme like a blanket check list.
We're not there yet, though, and it's a continuing love affair with our portfolio, you need to keep investing both time and money into keeping things fresh.
Our investments certainly don't mean it's 'job done', we've got a portfolio of more than 1.5 million sq ft so we can't stand still – that's why we've just invested a further £400,000 at 5 Richmond Street in Manchester's Gay Village.
We've just started working with one of my favourite architects (don't tell him I said that!) – Maurice Shapero at Waulk Mill. I love working with Maurice, he always hits you with the unexpected, it's important to be uncomfortable sometimes and try new things – just check out his latest scheme with us at Beehive Mill.
The toilets won't fail to make you smile and the common areas are wonderfully colourful, it's got the fabulous Maurice stamp all over it.
And it's not just workspaces. Leisure operators have been devastated by the impact of lockdown and are looking for fresh spaces to attract more footfall in a post-COVID world.
We have helped our customers through this difficult time by talking to them all individually – to understand their business, situation, and their requirements. Whether it's been their outdoor spaces we've increased, putting on COVID-friendly events or just letting them have break out kiosks or installing one-way systems to increase footfall and reduce cars.
We've consistently offered flexible terms since we set up 27 years ago – something that has often been resisted by lenders and other property companies. But we've always thought that if the space is good enough it will always re-let quickly, especially if the customer is offered flexible terms.
Finally, it seems that post-COVID there's more need than ever for that flexibility and lenders are now more comfortable with multi-let buildings on short leases – which is some way is less risky than a single tenanted building, so maybe our time has come at last!
Broadly speaking, the commercial sector has not always been accommodating when it comes to change, but flexible options are a must. It's hard to project now how much workspace each business will need, largely because each company is going to have to establish their own version of 'hybrid working'.
Many office-based businesses will likely find that colleagues want to come together and be in the office at the same time, but then there will be a couple of days in the week where employees want that maximum productivity and, therefore, work from home. Although offices may be used less overall, it's likely that businesses will have to cater for peak attendance, meaning square footage requirements need careful planning and working space will not necessarily need to be smaller.
Ultimately, I think it's inevitable that people will gradually return to workplaces, but this will be accelerated if the space is more attractive than working from home.
It's up to developers and commercial landlords to keep on investing in great spaces that appeal to tenants, and inspire the fast growing companies that call the North West their home.