Property take-up rises across Manchester region, report reveals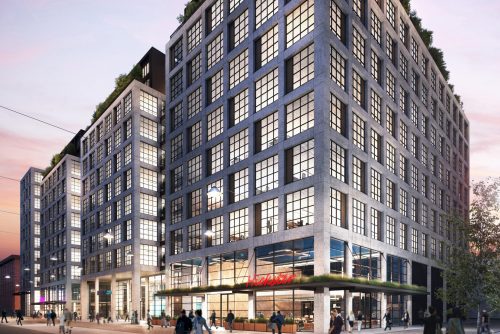 Total Take up in Manchester city centre during 2021 was 1,052,746 sq ft which is a 31% increase from 2020.
The latest figures from MOAF (Manchester Office Agents Forum), show there were 10 key deals over 20,000 sq ft including Roku (115,066 sq ft), Cloud Imperium (81,130 sq ft), Octopus Energy (38,114 sq ft), and Castore (22,085 sq ft).
Inward investment continues to be prevalent in the Manchester city centre market accounting for 33% of total take up across 10 deals including all the occupiers listed.
Emerging districts, including Circle Square and Enterprise City, have secured the two largest transactions.
MOAF said in 2022 it expects to meet the 10-year average of 1.5m sq ft take up, given that there is already more than 650,000 sq ft of active requirements in the market.
The sub 5,000 sq ft market remains the most active accounting for more than 75% of total transactions.
Richard Dinsdale, of Edwards & Co, said: "Inward investment accounts for an impressive 33% of the total take-up in 2021, which is a genuine reflection of the success and desirability of Manchester as a city to live, work and invest in.
"The emerging districts will continue to play an important part to attract and accommodate companies such as Cloud Imperium who have chosen Manchester as their UK HQ from California. We envisage this growth to accelerate as we emerge from the pandemic, it is an exciting time for the Manchester office market."
Amelia Barratt, of Sixteen, said: "It is encouraging to see the take-up returning to pre-pandemic levels. One of the most compelling trends is the flight-to-quality and the hotelisation of office space. Proactive landlords are making more strategic investments in their assets with the aim of providing exclusive workspaces that occupiers can be proud of.
"This alongside enhanced 'Cat A' or turn-key solutions are aiding the return to work movement and as a result, the landlords who do invest are seeing improvements in their headline rents."
In South Manchester there has been an 82% increase in take up totaling 496,677 sq ft with 11 transactions over 10,000 sq ft. which has been bolstered by several freehold deals.
The largest deal was to Mitie who took 33,567 at Atlas Park along with O'Neill Patient taking 22,836 sq ft at 2 Stockport Exchange.
Meanwhile, in Salford Quays, there has been a 20% increase take-up from 2020 totaling 272,011 sq ft with seven transactions over 10,000 sq ft.
The largest deal was to the NHS at St James's House who took 30,240 sq ft.
MOAF comprises commercial property agencies Avison Young, BE Group, CBRE, Colliers International, Canning O'Neill, Cushman and Wakefield, Edwards and Co, Hallam Property Consultants, JLL, Knight Frank, LSH, Matthews & Goodman, OBI, Savills, Sixteen and TSG Property Consultants.