'Whether someone emails or phones, never ignore them'


Donna Crompton joined Leonard Curtis in 2013 and is the director who runs the Liverpool and Chester offices covering the North West, Chester and North Wales areas.  She went to school in Ormskirk, studied accountancy at John Moores University and then worked in accountancy roles in manufacturing and insurance before moving into the insolvency world.
---
The best thing about my job is meeting different people in different circumstances, from various backgrounds. Everyone has their own story to tell, some more challenging than others, however it really is that age old saying of 'a problem shared, is a problem halved'. Helping people and explaining the various options available to them, step by step, and the solutions gives me great job satisfaction.
The opportunity over the next year for us is growth. We recently opened a Chester office and continue to grow our network of contacts within the Cheshire and North Wales area. We will continue to develop relationships with new and existing contacts ensuring that their clients receive the best advice possible.
Relationships are key to us – keeping existing ones open with strong lines of communication and support, also with a focus on developing new ones. I love informing accountants on what we do, how we do it and my motto is, "call me". That initial call with people can open a door into the world of Leonard Curtis and showcase our range of services aside from just insolvency.
The biggest queries I am receiving at present are surrounding CBIL's and Bounce Back Loans – people have received every line of funding possible throughout the pandemic and they don't know which way to turn.
Usually turnover has declined and finance options have been exhausted, people feel like they are out of options. They are even turning to personal loans to try and rectify business finances and they are really struggling with how to move forward with their businesses.
As a result of Covid, but also Brexit issues there's a rising cost of imports/exports and staffing issues amongst businesses. These have been two major things which I think have affected any and all businesses in some way over the last few years and no matter what sector you are in, you have had to make changes, adapt and think outside the box to overcome them.
However from a sector perspective, the constantly changing insolvency legislation has meant we've needed to be reactive & adapt accordingly.
My mantra is probably; 'Give me a call' or 'Let's talk it through'. I think it's crucial you're honest with what's happening within your business and if you are we can find you a solution. Just speak up.
On a corporate stand point, Leonard Curtis's company values are ones we apply to relationships with our colleagues, and that I try to adhere to with clients too. Particularly, being kind. In the line of work we do, directors are usually at their lowest and kindness, sympathy and understanding really does go a long way.
The Leonard Curtis values in full are:
Be kind. It feels good. You don't have to be ruthless to be successful.
Be inspired. It can really help others.
Be considerate. People aren't always in a great place.
Be honest. It's who we are.
Be fair. Because everything needs balance.
Whether someone emails or phones, never ignore them! It's a lesson that I learnt early in my career which has stuck with me but it's important to always get back to ANY type of enquiry, ideally the same day. The following day you will have that enquiry plus more and very soon people can slip through the net. I want to help as many people as possible and in this job, it's all about relationships and managing people. That first impression is so vital in starting that relationship off on the right foot.
Insolvency practitioner David Moore – a fantastic professional and gentleman – who I have worked with since 1998 probably had the biggest influence on my career. He really has taught me everything I know from how to run a successful team and office to the complex world of insolvency. He is a good friend and very well respected in the Liverpool and Merseyside area.
When I get the chance, I love to switch off by doing yoga or going for a walk. I have two grown up sons who I spend a lot of time with, one who has just got a border collie puppy, 'Nacho', and I enjoy 'dog minding' her and taking her for long walks.
I also love going on holiday, especially to Iceland and visited there regularly when my eldest son lived there whilst studying for his degree. Whilst we love spending time together, like any normal family, you can always guarantee some sort of 'family domestic' – especially on Derby day! (I'm a Liverpool fan while the boys support Everton).
---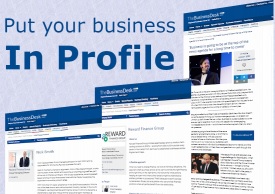 Appear in your own In Profile feature by signing up for a Business Profile on TheBusinessDesk.com.
The company and individual profiles on TheBusinessDesk.com are designed to help our clients build corporate and individual awareness within the regional business community and benefit from TheBusinessDesk's traffic and visibility in the business community and the search engines.