Why we need to go back to the roots of 'levelling-up'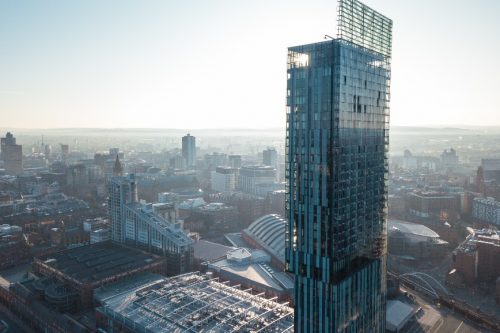 By Graham Winch, Professor of Project Management at Alliance Manchester Business
School
The Government's flagship Levelling Up White Paper was released earlier this month and it's already sparked widespread debate.
A levelling up policy has been on the cards for some time. After all, pledges to alleviate regional inequalities were first touted by the Conservatives back in 2019.
But since then, we've faced into Brexit, grappled with new trade agreements, and – perhaps most crucially – lived through a global pandemic.
This has led to a spiralling of the levelling up challenge, meaning measures proposed by Government will be monitored even more scrupulously as the UK gets back on its feet.
Keeping the drivers of levelling up, and their outcomes, at the heart of the issue will therefore play a crucial role in ensuring the mission is a success.
The Medici model
The paper offers 12 missions across four areas. While these missions lay out a clear trajectory and next steps, the test will be in ensuring these are prioritised and presented in the right way.
Presently, they are confused. At the heart of levelling up is the ambition to remove inter-regional disparities in productivity – like wealth creation.
Disparities in living standards between regions, for example consumption, are lower due to differences in housing and commuting costs. Disparities in living standards associated with poverty are principally intra-regional, not inter-regional. It's a different kind of levelling up problem that needs different kinds of policy interventions.
So, issues such as wellbeing and crime, for example, while no less important than issues such as productivity or transport connectivity, are the outcomes of a productive economy rather than the drivers. We should be careful not to confuse the two.
Instead, we need to drill down the 12 missions and identify the main parts of the puzzle that will help us to achieve a truly levelled-up country. For example, unlocking infrastructure is one of the key components to accelerate the pace of change and bridge the regional divide.
The UK has so far under-invested in its infrastructure compared to other countries, but it's improving access to regional cities that will really make a meaningful impact on levelling up. For me, it's this message that the paper contains but fails to land.
But there's hope.
Michael Gove has based his levelling up framework on the 'Medici model' of Renaissance Florence. The model is based on the idea that a region's prosperity depends on the performance on their principal cities. What's vital, then, is making those cities work.
Put simply, Florence, or Manchester, can only truly thrive if the towns around them help to make that happen and thereby reap benefits for themselves.
The solution to that is in pinpointing where the real disparities lie. For some time, that's been attributed to our transport systems, which seems like the most sensible starting point.
That means not only addressing bus routes and replicating schemes like the West Midlands' 'Sprint' project, but placing greater recognition on regional rail services, to really connect people to opportunity, enabling cities to thrive in-turn.
Here, the government has recently disappointed with its decision to limit Northern Powerhouse Rail development forever by not allowing a through station at Manchester Piccadilly. The other crucial area is skills, and again, recent government reforms have fallen short.
Making devolution work
And, of course, the enabler to making all of this happen is devolution. This is a concept that has long been debated in the regional battlefields, and it's reassuring to see there's a desire from Government to make that happen – and to push the idea even further.
The paper proposes nine new devolution deals, and the option of a devolution deal to any part of the country that wants one. The 2015 Cornwall devolution deal is evidence that this works, and it's easy to see how that might be replicated by counties like Cumbria, but it's harder to see how that might come to fruition in Lancashire and Cheshire where regional identity is weaker and the most productive parts have been hived off into city regions..
Playing the long game
There's no denying there's been some criticism of the Government's long-term views and 'lofty' goal setting – each of the 12 missions ladders up to a 2030 deadline.
It may feel like it's kicking the issue into the long grass, but the Government's objectives are ambitious, and change isn't going to happen overnight. In reality, we've only got nine years to get the job done.
What we do need is to ensure is we're not taking on too much in one go.
Medium-term targets and short-term goals will be revealed in time and will help to keep us on track, but keeping laser focused on the drivers of inter-regional levelling up is what will ultimately help us to really shift the dial and thereby achieve the outcomes and benefits we all want.