UK government joins EU in sanctioning Everton FC sponsor Usmanov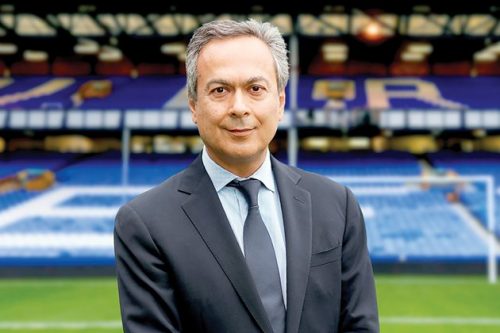 Everton FC sponsor, Alisher Usmanov, has been sanctioned by the UK government following Russia's invasion of Ukraine.
It follows similar moves by the European Union earlier this week when it described Mr Usmanov as a "pro-Kremlin oligarch with particularly close ties to Russian President Vladimir Putin".
Uzbek-born Mr Usmanov is behind the Russian-based telecoms company Megafon and holding entity USM, which have sponsorship deals with the Merseyside club.
The Finch Farm training ground was sponsored by USM and Megafon signage was on the club's Goodison Park ground, but has since been removed.
The branding had been the shirt sponsor for the club's women's team, but it has also been removed from their shirts, as was the Yota brand, which is part of Megafon.
Mr Usmanov had also agreed a £30m deal with the club in 2020 for an option on the naming rights to Everton's new £500m stadium, which is currently under construction at Bramley-Moore Dock on the Liverpool waterfront and due to be completed in 2024.
Last night (March 3) the club made its 22-year-old Ukrainian full back, Vitaliy Mykolenko, team captain on just his fourth appearance for his new club in the FA Cup match with Borehamwood.
The club's owner, British-Iranian Farhad Moshiri, is a business partner of Mr Usmanov but has now stepped down from the board of USM Holding company, an investment group that owns iron, steel and copper suppliers and the Megafon telecommunications company.
Earlier this week Everton suspended ties with Mr Usmanov and his business interests, saying: "Everyone at Everton remains shocked and saddened by the appalling events unfolding in Ukraine.
"This tragic situation must end as soon as possible, and any further loss of life must be avoided.
"The players, coaching staff and everyone working at Everton is providing full support to our player Vitalii Mykolenko and his family and will continue to do so.
"The club can confirm that it has suspended with immediate effect all commercial sponsorship arrangements with the Russian companies USM, Megafon and Yota."
Mr Usmanov was sanctioned by the UK government, along with former Russian deputy prime minister Igor Shuvalov.
Their assets will be frozen and they will be banned from travelling to the UK, while British citizens and businesses will not be allowed to deal with them.
Boris Johnson said: "For as long as Putin continues his barbaric attack on innocent Ukrainians we will continue to exert every power we have to inflict maximum economic pain on Putin and his war machine."
And Foreign Secretary Liz Truss said: "We won't stop here – our aim is to cripple the Russian economy and starve Putin's war machine."
The Government said the two men had "significant interests in the UK and close links to the Kremlin".
Mr Usmanov owns Beechwood House in Highgate, London, worth an estimated £48m, and the 16th century Sutton Place estate in Surrey.
Following the EU sanctions, Mr Usmanov issued a statement describing the decision "unfair" and saying he would "use all legal means to protect my honour and reputation".
The US has also announced sanctions on Russian oligarchs including Mr Usmanov, Mr Shuvalov and Putin's press secretary Dmitry Peskov.
Authorities in France and Germany have seized yachts owned by Mr Usmanov.
Mr Usmanov is worth £13.33bn and Mr Moshiri £1.79bn.