'We never in our wildest dreams had a vision that was this big'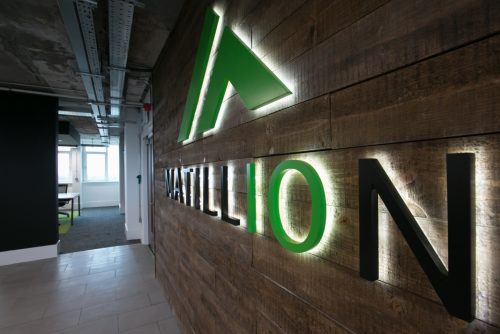 Like many of Manchester's biggest tech companies, Matillion never set out on a journey to become a 'unicorn.'
Instead, the company founded by Ed Thompson and Matthew Scullion in 2011, has pushed for growth through its basic principles of doing business with integrity and quality.
And being a little brave.
Last year the company, which developed software to help businesses to make sense of their data, was valued at $1.5bn after raising $150m in a series E funding round from General Atlantic with participation from Battery Ventures, Sapphire Ventures, Scale Venture Partners, and Lightspeed Venture Partners.
That funding marked Matillion's second triple-digit round of 2021, bringing the total amount raised to $310m.
The funding not only helped propel Matillion to unicorn status, but it also means the company can now accelerate its growth and double its ARI (annual recurring revenues) in the next year.
And for its founders it's now making sure the company continues to go from strength to strength.
"It's like being on a rollercoaster ride, once you get on you can't stop," explained  Thompson, who is also CTO of the company.
The founders have seen huge demand for their software  – namely the ETL Platform.
As businesses seek to become more data-driven, they face the challenge of integrating information coming from multiple touchpoints and systems – some internal and some in the cloud – this is where ETL comes in.
Created in-house, the software helps agile enterprises convert raw data into actionable, analytics-ready data in the cloud in minutes for new insights and better business decisions.
Its customers are mostly at the enterprise level with 70% of revenue coming from outside of the UK mainly the US and Western Europe.
Looking back at the company's journey, Thompson said: "We had a product that people wanted to buy and we wanted to take it to market and we needed to money in order to do that.
"We went to a venture capitalist firm and we knew that for every 10 companies that they'll take on, maybe six or so will fail or breakeven and then two will grow very rapidly.
"Obviously, you want to be the ones that grow rapidly.
"To scale we've been through five funding rounds now. In the early days the funding was to get the right people on board and get the tech and later the focus is on the numbers and the ARR and making sure that the sales and marketing operations are running effectively.
"So every time you take your funding round you have a view in mind as to what the next major event is going to be 18-24 months away.
"In our case, it's been more compressed than that."
He added: "Matthew had a very clear idea of the sort of company that he wanted to build.
"So, very early on we set out our company values. We wrote them down on day two of the business and we've really tried to live by them ever since.  They inform the choices and the decisions that we make day to day and they've been pretty good at helping us to work our way through all the various pitfalls."
Those values include doing business with integrity which Thomson says is something the team always goes back to when it comes making difficult decisions.
"We want to make sure the outcome is the most honest and fair for everyone," he adds.
Those values have certainly helped the company, which employs more than 400 staff, grow exponentially over recent years resulting unicorn status in September 2021 – a moment they've not quite celebrated properly.
"The one thing that we're not good at Matillion is celebrating our success. And that was even more difficult when our people were working from home.
"So, there's never been that kind of seminal moment where you have the big sort of champagne cork popping party."
He continued: "We never in our wildest dreams had a vision that was this big. I mean, we started off thinking wouldn't it be great to get 100 customers, or wouldn't it be amazing if we can grow the company to a £1m business. Hopefully we're both quite humble and that we kind of never really expected business to grow to the extent that it has and the investment that it's got.
"We were always all about wanting to do something useful and of consequence rather than, you know, let's make as much money as we can. If we'd set about it to make as much money as we could, we probably would have been less successful.
"So, we took the investment and the very next day turned back to work, as we now have to execute our plans and make things happen."
Last year saw the company double its salesforce as the it looks to expand territories, grow its US presence – it has locations in New York, Seattle and Denver-  and bring on more enterprise customers.
It also plans to double its current ARR run rate in the 12 months.
"That's probably the primary thing and it's quite a nice position to be in because you can only do that if you have a sales team which is operating efficiently," Thompson said.
"Finding and hiring the right people at scale is the biggest challenge for us. It's incredibly competitive generally whether that's in Manchester or any major city in the US particularly for technical talent.
"The entire tech industry is exploding so you have to make a really good offer in terms of salary but also in terms of benefits.
"Before the pandemic it was about how nice you could make the office and the work day.
"Post-pandemic, it's much more about flexibility. We're competing for the best talent in a space where there are lots of good companies and not everyone wants to move.
"A lot of people are in companies like ours that are growth companies. And that means that they will have significant value options in those companies. And obviously if you leave, you lose your options, so it can be very difficult."
Thompson also hailed a strong tech-eco system in Manchester that has allowed companies like Matillion to start and thrive, but he says, the region is far off from creating the kind of tech culture that can be found in Silicon Valley.
"It's a very different experience going for funding in Silicon Valley than anywhere else, and I suspect that it's probably comes down to education. So, to give you an example, I've had to learn about VC funding on the job. There wasn't anyone there to explain how it works, and what the process is and how you get from A to B.
"But you speak to an American entrepreneur, and they instinctively know that stuff. Their staff know about share options and why they matter and why they're a really good way to have a stake in the business and ultimately get paid and share in the success. That's something we have to explain here.
"Americans know this stuff, they get it, they kind of come out of school knowing what to do next.
"Investors are not afraid to back a company if it's not made a profit either for example, they're backing the idea, they're backing the entrepreneurs, there's a huge risk element, but that's the culture and through that you get your huge companies like Google and Facebook.
"There's definitely an education and cultural piece that's missing in the UK."
Asked about what the big plan for Matillion is, Thompson becomes a little more coy.
"There are really, probably two specific outcomes for a company at Matillion's stage at this point, and that would be to be either bought by a very large player in the market such as Amazon or Google or to go public.
"You know, they're only plans. There's a million and one things that could happen."