Three key developments back before Liverpool's planning committee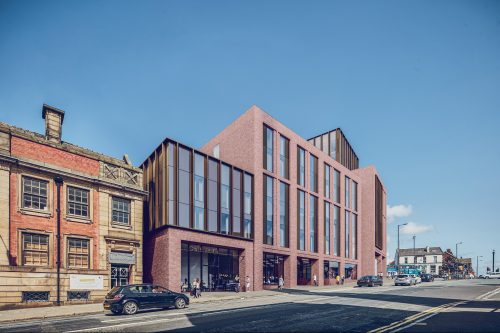 Liverpool City Council's planning committee next week (April 12) will hear three applications which it has previously approved.
It will reconsider plans to build a three- to nine-storey development for a 274-bedroom hotel, and a commercial unit, on land bounded by Prescot Street and Low Hill, in the Central ward.
The proposal, by Equity Group and The Elliot Group International, was initially considered in November 2019, and recommended for approval.
However, the legal agreement was not completed, and so needs to go before the committee once more.
The site, close to one of the main approach roads into the city, is described as brownfield and is within the city's Knowledge Quarter.
Planning officers have recommended approval, subject to legal agreement.
The scheme was delayed due to an administration process that was resolved with Elliot Lawless, of the Elliot Group, disposing of part of the site to the scheme's original investors, while he pressed ahead with the hotel element, known as Aura Hotel.
Another scheme back before the committee is a proposal, originally submitted by Caro Developments, to build a residential block on Blackstock Street and Paul Street in the Kirkdale ward.
The plan was originally passed in March 2021, and proposed 452 units in a 10-, eight- and seven-storey scheme. This was then amended to 392 units.
Permission was granted subject to the applicant entering into an S106 agreement, for improvements to the local area, worth £1,146,971.70.
But Caro said the payment made the scheme unviable.
Following an external review, the S106 payment was reduced to £740,000, which has been accepted.
However, the latest version of the scheme now involves plans for 310 units – 154 one-bed and 156 two-bed – although the S106 payment remains the same. The recommendation from planning officers is to approve the application.
Blackstock Street Ltd owned the site, and sold its shares to Kingsway Square Ltd, in April 2020. The applicant is now Sourced Development Group, which is progressing its Kingsway Square plans.
Another scheme, which was approved in December 2019, was for a five- to six-storey building in the Princes Park ward, providing 105 apartments, and a six-storey building with 63 student apartments, on Falkner Street, Liverpool 8.
The plans, by Falkner Street Developments, involve the demolition of a former probation centre built in the 1990s, and a former church built in the early 2000s.
However, due to the time period that has elapsed since then, the application, needs to be reconsidered.
Both this scheme, and the Caro Developments plan, have to provide 20% affordable housing as part of the overall development, under council regulations.
However, council officers say both applicants have provided mitigating factors for why this is not possible, and have recommended approval.