Sound and tech institute to set up in New Century Hall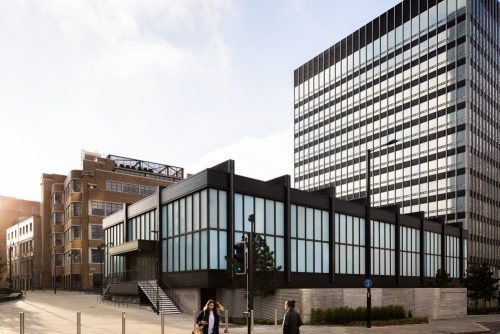 Manchester's New Century Hall will be the latest base for one of the UK's specialist providers of music technology and game development degrees.
A new dBs Institute of Sound & Digital Technologies campus will lanch its new sound and gaming programme this September, creating 30 jobs.
The institute currently has bases in Bristol and Plymouth.
Grade II-listed New Century Hall, owned by the Co-op, is being transformed, as part of a £10m programme, into a new multi-use social hub spread across three floors and will feature an 800+ capacity live music and events venue, eclectic kitchens and a creative college.
A former music venue, it hosted acts such as Jimi Hendrix, The Rolling Stones, The Bee Gees and Tina Turner, in the 1960s. It will operate as New Century when it reopens.
Manchester has been named as the second most attractive place for tech investment outside London. The digital tech sector employs more than 100,000 people throughout the region and the Institute says it will contribute to the city's growing music and gaming sectors even further by providing a robust stream of talented graduates ready to work across the region.
Since its founding in 1998 by Nige Burt, dBs has always considered itself as an outlier in the world of higher education and prioritised the student experience and their success over all else.
Nige Burt, said: "For years, there has been a common misconception that audio and gaming careers are not to be taken seriously and are sometimes looked at as nothing more than an extracurricular, creative hobby, rather than a viable career path.
"But the truth is, while they are indeed creative, there is another extremely technical side to these types of courses, which is often overlooked. That's why dBs Institute exists – to debunk the myths surrounding degrees in this field and to give students who are serious about audio and gaming the best start to their careers.
"With all of that in mind, Manchester was the obvious choice to open a northern campus for our students. The city is renowned as a musical hotspot across the world and the game development scene is also flourishing, so a base here will open so many windows of opportunity for our students and, hopefully, set them up with some fantastic routes into employment following their studies, which is what we are all about as an institution."
The dBs campus will be located in the basement of New Century, with a live music venue on the first floor.