Services provider doubles capacity with new Warrington site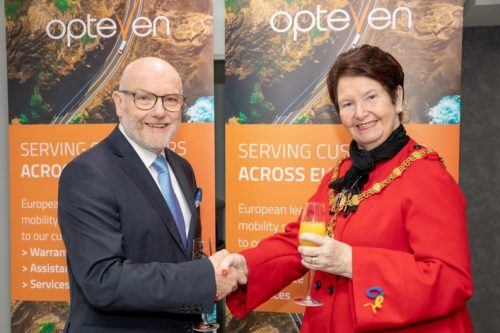 Automotive and mobility services provider, Opteven UK, has opened its new national headquarters at Birchwood in Warrington, as part of a six figure investment.
Mayor of Warrington, Cllr Maureen Creaghan, officially opened the site, on Birchwood Boulevard.
The business, founded in 2015, has taken 2,000 sq ft of office space, having previously co-shared.
Opteven UK plans to double in size by 2025, as part of its Highway 25 strategy, and the new office allows it to recruit and train more staff, and further invest in the UK business.
It currently employs more than 100 people in the UK, across its Birchwood and Thame offices.
Cllr Creaghan said: "The values of the company are displayed for all to see, and I was so impressed by the way Opteven are looking after their staff and that it is one of their main aims. I look forward to seeing the business grow and follow its contributions to the local economy."
Martin Quail, international CEO at Opteven, said: "Since launching our UK business we have shared offices with other local companies and following strong and encouraging 2021 financial results, together with a recent organisational restructure, we felt now was the right time to move into an office of our own to better suit our evolving needs.
"This provides the business ample space to accommodate our ambitious growth plans, including taking on new contracts and employees. Our North and Midlands based field sales teams will use this office as a hub for business meetings and co-working."
He added: "With another office in Thame, Oxfordshire, we wanted our new space to be in the North West of England and to be a part of the impressive Northern Powerhouse."
Opteven UK has bolstered its team with a number of key senior appointments. Craig Grant has taken on the role as managing director, Neil Monks is now retail sales and customer services director and Martin Quail has joined as international CEO. A new operations director, Madjid Hadj-Amar, will also be relocating from Opteven Group, joining the UK team this summer.
The business encompasses WMS Group, which offers a range of specialist vehicle warranty services to the motor industry, as well as a range of asset protection products. The team in Warrington manage the business's contracts with Volkswagen Financial Services for maintenance and warranty, and the RAC breakdown service.
With its global headquarters based in Lyon, France, Opteven also has international offices located in Milan, Madrid and Berlin.