Liverpool seeks to repair retail vacancy rate as sector emerges from pandemic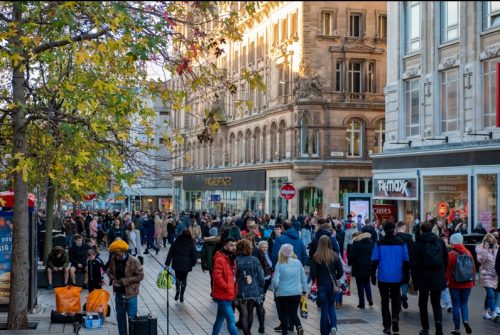 The number of empty shop units in Liverpool increased slightly this year, but the rate is still well below the national average, as the retail sector bids to recover from the pandemic.
Data from Liverpool BID Company showed that the vacany rate for Liverpool city centre is 8.77%, which is higher than 2020, but lower than the North West and the wider UK.
The vacancy rate analyses empty shop fronts in Liverpool's central retail and leisure areas, from Bold Street to the Cavern Quarter, Metquarter, Church Street, Queen Square and Williamson Square.
Taken every two months, the number of vacant shop fronts, or units being refurbished, helps to take the temperature of the high street and monitors the level of investment within it.
In April 2022 there were 513 shop front units in Liverpool city centre – of these, 209 were independent businesses, and 45 were vacant. The vacancy rate is slightly higher than January 2022 when it stood at 8.64% and it is higher than January 2021, when it stood at 6.68%. However, this compares with the highest point the vacancy rate reached during the two years of the pandemic which was 11.36% in July 2020 and 9.79% in October 2021.
The highest density of vacancies is on the high street, Church Street, where 13 units out of 100 are vacant with three being refurbished. Nine out of 90 are vacant at St Johns retail centre, six out of 109 on Bold Street, with another six being refurbished.
FOur out of 70 are vacant at Central Station, Lime Street and Renshaw Street, four out of 45 are vacant in the Cavern Quarter and six out of 49 are vacant in Williamson Square.
The latest figures show that 40%, or 210, of Liverpool's shop units are independents – 48% on Bold Street, 80% at Metquarter, 62% in the Cavern Quarter, 52% in St Johns, 41% at Williamson Square, 18% on Church Street and 10% at Clayton Square.
In comparison with the UK, the national vacancy rate rate in January was 11.7%, 11.8% in the North West and 8.7% in Liverpool.
Jennina O'Neill is chair of Liverpool BID Company's retail and leisure BID. She is also the centre manager of Metquarter. She said: "Liverpool city centre continues to perform robustly in the face of the economic challenges we are facing.
"We were expecting that, with the withdrawal of government support seen during the pandemic, some businesses would struggle, but Liverpool city centre remains strong. The city's independents have performed consistently well during the past two years and continue to add colour and personality to our city centre. There is a rapid turnover of units in the city and we welcome new stores like Decathlon and Flannels to the city centre this year."
She added: "At Liverpool BID we continue to work with both our partners in the city centre and our levy payers to deliver our manifesto pledges.
"We have commissioned a new strategic vision for our core retail area to identify how we can continue to build on the city centre's strengths post-pandemic, supporting both recovery and regeneration."