North West business news: The Lancashire Colleges; Land Studio; Liverpool One; MHA Moore and Smalley; Oldham Active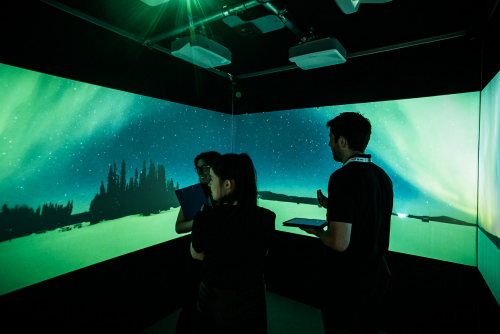 Businesses across Lancashire will be able to benefit from a range of virtual reality equipment designed to help local companies prepare for working in a future low carbon economy.
Two state-of-the-art low carbon virtual reality (VR) hubs are on site at Nelson and Colne College and Accrington and Rossendale College, while an additional mobile VR unit will be available to travel to local businesses, schools and events.
The VR hubs have been purchased as part of an £8.4m project, delivered by The Lancashire Colleges, to develop the skills of the region's current and future workforce and help businesses to lead the way in low carbon technology. Funded by the Department for Education, the Strategic Development Fund (SDF) Pilot aims to increase joint working between colleges and employers to prepare Lancashire's workforce for the move to a low carbon economy.
Each hub will support local manufacturers to benefit from immersive surroundings which allow employees to understand the location and setting that they are working with, in turn helping manufacturers to develop a process without having to travel long distances or enter high risk environments. The VR setup allows multiple groups of people to remotely understand a process at the same time to increase collaboration and can also be used for remote presentations, demonstrations, risk assessments and design reviews.
In addition to being available to local businesses, students at colleges across Lancashire will also be able to learn in real-life environments without needing to leave the classroom, helping them become ready for the world of work once they qualify. Local schools will also be able to benefit from the technology for curriculum delivery, virtual field trips and special events.
Paul Barker, head of sales and recruitment for apprenticeships and training at Nelson and Colne College Group, said: "We're determined to use the SDF Pilot to make a real difference, investing in alternative technologies and training so that companies and communities can thrive in a low carbon Lancashire. The VR suites allow local companies to lead the way in finding solutions to manufacturing challenges, while it means students and workers in Lancashire can learn using the best technology on the market, creating new opportunities to help local employees to become the best they can be without having to leave the county."
::
Chester and North Wales-based specialist landscape architect practice, Land Studio, has launched a pioneering civil engineering division. It says is the first nature-led landscape architecture practice in the UK to have its own in-house civil engineering team, which it says can help to tackle climate change.
The new division, which offers clients drainage design and water management solutions, is headed up by director Lisa Sawyer, who said: "What we're doing at Land Studio is pioneering and very exciting. I don't know of any other practice of our size in the UK that has landscape architects and in-house civil engineers working together as an integrated service. But I think that it is the future.
"Climate change has brought to the forefront the need for landscape architects and civil engineers to work closely together and to be involved with building projects – whatever their size – right from the start.
"This enables us to suggest that a building could be better orientated to make the most of the topography of a site or to show that there's a more cost efficient, sensitive way of dealing with surface water than putting attenuation crates under the ground. It's time to think differently."
Simon Richards, founder of Land Studio, said: "We're delighted to welcome Lisa on board. Our combined knowledge and expertise of land and natural systems gives us a unique insight into the design of drainage and water management strategies that can respond to our changing climate. We believe this is the future and a step change in working to combat climate change through design excellence and a fully integrated landscape architecture and engineering systems approach."
::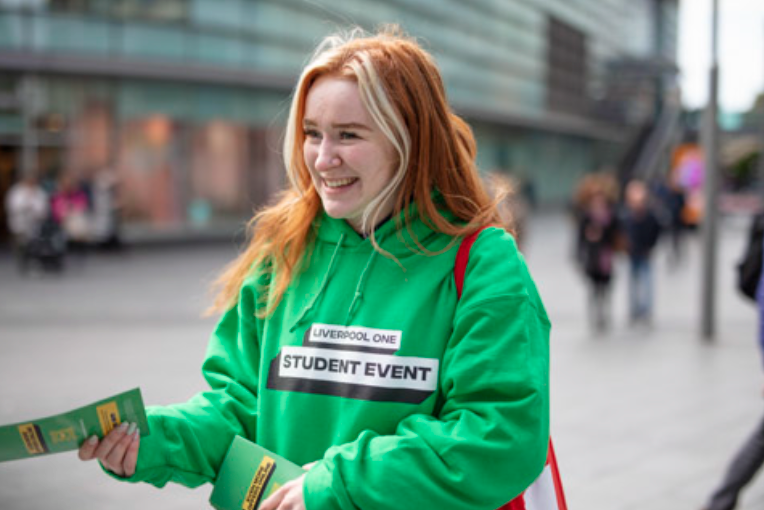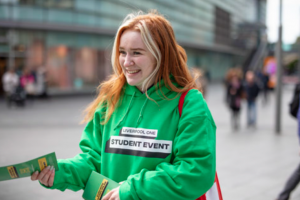 Retail centre Liverpool One hosted its first student event of the year recently and the event set new records in terms of visitor numbers in store. Despite student numbers in the city not being quite back up to 2019 levels, Liverpool One recorded a footfall of 75,000 entering stores, 22% up on the same day in 2019 and 13% above footfall volumes on a typical Wednesday.
More than half of all Liverpool One's retailers and F&B operators participated in the event, which was supported by live bands in Peter's Lane, a DJ truck on Paradise Street, and the Invisible Wind Factory performing on roller skates on South John Street.
Donna Howitt, place strategy director at Liverpool One, said: "Liverpool One has always been very popular with students, but it was great to see so many enjoying our dedicated event.
"Our retailers, restaurants and bars really got behind it, too, providing not just great offers, but additional entertainment and experience to complement everything we were providing across the estate."
The student event followed the announcement that Grosvenor and Gravity Active Entertainment are to invest £10m in creating a 100,000 sq ft active experience at Liverpool One in the former Debenhams on South John Street. The venue will open later this year and will be Gravity's UK flagship.
::
Accountancy and business advisory firm MHA Moore and Smalley has made a donation of 30 laptops to people suffering hardship across Lancashire.
The company will donate the devices through Blackburn-based IT support and services firm Nybble, which will fully refurbish and distribute them to those suffering device poverty in the county. The two companies have partnered through their commitment to Lancashire Investors in Community, an initiative launched last year which is designed to make an impactful and sustainable difference to those most in need in the county.
Graham Gordon, managing partner, MHA Moore and Smalley, said: "MHA Moore and Smalley has always looked to give back to our communities. With people living an ever-increasing proportion of their lives online, device poverty is a growing issue and this has been highlighted over the past two years through lockdown. Whether through increased access to education, job opportunities or helping people to access better support online, we hope this donation can help improve the lives of people suffering hardship in Lancashire."
In September last year, MHA Moore and Smalley became a founding member of Lancashire Investors in Community. The company will work alongside organisations including Booths, United Utilities, Panaz and Harrison Drury to support the Community Foundation for Lancashire, an organisation which promotes charitable giving to support disadvantaged people in the county. Nybble is also a founder member and has partnered with MHA Moore and Smalley through the initiative.
Ram Gupta, managing director, Nybble, said: "The pandemic highlighted the importance of access to digital and online systems. We are grateful to MHA Moore and Smalley for this donation, which will help children, elderly people and charities be better connected to the world."
::
Oldham Active (Oldham Community Leisure) is working with local young unemployed people, providing them with six months paid work experience in a bid to help them to secure permanent employment.
The leisure trust currently has 11 Kickstarter placements as part of the Government's Kickstart scheme, which aims to support the local community in creating jobs for 16–24-year olds' on Universal Credit. The Kickstarter placements have proven to be a valuable asset to Oldham Active, with some undertaking further training, for example as a lifeguard, and others having their employment extended for the longer term.
Simon Blair, Oldham Active head of business development, said: "It's essential that young unemployed people are given a chance to show their worth, and the Kickstart Scheme allows them to get the experience they may lack when looking for jobs. We are hopeful our placements can introduce the young people in our community to a career in leisure, hopefully for the long term."
Since July 2021, Oldham Active's Kickstart scheme has had young people working in a variety of roles and departments including, HR administrator, leisure team staff, swim scheme administration, facilities and public relations. Jack Kelly, 18, from Royton, started his Kickstart Placement in March 2022, working in the public relations and social media department. He said: "After I finished my A Levels I really struggled to find any work. I met with the Oldham Active HR Manager, who offered me the paid Kickstart placement. I was thrilled and my parents let out a big sigh of relief. It's been fantastic to have a purpose and to have a routine."
Simon Blair said: "Jack's story has been a positive one, but unfortunately there are many more young people struggling to find employment, with so much untapped potential. Jack is a valuable asset to Oldham Active and has proven his capabilities, becoming a strong team member in the process."