Jeweller opens new city centre site in £200k investment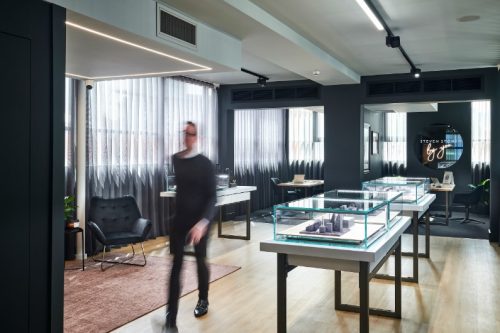 Jewellery retailer Steven Stone has invested £200,000 on its new flagship showroom in Manchester city centre.
It will create an environment for designers and customers to work on creating bespoke pieces together.
The investment in the new site follows a 30% increase in the company's annual growth rate, with a £2m revenue improvement.
Situated on the third floor in St John's Court, Quay Street, the showroom has been under construction for the past 12 months. St John's Court received a huge refurbishment in 2019, carried out by developers, Urbanise.
The retailer faced delays in opening its new facility due to restrictions caused by the pandemic.
Manchester-born brothers, Maxwell and Zack Stone, have worked in the diamond industry for more than 16 years, following in the footsteps of their grandfather, Al Stone, and father, Steven Stone, who formerly led the company.
Managing director, Zack Stone, said: "Over the last 12 months the company has seen major growth both offline and online. Despite COVID-19, which meant we had to close our stores intermittently, we saw our annual year on year revenue grow by 30%.
"In light of this, our projection for 2023 is a further increase of 25%. In the coming years, we aim to expand our offline sales by opening three new showrooms to serve both the North and South of the UK."
Creative director, Maxwell Stone, said: "Alongside the new showroom, we are also preparing for a new website launch, which will allow us to give customers the best of both worlds – a luxury experience and competitive prices.
"Thanks to this, our team is increasingly expanding, with six new team members joining both the marketing, web development, and sales team in the last six months."
He added: "We are in an incredibly strong position to offer an immersive and bespoke experience, with a strong team behind us."