£2m enterainment venue to open in Circle Square as template for international roll-out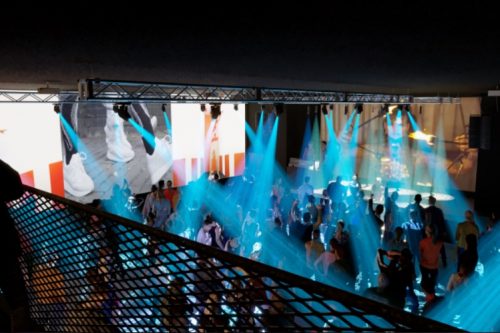 A London entertainment group is investing £2m in a pioneering new venue in Manchester's Circle Square, creating more than 75 jobs.
Canvas is an innovative cultural destination, which will bring live music, a members' club, event programmes and late night bar, restaurant and entertainment, this spring.
Canvas Venues Group (CVG) is behind the scheme, with backing from Edition Capital.
CVG is behind two of London's most prolific music establishments, The Pickle Factory and Oval Space, and it also co-founded MAMA Group, which owned and operated Lovebox, Wilderness and Great Escape festivals as well as Hammersmith Apollo, Jazz Café, Forum, Manchester Ritz and G-A-Y venues.
Canvas is the newest venture for the group as it continues to build and operate next generation, culturally curated music venues.
The first foray for CVG outside the capital aims to create one of Manchester's leading music venues and private members clubs aimed at the under 30s.
Canvas comprises three distinct areas – the music venue with a capacity of 600, a members' bar and lounge and a late night bar and restaurant, all with a 4am licence seven days a week set across three floors, providing space to socialise, meet, work, eat and drink.
Music will be core to the Canvas offering with the music policy reflecting a more commercial version of the current Oval and Pickle music programming.
Canvas will host a series of live gigs from both national and international acts, album launches, club nights and listening parties.
The F&B/lounge offers a 100-capacity space, with the restaurant serving global small plates and becoming a late night bar after 10.30pm. Hospitality consultancy, Miam Miam Glou Glou, also behind the acclaimed Manchester restaurant, Peru Perdu, will be curating and developing the Canvas F&B offering.
The private members lounge area will also hold 200 capacity, with Canvas operating an under 30s membership price of £15 a month and an over 30s membership of £25 a month. Members will have access to two free gigs or club nights a month and specifically curated weekly members' events, with an emphasis on music, wellbeing and the arts.
Members will also have access to music and technology courses, led by world class music artists such as Carl Cox, Joris Voorn and Sherelle. Workshops and courses, such as those provided by Virtuoso, will allow members to listen, learn and seek inspiration from top producers, DJs and musicians and will be suitable for those from all skill levels.
Other panels will also see media professionals, events organisers and day-time TV commissioners from Channel 4 and The BBC join Canvas, as they host discussions and share insights with the city's most enterprising young professionals.
Dean James, Canvas owner and co-founder, said: "Manchester was always where we were going first outside of London as a city of huge cultural significance, especially in the music scene. We launched Canvas here because Manchester represents music, community, and entertainment in spades.
"We have aimed this venue specifically at the youth market because we believe, now more than ever, this generation needs a place to re-establish and re-build the social connections that were taken from them over the past two years. We will aim our programming and our members' events squarely at helping them to rebuild those connections and a way of life that involves connecting with people."
He added: "Circle Square stood out to us as a destination due to its central location and close proximity to the universities. Canvas is a way we can champion the freshest talent in the industry, whilst developing the next generation and we look forward to seeing it become part of the community."
Joe Splain, head of programming for Canvas, said: "Manchester has a history of being creative and rebellious within the fabric of its music scene from the beginning. The appeal to open Canvas here comes from the breadth and diversity of Manchester's live music and cultural scene and the influence it has not just on British music culture, but also internationally."
He added: "By giving people a platform to share and collaborate, Canvas has a really unique way of bringing together artists and audiences from underrepresented backgrounds. We try hard to avoid being polarised – I think it's this passion that keeps us ahead of the curve and relevant to what our communities actually want."
Adam Spence, partner at London-based Edition Capital, said: "We are incredibly excited about the launch of Canvas, which will be a cornerstone of Manchester's newest neighbourhood. The venue marks a milestone step forward for CVG and we are proud to support the continued growth of the group."
CVG intends to initially operate in the music cities of Manchester and London, the concept will then be rolled out further afield to target cities such as Glasgow and Bristol in the UK and internationally, the group will look at Melbourne and Austin.