Property round-up: McGoff Group; Glenbrook; One Manchester; Adlington Retirement Living; Rothay Manor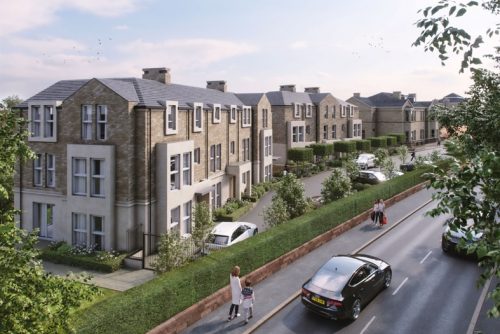 Patrick Properties and the McGoff Group have partnered to create a new joint venture (JV) with plans to transform the former Mercure Hotel in Bowdon.
After more than 12 months working closely with Trafford Council on the design of the proposed mixed used development, including a number of pre-application meetings and local engagement, the JV has submitted a planning application for the brownfield site.
With both Patrick Properties and the McGoff Group based in Altrincham, maintaining the rich heritage of the property forms an integral part of the design, with the historic Hydro building and Hawthorn Lea villas retained. Marrying old and new, the plans include the demolition of the conjoined buildings and the introduction of six stylish townhouses and six apartments, sympathetic to the setting.
The development will also provide a children's day nursery with 95 places and a state-of-the-art 53-bed care facility, creating an innovative multi-generational hyperlocal community which brings young and old together.
Located within the Bowdon Conservation Area, the essence of the development's design is to re-establish the character and importance of the Hydro and Hawthorn Lea buildings, as well as to significantly increase green space, with private gardens for the townhouses, extensive grounds surrounding the apartments and a secure courtyard garden with the care home.
Jordan Kennedy, director at Patrick Properties, said: "This project is complex and having discussed possible schemes with several developers over the last few years, forming the JV with the McGoff Group was absolutely the right move. Together we have created a desirable multi-generational development that retains its historic charm yet boasts contemporary character."
Chis McGoff said: "For several years this property has been derelict and much of it an eyesore, particularly along Marlborough Road. Working with Patrick Properties on the design, along with Trafford Council, has been a lengthy but interesting process, and from this we have a devised a pioneering multi-generational development that provides a positive and long lasting contribution to the local area.
"As specialists in the care and childcare sectors, we are well versed in designing, building, maintaining and operating both day nurseries and care homes, and the group will be involved in the development after construction is completed, ensuring exemplary services are provided that are benefit to the whole community."
Patrick Properties and the McGoff Group anticipate a decision on the planning application in the coming months.
::
Investment and development company, Glenbrook, has reached practical completion at STOK, the speculatively developed 62,000 sq ft office scheme in the heart of Stockport town centre, which is now ready for occupation.
Interior design consultancy Incognito and contractor City Build have designed and delivered the remodelling of the former retail premises on Princes Street, which has achieved an EPC 'A' Rating. The transformed building offers suites from 4,779 sq ft through to the full 62,051 sq ft across four floors which includes a lower ground floor space.
STOK boasts large open plan office suites designed with flexibility in mind and the ability to subdivide into smaller suites if required. The space can be configured to accommodate businesses of all sizes.
The heart of the building is designed around a large central glazed atrium which maximises the available light and STOK is fully accessible with two nine-person lifts as well as secure cycle storage, showers and drying facilities to encourage active travel.
On the second floor a large outdoor terrace has been delivered to provide room for people to interact and socialise, a space which also offers views across the historic heart of Stockport town centre. The building also has a 5,000 sq. ft retail unit in a prime location within the Merseyway Shopping Centre and is on the doorstep of the Underbanks Conservation Area in Stockport's historic heart.
STOK was one of seven projects in Greater Manchester to be selected for a £3.5m grant from the Government's Get Building Fund, which aims to expedite the delivery of key projects across the Greater Manchester area.
Chris Lloyd, investment director for Glenbrook, said: "We pledged that STOK would be a gamer changer for Stockport and now that it is completed we believe that we have really delivered on that promise. The ultra-modern building provides much needed, well designed and flexible modern office space, right in the heart of Stockport, a town which is undergoing rapid regeneration following significant levels of investment.
"We've already had significant interest from businesses, especially locally, and those across South Manchester and Cheshire, which are looking to expand or to have a base which is readily accessible to Manchester city centre."
Cabinet member for economy and regeneration at Stockport Council, Cllr Colin MacAlister, said: "STOK is a superb asset to our town centre and is a vitally important element in the regeneration of Merseyway Shopping Centre."
Andrew Timms, from Edwards & Co, joint letting agents for the scheme with CBRE, said: "The transformation of this former retail store into a modern, dynamic office space is spectacular and has to be seen first hand to appreciate the revitalisation of the building, so we are planning a number of events to show local business and commercial property agents the space."
The project team included: Linberg Design Associates, Architect; Ridge, MEP; BB7, Fire Engineering and Abacus, Employers Agent/Quantity Surveyor. Metis Real Estate are agents for leisure and retail opportunities.
::
Developer and contractor, Watson Homes, has been awarded the contract to build 60 homes for One Manchester on the site of the former Moston Campus, Ashley Lane in Manchester.
The former Manchester college buildings have already been demolished and the three-acre site will be transformed to accommodate 50 houses of which 28 will be two-bedroom homes and the remaining three-bedroom, with a further 10 apartments. These homes will be all be available for affordable housing with options to rent and buy.
The development will be delivered for One Manchester with a view to meeting demand for new housing in the area and has received grant support from Homes England and the Brownfield Housing Fund from the Greater Manchester Combined Authority.
The houses will have off-road parking as well as landscaped front gardens and private rear gardens.
Designed by TP Bennett, the buildings will be finished to a high specification to complement the surrounding area. The energy-efficient, low carbon homes will be heated by air source heat pumps and include photovoltaic panels to provide renewable energy. The layout of the site lends itself to include attractive landscaped green spaces, with sustainable drainage, electric car charging points and plenty of bike storage for residents.
Rob Watson, director at Watson Homes, said: "We have vast experience in delivering high quality homes across the North West. This project for One Manchester is important to Watson Homes and will support the much needed requirement for homes in the Moston and Harpurhey area."
Judy Noah, director of development for One Manchester, said: "One Manchester is delighted to go onsite with this development in Moston, bringing the site of the former college building back into good use."
Cllr Gavin White, Manchester City Council's executive member for housing and regeneration, said: "We know we need to increase the number of homes in every part of the city to meet ever rising demand – and this must include affordable housing options to help our residents access the quality homes they need."
Watson Homes expects to be on site in June with an anticipated completion in spring 2024.
::
Adlington Retirement Living has sold all 48 luxury apartments at The Chimes, its retirement community in Cheadle.
The family-owned and run business has launched 14 Independent Retirement Communities since 2009 across the North West, Yorkshire, Wales and the Midlands. The Chimes was the ninth of these to open, welcoming its first homeowners in July 2019, and is the ninth to sell out.
Recently opened communities include The Woodlands in Heaton Mersey, Stockport, and Jacobs Gate in Sheffield, Yorkshire. Eight more Adlington Retirement Living communities are due to open in the next two years, including The Sidings in Lytham, Lancashire, and The Spindles in Menston, Yorkshire.
Dr Ed Gladman, Adlington Retirement Living managing director, said: "We're really pleased to have welcomed homeowners to all 48 apartments at The Chimes. There's a real sense of community there and it's wonderful to see so many homeowners enjoying their retirement."
Dr Gladman believes the retirement community is a wonderful example of a new blueprint for retirement living: "Adlington's vision is to empower our older generation to live a long, happy and healthy life. We do that by creating safe and secure environments with active communities, extensive facilities, and spacious, quality homes, providing an opportunity to enjoy retirement with a new perspective."
::
Hoteliers and restaurateurs Jamie and Jenna Shail have created a brand new luxury guest suite concept called The Pavilion, at their Lake District bolthole, Rothay Manor, in Ambleside.
To realise their vision the couple worked with principal architect Ben Cunliffe, owner of Cumbrian architectural practice BCA, a practice that specialises in designing innovative, elegant, sustainable architecture.
To define the interiors for the space, Jamie and Jenna worked with interior designer Matt Hulme, director of Dynargh Design, whose Cornish-based practice, has previously worked on numerous aspects of the main building at Rothay, including the remodelling of the restaurant and the Fairfield suite.
The build works were undertaken by local building company J.T. Construction, based in Carnforth, who have worked on numerous prestigious projects across the region in the hospitality sector, including previous work for Gilpin Hotel & Lake House and Lindeth Howe.
The project got under way in early 2020, beginning with the demolition of a former bungalow located in the hotel's extensive gardens. This work enabled the creation of a new entrance to Rothay Manor from the main road, the creation of a new guest car park and provided space for the footprint of the new building.
The Pavilion is a contemporary building, utilising natural materials, mirroring many of the elements from the landscape that surrounds it. Inside there are eight guest suites. The interior décor utilised is inspired by natural colour palette, with colours and tones taken from the fells, fields and woods that surround the hotel, mixing classic country house design with lavish mid-century detailing.
Jamie Shail, owner of Rothay Manor, said: ''Completing The Pavilion has been a real challenge, especially as we began just as the pandemic started to rear its head. For obvious reasons that then impacted on our intended schedule, but thanks to the dedication of all of those involved, we've realised our ambitious plans and have managed to complete the project.
"We are all immensely proud of what we've achieved, it's taken a great deal of hard work to draw everything together, but it is more than worth it, and we are sure that our guests will genuinely appreciate what we have achieved in creating The Pavilion.''