£500,000 tech platform will help manufacturers and wholesalers sell online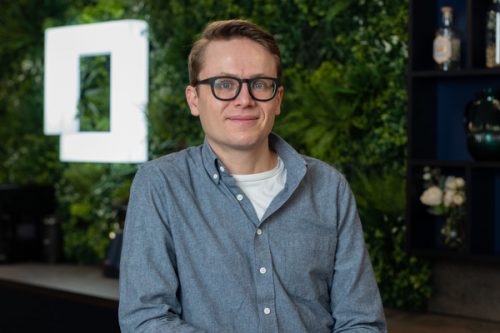 A fast-growing SaaS business has launched a new £500,000 tech platform to help manufacturers and wholesalers grow their ecommerce business.
Kevin Jones, CEO and co-founder of Shopblocks, said the 'game changing' platform stockport.com will help automate processes to make it easier to sell online.
The platform has already won a string of new clients and Kevin has predicted that stockport.com will become a £100m turnover business in its own right.
He said the name of the new platform was chosen partly in homage to the fact the company recently signed a long-term lease for the entire floor of No 1 St Peter's Square in Stockport town centre.
Jones said: "We've spent four years and £500,000 creating stockport.com and we believe it fixes the big hard problems that are out there in the world of ecommerce.
"The new platform allows manufacturers and wholesalers to grow their ecommerce revenue by automating processes across their various channel partners.
"In its simplest form we provide the 'plumbing' that sits behind a website to make sure things like transactional orders, product pricing, stock levels etc are all synced together. It's a game-changer for the industry.
"We're proud to be based in Stockport so when somebody suggested stockport.com for a name it seemed like serendipity."
Jones co-founded Shopblocks in 2018 with Stewart Reynolds to produce ecommerce websites but started working on the new platform four years ago after clients consistently highlighted the same problem.
He explained: "If a business is trading online and relies on multiple suppliers, partners and resellers etc it becomes very complicated.
"To run smoothly you need to make sure the transactional orders are synced in with product pricing, stock levels and several more pieces of key information, all in real-time.
"What stockport.com has done is find a way of connecting all this business information together seamlessly.
"Without the platform websites will continue to sell things that are out of stock and prices won't be correctly aligned with their suppliers and distributors. If you give customers a substandard experience they'll simply go elsewhere."
Shopblocks recently closed a £1.2m funding round and now employs approaching 50 staff.
According to Jones even online retailers turning over billions of pounds aren't fully exploiting ecommerce because of the limitations of the current technology.
"When a customer comes onto your website to buy something, often they don't want to pay for a high value order on a debit or credit card," he said.
"For example if they're buying a big piece of equipment they may want to buy it on a credit agreement or a lease.
"It needs connections to a finance company to get a quote, electronic signature and contract organised.
"Stockport.com inserts a layer that suddenly makes ecommerce possible for all these companies."