Rolls-Royce returns to Manchester, making city its SMR division HQ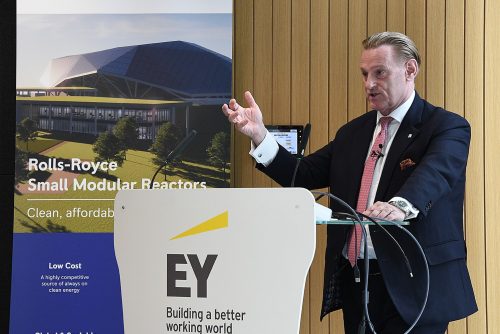 Engineering giant Rolls-Royce has confirmed that its small modular reactors (SMR) division is to locate its head office in Manchester.
Tom Samson, Rolls-Royce SMR's chief executive, made the announcement during a stakeholder event in Manchester, where the company's senior leadership team gave an update on the project to deploy a fleet of SMR power stations.
Mr Samson said: "Rolls-Royce SMR is coming back to Manchester, where Charles Rolls and Henry Royce first met in 1904.
"We're growing as a company and, as we move at pace to build our SMR power stations in the UK, the time is right to set up our head office in this fantastic city.
"We're on target to recruit 850 people to work on this incredibly exciting project by the end of this year. As the UK's domestic nuclear energy champion, we will play a vital role in providing clean, reliable, affordable and sustainable electricity for generations to come."
The new head office, at 11 York Street, will operate alongside Rolls-Royce SMR's existing locations in Warrington and Derby.
Business and Energy Secretary, Kwasi Kwarteng, said: "I am excited to see Rolls-Royce returning to its spiritual home of Manchester to expand on its vital and innovative work developing small modular reactors, designed and manufactured in Britain.
"Backed by £210m government funding last year, Rolls-Royce's small modular reactors have the potential to be a key part of boosting the UK's nuclear power capacity up to 24GW by 2050, as we turbocharge plans to generate more clean, affordable, home grown power in the UK, for the UK."
In April this year Rolls-Royce SMR announced it will create 400 jobs, split between Warrington and Derby, to support the growth of its nuclear power station business.
Nine-tenths of an individual Rolls-Royce SMR power plant will be built or assembled in factory conditions and around 80% could be delivered by a UK supply chain.
A single Rolls-Royce SMR power station will occupy the footprint of two football pitches and power approximately one million homes.
It can support both on-grid electricity and a range of off-grid clean energy solutions, enabling the decarbonisation of industrial processes and the production of clean fuels, such as sustainable aviation fuels (SAF) and green hydrogen, to support the energy transition in the wider heat and transportation sectors.