NW business briefs: Great British Railways; Ultimate Creative Comms; CAVU; B8 Real Estate; Blakedale; LCR Pride Foundation
Crewe has been shortlisted as one of six locations bidding to become the home of Great British Railways.
In March, Cheshire East Council and its partners submitted a strong expression of interest for Crewe to become the headquarters for the new public body, which will be in charge of railways across the country.
The Government has now announced that Crewe has been shortlisted, out of 42 possible locations, alongside Birmingham, Derby, Doncaster, Newcastle and York. Crewe says bringing GBR to the town will offer a range of levelling up opportunities and help its rail sector to further thrive. The headquarters would also benefit many surrounding areas due to Crewe's strong connectivity with rest of the country.
Now the public get to help decide in a public vote, on where the GBR HQ should be located before a final decision is made in summer 2022. People can vote now by going to www.gbrtt.co.uk/vote before the August 15 deadline.
Councillor Sam Corcoran, leader of Cheshire East Council, said: "We are absolutely thrilled that Crewe has been shortlisted as one of the locations being seriously considered as the new home for GBR.
"We strongly believe that Crewe is the right and logical choice. Crewe is a rail town through and through, at the heart of the rail network. Crewe has a strong rail heritage and is one of the most connected interchanges in the country, connecting the nation and serving as a gateway for the North."
::
After a successful partnership for more than five years, Richard Newman, managing director of Salesworx, has taken over as CEO of sister company Ultimate Creative Communications, with founder Mattew Townsend stepping back to pursue other business interests.
The takeover is the result of succession planning to enable the company to progress in what is already a hugely competitive industry. Townsend said: "For over two decades we have seen Ultimate go from strength-to-strength thanks to our incredible team and the support of our valued clients – I'm excited for what the future holds for Ultimate."
The agency, which has recently moved its headquarters to Manchester city centre, said that Matt will retain a consultative role, as Newman leads the organisation with the support of Jon Walker remaining as managing director, and a newly-formed senior leadership team.
Newman, who has more than 23 years of leadership experience across sales and marketing, working with global organisations such as Microsoft, P&G and Sony, said: "I'm excited to be leading our talented and passionate team. We have amazing clients that value the brilliant work the team delivers.
"We have an exciting future ahead of us with a clear strategy to enable us to add even more value to our clients, continue to develop and grow the team, and deliver top line growth."
::
Manchester Airports Group (MAG) has announced the union of its American and digital divisions – MAGO and MAG USA – to form a new business, CAVU.
Benefitting from MAG's 80 years of aviation heritage, CAVU says it has an unrivalled understanding of airport passengers. The newly-formed business will help clients across the world develop better customer experiences and drive value from the end-to-end passenger journey boosting their non-aeronautical revenue.
Examples of products and services developed by CAVU include a proprietary ecommerce platform which allows passengers to pre-book car parking and other airport products such as lounges and fast track security. Additionally, its intelligent performance commercial services offer revenue management and digital marketing capabilities, and its distribution solution offers passengers the broadest global choice of airport parking and related services – already spanning 23 countries, 302 airports, 1,191 suppliers and 2,631 individual parking products.
The company's new name is taken from the aviation and meteorology term 'Ceiling and Visibility Unlimited,' which describes the prefect flying condition, where the ceiling is more than 10,000ft and the visibility is more than 10 miles.
Martin Jones, CEO of CAVU, said: "We are so excited to have launched CAVU as we strive to become the number one airport product and services company in the world. Backed by 80 years of aviation heritage with parent company MAG we understand the airport passenger like no other. Our aviation history and long standing knowledge of the industry means we're able to deliver more products, scale customer reach for our partners and improve the travel experience for passengers."
::
North West industrial property agency, B8 Real Estate, has become an employee-owned business.
Directors and shareholders Steve Johnson, Simon Wood and Jon Thorne, who co-founded the company in 2011, have transferred their shares into an Employee Ownership Trust (EOT), which now owns the business for the benefit of its 11-strong team.
All three founding directors will continue to play a long term role in the business to continue its growth under employee ownership. Based at Daresbury Park, Warrington, B8 Real Estate's occupational agency and investment teams having been involved in more than eight million sq ft of transactions in the past 12 months.
Jon Thorne said: "Having worked hard to establish our brand and track record over the past decade, we wanted to build on our position as a leading independent force in the market. At a time of change and market consolidation, employee ownership offers a way for our business to safeguard its independence and create a growth platform for our team.
"It also recognises the importance of our people. B8RE's strength lies in our expertise and personal service which, in turn, relies on the knowledge and commitment of our team. The new structure puts our people at the heart of the business and provides a framework for longer term growth."
::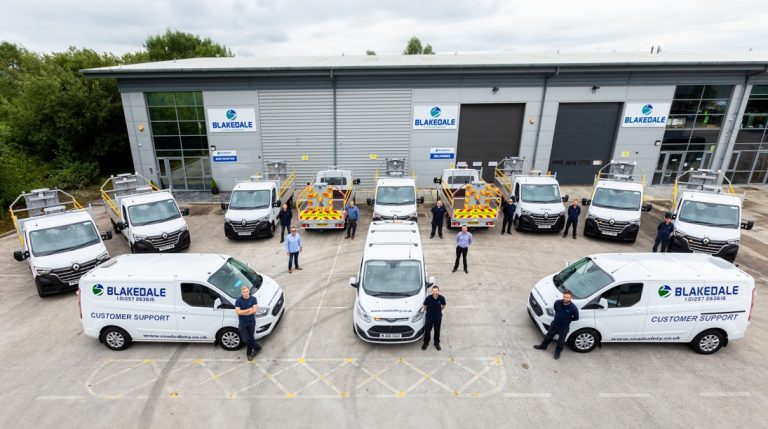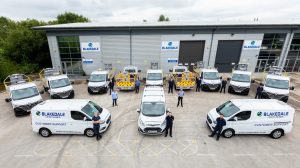 Blakedale, the Chorley-based specialist traffic management vehicle supplier, has been acquired by Northgate Vehicle Hire, a division of integrated mobility solutions provider Redde Northgate, for an undisclosed sum.
Family-owned Blakedale was established 30 yeas ago and is now one of the biggest privately-owned traffic management companies in the UK, with its vehicles supplied to highways contractors working across both motorway and urban environments.
Based in 72 locations across the UK, Northgate Vehicle Hire has grown to be the UK's largest business-to-business light commercial vehicle rental and mobility solutions provider. Blakedale's joint managing director and family shareholder Carmen Bowley will initially remain on board to ensure a smooth transition process. Blakedale will be run as a separate division with Northgate retaining its Chorley premises and people.
Carmen Bowley, joint managing director of Blakedale, said: "We are very proud of what Blakedale has achieved over the past 40 years. It is a modern business with excellent facilities that is at the forefront of a fast-moving industry. We are pleased to become part of the Redde Northgate family to support the long term growth of the business."
Blakedale was advised by RSM, led by corporate finance partners Nick Wyatt and John Gillibrand, with support from Davin Kandola and Aaron Bhatti. Nick Wyatt, corporate finance partner at RSM UK, said: "At a time when the UK Government has pledged long term investment into road infrastructure until 2050, this strategic transaction will enable two closely aligned businesses to continue to provide a market leading service to their customers in the traffic management sector. This partnership will support Blakedale's growth aspirations whilst strengthening Redde Northgate's presence in the traffic management sector."
::
LCR Pride Foundation, the organisation responsible for delivering Pride in Liverpool, has announced that this year's free festival will move from its usual site on Tithebarn Street to Liverpool's world famous Pier Head.
Pride in Liverpool 2022 returns on Saturday, July 30, after a two-year hiatus due to the pandemic. The change in location comes due to circumstances beyond the organisation's control, after it was informed that roadworks were due to start imminently on Tithebarn Street, meaning the original planned site would not be suitable for the event on the day.
The change in festival site will also alter the route for the city's annual March with Pride, where members of the LGBT+ community and its allies march through the city's streets in protest, celebration and solidarity. However, as in previous years, the march will start from St George's Plateau.
Andi Herring, CEO and co-founder of LCR Pride Foundation, said: "While a change in site so late in the planning stages of Pride in Liverpool is never ideal, the safety of those attending and working at the festival is paramount. We have a dedicated team of event professionals, suppliers and traders who have been working tirelessly to ensure that we are able to come together at the new site for the celebration that our community deserves and has been eagerly anticipating.
"Despite the change in location the event remains completely free and we are sure that Pride In Liverpool at Pier Head will be worth the wait. We are also continuing to work and support businesses in Liverpool's Pride Quarter and across the city with their plans for the day, so the whole city can show its support for our LGBT+ community. With LIMF also taking place in the city, we're expecting a busy weekend."