Accountancy group agrees heads of terms on new 43,000 sq ft Salford office base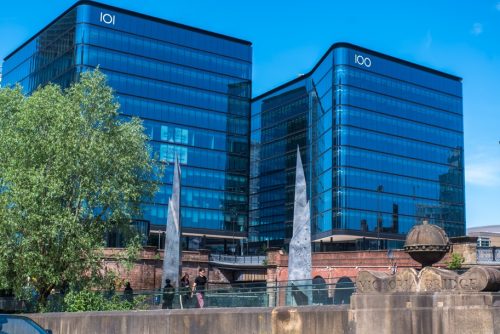 Accountancy giant Deloitte is to take 43,000 sq ft of space on a 10-year lease at 100 Embankment, in Salford.
The firm has agreed heads of terms for the office, which is located above Salford's Greengate Square beside Manchester's historic Medieval Quarter.
Currently based in a flexible office space at WeWork in the Hanover Building, Deloitte's 1,050 people in Manchester will move to the new Grade A space in autumn 2023.
The decision comes amidst growth for the firm both in terms of revenue in the region and headcount.
Total people numbers have grown by more than 150 in Manchester in the past year alone and plans are in place for Deloitte to increase its Manchester headcount to 1,800 by 2025.
In line with Deloitte's commitment to becoming net-zero by 2030, 100 Embankment is rated 'BREAAM Excellent' for its sustainability credentials and the fit-out will be aligned to Deloitte's WorldClimate objectives and the green principles set by the firm's UK head office at 1 New Street Square, London.
The new Manchester office will also reflect Deloitte's hybrid working model that offers a range of spaces to help fuel creativity, wellbeing and generate more collaboration across the business.
Amenities will include a dedicated entrance, as well as a communal roof terrace suitable for a range of purposes, from meetings and seminars to outdoor spaces for exercise and individual working.
Deloitte recently announced 326 promotions across its North West practice ahead of its new financial year, including seven promotions to partner, one to associate partner, one to senior director, and a further 19 people to director.
Andy Westbrook, practice senior partner for Deloitte in the North West, said: "We want to substantially grow our practice in the North West and Embankment is the perfect place for us to set down roots as we further commit to Manchester and the wider region.
"Our headcount has grown by more than 150 people in the last year alone and we have plans to recruit a further 750 people over the next three years."
Andy added: "This new space also aligns with our commitments to sustainability, wellbeing and digital connectivity.
"We will create an inspiring and flexible workplace where our people and clients can connect and collaborate. Its central location makes the office easily accessible via a variety of viable transport options and I am looking forward to designing and shaping our new home with our people."
Salford City Mayor, Paul Dennett, said: "Embankment is one of the city's flagship developments and we're extremely proud of its success in attracting major companies. Deloitte are coming to Salford at a very exciting time, with our strong strategic vision for the city's future, built on growth and opportunity.
"This announcement is great news and further emphasises the growing opportunities available in Salford for both businesses and individuals."