People: mmadigital; Lancashire Enterprise Partnership; B3 Labs; Hurstwood Holdings; Ash Integrated Services; NSM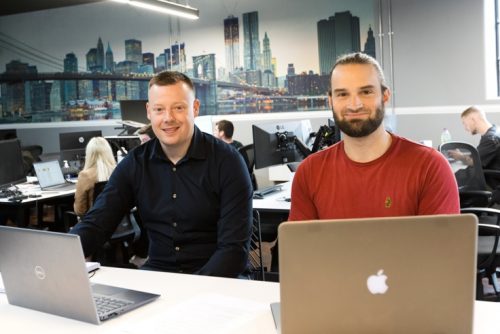 Customer acquisition specialists for the legal sector, mmadigital, has appointed two product development experts to expand and strengthen its data, digital and tech capabilities.
Craig Beardwood joins as product head and Tom Fletcher as product UX designer as the business continues to build a dedicated team to further develop its product roadmap. Both are working alongside mmadigital's chief product officer, Erin Short.
Beardwood has previously worked within the professional services and technology sectors, including roles at Slater & Gordon and WorkNest. His most recent projects include developing a portal for road traffic accidents and implementing a tailored CRM solution for one of the 'big four' accountancy firms, which helped to reduce wastage by 34%.
An experienced project manager and business analyst, Beardwood will optimise the infrastructure of mmadigital's internal workflow systems. He will be responsible for determining and delivering the product roadmap including enhancements and new features, and managing the internal CRM system, data and reporting.
Beardwood said: "I was looking for an opportunity to leverage my experience in the legal and technology sectors so was immediately attracted to mmadigital's proposition. The company's growth has been tremendous, and I look forward to leading our product advancements to build value and resiliency."
Tom Fletcher is a user-centred designer with more than 13 years' expertise in UX, UI, graphic, web and product design. With previous roles at innovative technology companies such as accessplanit, CANDDi and Kompli-Global, he will oversee redesigning the portal interface and its navigational architecture, and improving overall usability.
He said: "mmadigital is on a clear trajectory to transform some of its operations and I'm thrilled to be part of a team that's leading the way, at a time of such rapid change and growth."
Erin Short said: "Building our product team is crucial for shaping the future of our business and driving exponential growth. Both Craig and Tom will play an essential part in enhancing our systems and digital technologies to ensure we have the right infrastructure in place to better serve our people and our customers going forward."
::
The head of Boost, Lancashire's business growth hub, is to take over the day-to-day running of the Lancashire Enterprise Partnership (LEP) following the departure of the chief executive.
Andy Walker, who is head of business growth at Lancashire County Council, will take on the role on an interim basis as part of his job to drive forward economic growth in the county.
He will also help the LEP prepare for new governance arrangements to help the body become fully embedded into the anticipated County Deal Greater Lancashire is negotiating with government. Placing the LEP in a central role will be critical for the success of a County Deal, which will place growth and business at its heart.
LEP chair, Debbie Francis, said: "Andy is a well known and well respected figure in Lancashire's business community and he's the perfect person to take on the role of managing the LEP in this transitionary period."
Andy Walker said: "Economic growth is the key to ensuring the success of our emerging County Deal. The LEP has such an important part to play in this so I am thrilled to be taking this responsibility on at such an exciting time for Lancashire."
::
B3 Labs, a cannabidiol (CBD) manufacturer based in Manchester, has appointed manufacturing and finance specialist Deepak Azhagar as chief operating officer (COO).
In his new role he will manage day to day business activities, ensuring all operations are in line with the business's growth plan, while taking full responsibility for outbound product delivery. Deepak will also work alongside the technology and production teams to develop software and automation tools to drive improvements in process efficiency.
Deepak will add strength to the existing senior management team as B3 looks to drive forward ambitious growth plans. Prior to joining B3, Deepak was functional head at Wheels India, and was also assistant manager at BEML, delivering Bangalore's ambitious Metro Line project.
He holds a Master's degree in Business Administration from Cranfield School of Management, as well as a MicroMasters in Supply Chain Management from Massachusetts Institute of Technology.
Marc Burbidge, CEO at B3 Labs, said: "Deepak's broad experience across the manufacturing industry is a welcome addition to the senior team as we eye further expansion across Europe following our Novel Foods accreditation."
Deepak Azhagar said: "B3's rapid growth over the last few years was a major attraction of the role. I strongly believe the compliance, quality, and customer focus of the company will direct it towards tremendous growth in the next few years. I know that my experience and knowledge can add value to what is an incredibly ambitious team, in a fast-developing sector."
B3 Labs produces a range of highly innovative CBD oils, gummies and vapes and was recently acquired by Sana Life Science, a specialist cannabis distributor based in the UK and operating in a number of markets across Europe, including the UK and Germany.
The new COO will work closely with Sana Life Science's CEO, Ben Hamburger, and COO, Arjun Rajyagor.
::
Hurstwood Holdings has appointed Melcom Engbwang as its new digital marketing executive.
French born and raised, Melcom brings more than five years' experience, both in-house and agency, working with big brands such as Five Pizza Original, Figaro, Gigafit and O'Tacos in Paris before moving to Manchester to work for Distrelec.
In 2021, he completed a year in Canada as digital marketing manager for Rising Phoenix International before returning to Manchester where he recently worked on an international campaign for Boohoo.com.
Melcom will be based in Hurstwood's head office on Peter Street in Manchester, working alongside the marketing team, headed by Aimee Ashworth. His role will focus on the creation of social media content, SEO optimisation and brand awareness.
Aimee said: "Melcom's enthusiasm and unique creative flair will provide a fresh outlook for the company. He has already identified ways in which we can dramatically elevate our online presence and is proving to be a valuable addition to the team."
Melcom said: "Having worked across a number of industry sectors, I am excited for the new challenges that this role presents and the partnership approach to working as part of an extended team will allow me to achieve the best possible results for such a progressive and ambitious company."
Hurstwood currently employs 100 people nationwide with 25 based in its head office.
::
An Atherton-based mechanical and electrical (M+E) contractor has made a key hire as it targets further growth.
Gary Zetter has joined Ash Integrated Services as operations manager, with a clear remit to help the company increase the facilities management maintenance division.
Ash has welcomed organic growth since being founded in 2019, and after winning maintenance contracts with the largest council in the UK, a national pub chain, and a North West university, it is investing further.
Alongside Gary's appointment, Ash is working towards its ISO9001 and ISO14001 and will be recruiting up to 15 people in the next five months for maintenance projects as well as mechanical and electrical schemes.
Gary, who spent 13 years at multi-national facilities management firm Mitie, as well as two stints at SPIE, formerly known as AMEC, is relishing building on the foundations put in place. He said: "The three co-founders, Antony Grace, Sean Jackson and Howard Jackson, have done a tremendous job putting the building blocks in place for a fantastic business.
"While all eyes are typically on the finished project on a site, it's the people delivering it that are the key, and Ash has already put so much emphasis on this internally. I'm eager to take what we know internally and put this at the heart of our activity to secure further maintenance contracts across the UK."
Ash has grown to a team of 35 in the past 12 months and is aiming to double revenue from maintenance contracts over the next two years. The contractor counts Lancashire County Council, the University of Central Lancashire, and Punch Taverns as clients, with its team operating across the UK.
Antony Grace said: "I've known Gary and worked with him in previous roles, so I know exactly what he will bring to the table and the impact he will have, to put it bluntly, it's an exciting hire for Ash."
::
Industrial asset and property management specialists NSM has appointed Kim Howey as its new property manager for the North West.
Kim joins the growing company – with offices in Warrington and Doncaster – to help manage a range of logistics, SME and office assets across the M62 corridor and Midlands. Its current portfolio under management has grown to £374m so far this year.
She was previously residential and commercial property manager for The Next Big Thing, based in Liverpool, and before that worked for Regus as a community manager in Cardiff.
Kim reports into associate director Jacqui Saunders, and will be part of the property management team that manages 577 units nationally with a rent roll in excess of £20.67m.
NSM managing director, Nicky Jones, said: "Kim's experience in both commercial property and asset management is a welcome addition on to the team and she has hit the ground running. Her knowledge of the North West property market is very strong and is already proving to be a real asset, both with our clients and their tenants."
Kim said: "My background has been in commercial space but more recently I've moved into residential property management, so the fit with NSM is ideal. I'm looking forward to being able to add to my knowledge in the larger commercial property section and I'm very excited to be starting this new chapter in my career."