Turkish delight for hi-tech Bolton company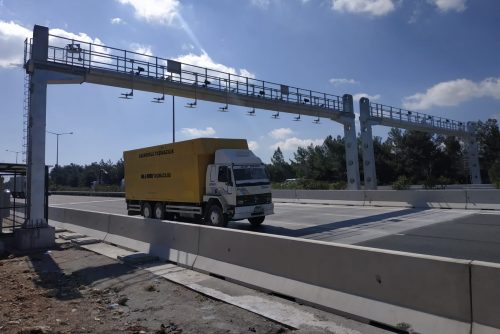 A Bolton technology company has won a contract to supply imaging systems for free flow toll roads in Turkey.
The tech will potentially save Turkey's government a fortune in infrastructure and maintenance costs.
Some 400 of the innovative camera systems are already in place and almost 1,000 more have been ordered from 4Sight Imaging, via its partner company, 4Sight Imaging Turkey.
The technology allows vehicles to pass beneath overhead gantries housing the cameras without stopping at booths and barriers, which are costly to install and maintain and which are staffed round the clock by workers.
Drivers with an account pay once their vehicle has been identified, or they are billed later thanks to automatic number plate recognition (ANPR) technology.
The cameras have been installed by Tetra Technologies on behalf of PTT, the Turkish roads ministry.
It's a contract win which represents a bold step into road tolling for 4Sight Imaging, whose technology has so far been used for traffic flow analysis to help ease congestion in busy areas like the West Midlands and the management of numerous car parks across the UK.
The ground-breaking technology has been developed by 4Sight Imaging's team of UK scientists, based at Bark Street in Bolton, in partnership with its Turkish partner.
4Sight's business development director, Marcus Bowdon, said: "Our free flow tolling system has the potential to save the Turkish government millions, because the infrastructure required for the more traditional toll roads will no longer be needed.
"There are further cost savings in maintenance and on manpower. In addition, our system has enormous potential in other European countries where toll roads are increasingly the norm."
Other applications of 4Sight's technology include automatic optical inspection on manufacturing production lines and in the defence industry.
Meanwhile, technology pioneered 4Sight Imaging is now helping in the battle to drive anti-social behaviour by motorists off the road.
The company has supplied PTZ (pan, tilt and zoom) cameras with vehicle surveillance software to Bolton Council at four key locations to assist in the local authority's now statutory obligation to make the town's roads safer.
Alliances with several northern-based partners has led managing director Brook Jackson to embark on a recruitment drive as the technology sector emerges from the COVID pandemic.
These include multi-faceted computer systems company Nimans, based in Manchester, and Oprema, a premier security sector distributor in the UK, both of whom are using 4Sight Imaging technology as the mainline supplier for all its ANPR needs.
Security systems integrator White Rose Security, based in Mexborough, Yorkshire, and which specialises in the installation of ANPR solutions, is also on board with 4Sight Imaging.