Logistics firm trials 7.5 tonne electric truck to boost environmental strategy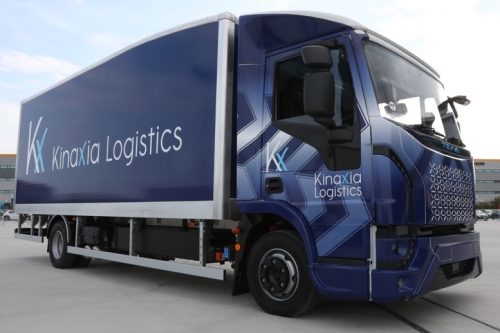 Macclesfield-based logistics provider, Kinaxia, is to trial a new electric truck that has just rolled off the production line.
The trial, as part of Kinaxia's environmental strategy, is focused on the 7.5 tonne Tevva Truck, built by Essex-based electric and hydrogen truck company Tevva.
It is the manufacturer's first series production commercial battery electric truck.
The vehicle offers a range of up to 110miles, and has undergone extensive testing, most recently in hot weather conditions in Sierra Nevada, Spain, where it repeatedly climbed to altitudes of more than 2,500 metres while carrying its two tonne load capacity.
Tevva reported that there was no marked drop in performance here, with the truck having also been put through its paces 300kms north of the Arctic Circle in Finland as part of its cold weather testing.
Tevva trucks have accrued nearly half a million kilometres in real world fleet testing.
Kinaxia Logistics plans to trial Tevva's first electric vehicle as an element of its overall environmental reduction strategy, and will be provided with 24/7 customer support from Tevva. It will work out of Kinaxia's Trafford Park depot.
Asher Bennett, Tevva CEO and founder, said: "We are proud to announce another major milestone in our company's history as the first series production Tevva Truck is rolled off our assembly line. I would like to pay tribute to the whole team who have worked tirelessly to reach this goal.
"We believe our battery and dual energy vehicles will change the face of the transportation sector and help companies and countries reach their net zero emission targets. We are also pleased that Kinaxia Logistics has joined us in this endeavour and share our vision in decarbonising the transport sector."
Kinaxia Logistics chief executive, Simon Hobbs, said: "As a large and growing transport organisation, we are constantly looking at ways to improve our environmental performance, in particular with regard to CO2 emissions.
"Over the years we have implemented a number of measures, including better vehicle utilisation, driver training and trialling different fuel types. Now, as a result of our collaboration with Tevva, we have the opportunity to trial our first electric vehicle as another element of our overall environmental reduction strategy."