Property round-up: Lancashire Cricket; Highfurlong School; One St James Square; Beesley & Fildes; Roger Hannah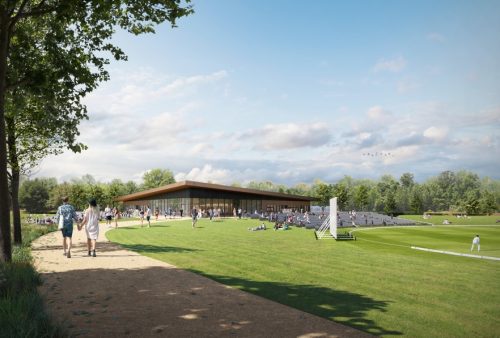 A planning application has been submitted to create a new high quality sports facility in the heart of the county.
Led by Lancashire County Council, the proposed development for Lancashire Cricket will bring together elite and community cricket on a site at Farington.
The aim is to establish a new year-round facility, which would host a number of men's and women's competitive matches each year, as an alternative to Emirates Old Trafford, while also providing a new training base for Lancashire's men's and women's teams.
If planning is approved, the new facility would become a Centre of Excellence for women's cricket in the North West, further encouraging the growth of cricket in the region.
County Cllr Phillippa Williamson, leader of the county council said: "This is a fantastic project which will create high quality cricket facilities in the heart of the county, with a significant boost to our economy and new jobs.
"These are exciting proposals and I'm especially pleased that these facilities would help to encourage more people to take part in sport, including younger people."
As well as providing elite training facilities for the club, it will also be made available to the local community throughout the year, including local cricket clubs and schools. The new facilities will help to support additional health and wellbeing opportunities, through active participation in sport and will assist the Lancashire Cricket Foundation in delivering nationwide cricket programmes, such as All Stars Cricket (aged 5-8) and Dynamos Cricket (aged 8-11).
As well as providing new sports facilities, the development will create up to 30 jobs, as well as those generated during the construction process – in addition to further training and skills opportunities.
The planning application has been submitted and validated by the county council, which will determine the application in line with the Government's planning policy. It will be subject to consultation through the usual planning application process, with additional opportunities for people to comment.
Andy Anson, chair at Lancashire Cricket, said: "This project is a hugely exciting collaboration between Lancashire Cricket and Lancashire County Council, with the aim of delivering a valuable asset for the local community, as well as high quality professional facilities for the club in the heart of Lancashire.
"With the amount of international and domestic cricket – men's and women's – being held at Emirates Old Trafford, the need for a second ground has become pressing."
A public consultation was held in December and January. Consultations have also taken place with representatives from the England and Wales Cricket Board (ECB), cricket's national governing body.
Owned by the county council, the proposed site in Farington is alongside the A582 Farington Road on the west side of Stanifield Lane, and a short distance from the M65 and M6.
::
A planning application has been submitted to Blackpool Council by Cassidy + Ashton, outlining expansion plans at Highfurlong School, a maintained special school in Blackpool.
The plans seek to increase the capacity of the school for children with special educational needs and disabilities (SEND). The planned new building will also provide much needed facilities to extend the programmes and activities that the school offers to its students and their families.
Built in 2015, Highfurlong School operates from a purpose-built building alongside the Aspire Academy on Blackpool Old Road. The current facilities include a hydrotherapy pool, sensory rooms, bespoke outdoor education and play areas and is fully accessible for all pupils.
Currently providing education for 111 students, the new building includes six classrooms, a specialist teaching room for the delivery of practical subjects such as science, food technology and life skills. Further ancillary services include a kitchen with dining and multi-use space, toilets and hygiene suites, as well as a community-facing café to encourage the local community to engage with the school.
Architectural, planning and building surveying practice, Cassidy + Ashton, is providing planning and design consultancy services and Preston-based Eric Wright Construction is the appointed contractor.
Funded by government funding for new school places and SEND, the standalone extension will double the capacity of the school and will connect to the existing school via a covered walkway.
The new building will be constructed as a mix of brick and render with blue feature window reveals. A controlled ventilation system, spacious circulation and key ancillary spaces are all integral to the design of the new building.
Architect, Dominic Garret, from Cassidy + Ashton, said: "We are proud to be a part of this life-changing project that will enable to school to offer its highly sought-after specialist facilities to more pupils. By creating a safe and comfortable environment for all pupils, our design benefits the students' health and wellbeing by creating enhanced and inspiring learning environments."
Stephen Knowles, special project manager at Eric Wright Construction, said: "This is a new project that we have just started work on and will be delivered via the LEP Framework, which builds on our ongoing relationship with them. On approval, work is scheduled to start on site at the beginning of 2023 with completion planned by the end of the year."
Head teacher, Neill Oldham, said: "Following Highfurlong School's sustained success and national recognition, we are delighted that this proposed expansion of the school estate will enable us to offer outstanding education and specialist facilities to more children and families in the local area."
::
Glencar Construction has agreed a five-year lease to occupy 2,500 sq ft across the whole of the self-contained fifth floor at One St James Square. Glencar will relocate its team from its current accommodation at Neo.
The fifth floor provides Glencar with a fully fitted office, complete with kitchen, meeting rooms, break out areas and dedicated roof terrace.
One St James Square is currently undergoing a comprehensive refurbishment programme to provide an exposed services finish, all to a Grade A specification. This includes the ground floor, third, fourth and fifth floors, as well as all common areas, including reception, WCs, lift carts, basement, showers and cycle hub.
Matt Pickersgill, associate director at Avison Young, said: "Being in the industry itself, Glencar requires the highest standard in its office fit-out and has a keen eye for detail, so we're delighted the team was attracted to One St James Square.
"Leasing the space pre-completion is testament to the quality of the design and finishes that One St James Square will now be able to offer and we expect to see good levels of interest over the coming months and following the post-completion launch of the building this October."
Peter Goodman, Glencar managing director Midlands and North, said: "Our operations in Manchester and the North West are expanding rapidly, and this move to One St James Square and the entirety of the fifth floor is a direct response to that growth, whilst also giving us much needed space to expand further.
"The building commands a striking impression right in the heart of Manchester's prime commercial centre, with several of the city's most fashionable restaurants and retail spaces very nearby. The building refurbishment is being undertaken to a very high standard and will create a spacious and contemporary workspace in which we hope our colleagues will flourish and which we will be proud to welcome visitors to."
Glencar will join law firm Glaisyers ETL, which occupies the first and second floors. Currently the ground, third and fourth floors totalling 17,500 sq ft remain available and suite sizes range from split floors of 2,500 sq ft to full floors of 6,780 sq ft.
Avison Young and Edwards & Co are the joint letting agents for One St James Square, with Workspace Design and Build appointed as the contracting team for the full refurbishment.
::
Beesley & Fildes, a family-owned independent builders' merchant, has opened a new £2m distribution centre in Widnes to accommodate the growth in demand for building products.
Situated near key strategic highways, including the M56, M62 and M57, the facility will support the business's 11 North West-based branches and its online click and collect customers.
The 4.2-acre distribution centre is a key part of Beesley & Fildes' wider £3.2m expansion plans, enabling it to purchase and house more stock for its customers across the building, civils, and drainage market.
Beesley & Fildes is committed to growing with its customers and providing a fast and efficient service. By investing in new technologies and machinery, the distribution centre will prove to be a key facilitator in achieving this objective.
James Beesley, commercial director at Beesley & Fildes, said: "Our new distribution centre is strategically located – by being so close to three key motorway links, we're able to service each of our 11 branches and our customers far more efficiently. As we see the demand for building products continually increasing, it was vital that we broadened our in-house capabilities and operations."
::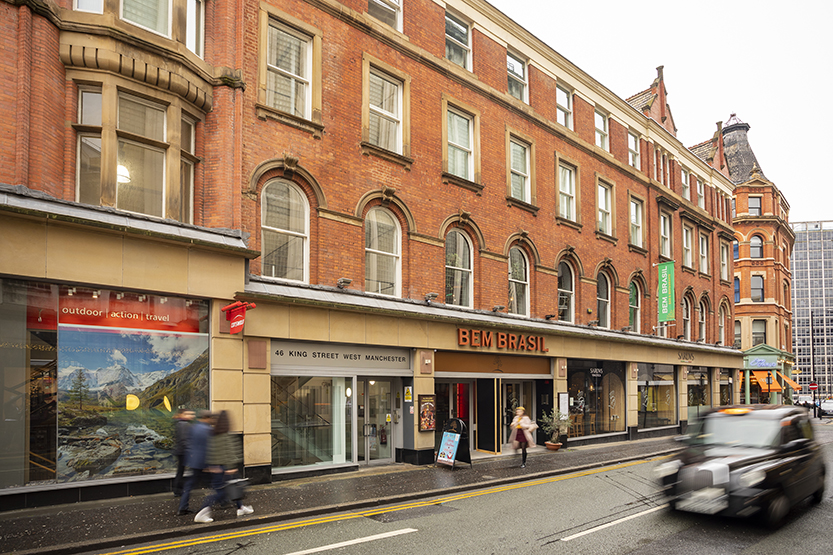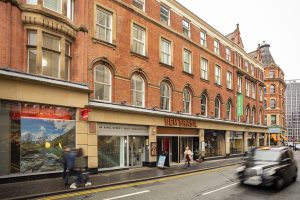 Roger Hannah has confirmed the off-market sale of Bem Brasil, Deansgate and King Street West, Manchester.
The property occupies a prime position on the corner of Deansgate and King Street West, in the heart of Manchester city centre, and is fully let to Bem Brasil Restaurants who operate from the first floor, with sister company Pizza Place operating from the ground floor.
The property was purchased off-market by a London based investor, with Roger Hannah director, Stuart Cooper, saying: "The sale of this investment reflects Manchester's strong resilience as a top UK destination for the food and beverage and leisure industry."