Law firm extends regional coverage with move to two new locations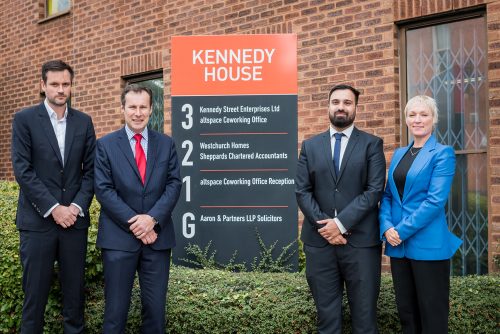 Cheshire-based law firm, Aaron & Partners, has announced a double expansion move as it grows its geographical reach throughout the North West.
The firm already has offices in Chester, Shrewsbury and the Wirral, and it has now revealed plans for a presence in both Altrincham and Warrington.
The Legal 500-listed practice has signed a lease with co-working and premium office space provider altspace, and will, this month, begin to welcome businesses and individuals to the two sites – on Altrincham's Stamford Street and Warrington's Moulders Lane.
Aaron & Partners says the Greater Manchester move is a show of commitment to the local community and represents another milestone for its growth strategy.
Clients will benefit from a full suite of services at the firm's new bases in Altrincham and Warrington, including business immigration, employment, dispute resolution, commercial property, construction and family law.
Adam Haines, employment law partner, said: "This is a key strategic move for the firm as we continue to expand into the Greater Manchester and East Cheshire region.
"Opening this new site in Altrincham and increasing our presence in Warrington will allow us to better serve our existing clients, whilst developing new relationships with individuals, businesses, and organisations in the area."
Simon Magner Mawdsley, family law partner, said: "We are pleased to be opening new offices in Altrincham and Warrington to enable us to build on our existing connections and forge new relationships.
"We are looking forward to providing individuals within the area with a personal service in respect of any issues that arise within their relationship."
Emma Beard, community manager at altspace, said: "Playing host to such a highly thought of legal firm is a huge boost as we continue to build a close-knit business community at our sites, which are already home to firms in a wide range of sectors, from architecture to media."