November opening for 'world's best steak restaurant' creating 70 Liverpool jobs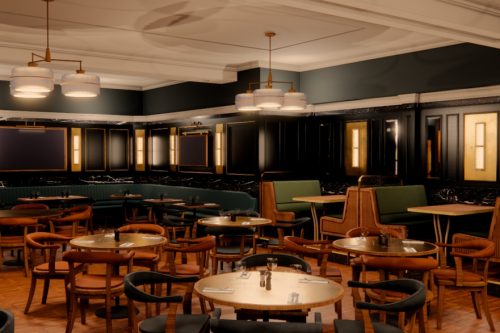 Hawksmoor, which has been ranked number one in the 'World's Best Steak Restaurants', has announced the opening date of its Liverpool site, which will create around 70 jobs.
The India Buildings restaurant will join the London-based group's existing portfolio of 10 sites, including London, Manchester, Edinburgh and New York when it opens its doors on November 24.
Hawksmoor's original opening was put back following extensive flooding in the basement of India Buildings which required repairs.
The exclusive chain specialises in steaks and seafood and is famous for its charcoal grilled, 35-day dry aged steaks, award-winning cocktails, and spectacular interiors.
Hawksmoor has taken space on the ground floor of the iconic Grade II-listed office block, with access via the Brunswick Street/Fenwick Street corner of the site which dates back to 1924
The group's Liverpool venture will boast a 150-cover restaurant, private dining space and a bar to be enjoyed by both diners or those simply looking for a spot to enjoy a drink.
Founded by two childhood friends in 2006, Will Beckett and Huw Gott, opened a restaurant serving steaks from traditionally-reared cattle and sustainably sourced seafood, alongside old school cocktails in a then-unfashionable part of London, and changed steakhouse standards in that city.
Since then, Hawksmoor has grown to a 10-restaurant group, including the most recent, successful launch in New York, praised by The New York Times, The New Yorker and critics across NYC's world-renowned restaurant scene.
With a focus on sustainability, charity and local sourcing, Hawksmoor is the first UK restaurant to become a certified B Corp.
Will and Huw's obsession with quality and ethics has led them to collaborate with, and highlight, individuals and companies who share their beliefs, from local farmers and fishermen to local, national and international charities fighting food poverty as well as to their restaurants being given the highest rating for sustainability by the Sustainable Restaurants Association.
Their nominated Liverpool charity will be Feeding Liverpool, a local food alliance which was set up in 2015 to tackle hunger and food insecurity by identifying the root causes of poverty.
Hawksmoor has pledged a £10,000 initial contribution to Feeding Liverpool and will follow this initial donation with contributions from best selling menu items and ongoing fundraising to foster a supportive long term partnership with Feeding Liverpool and its vital network.