People: Campfire; BCN Group; AspinallVerdi; Zerum; UK Circuits; RSM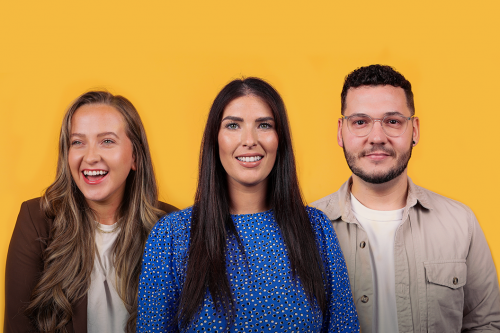 Campfire, the Manchester-based social-first marketing agency, has welcomed three senior hires.
Headed up by ex-Social Chain directors, Joe Gradwell and Alex Brown, the now 40-strong award-winning agency has seen significant growth since its conception in 2019.
Jennifer Barber joins the team as head of insights, making the move from The Hut Group where she was senior social and insights manager for its Myprotein brand.
Jennifer brings strong leadership skills and ensures content is always 'on brand' for her clients. At Campfire, she will head-up the data and insights arm of the business, driving client strategy, supporting new business and developing market leading insight tools.
Prior to her role at The Hut Group Jennifer was at social media agency, Social Chain, where she was responsible for commercial pitches and reporting on campaign performance for brands such as William Hill and Frontier.
Jennifer said: "I've loved watching the work Campfire has produced with some amazing brands so I was really keen to be a part of an agency that truly cares about doing what is right by the client and creating incredible, social-first content. Understanding the consumer, looking at wider cultural shifts and spotting trending moments is what I absolutely love doing so I can't wait to do that for some of the best brands in the UK."
Jade Hadden joins Campfire as account director, with 10 years' experience at agencies including Lakestar McCann, iProspect and more recently, leading the commercial, strategic and operational aspects of entrepreneur Steven Bartlett's personal brand at Social Chain.
Beginning her career in campaign management, Jade has worked on content and creative strategies for household brands such as Pets at Home, Holland and Barrett and Pure Gym. Jade said: "I was instantly drawn to Campfire's values. The team always has the client's best interests at heart, whilst producing industry leading, social-first content."
Shaun Dickson joins as influencer director, after a five year stint at Dentsu, where he led the influencer and social team across the UK. During this time, he worked on clients including Heinz, Pets at Home, Accor and Remington. Previous to this, Shaun worked at The Hut Group, developing content strategies across all forms of digital media.
He will lead Campfire's influencer, social and PR teams, providing cross-channel integrated strategies that drive performance across all aspects of the marketing funnel. Shaun said: "On average, people spend almost five hours a day on their mobile phone, where they're engaging with brands, creators, family members or friends. Campfire has a true focus on nurturing these communities, ensuring we're providing relevant social-first content that adds value."
Joe Gradwell, CEO at Campfire, said: "We're in a period of exciting transition, from small to mid-sized agency, so it was the perfect time to bring in these senior hires to help shape and steer the business forward. We're excited to enter this new phase and continue to provide a world class service to our clients."
::
BCN Group, the Manchester-based IT cloud and managed services specialist, has appointed Mark Braund as its new non-executive chairman. As a leading expert in the technology space, Braund will be helping BCN Group to synergise the company's strategic growth goals.
BCN is a digital transformation company and managed service provider delivering cloud first data strategies, including Microsoft Modern Workplace, Microsoft Azure, analytics, development, and IT security services to the mid-market and public sector organisations.
In his role as chairman, Braund will primarily support the board to define, align and meet the business's strategic goals over the next 4-5 years. Having experienced a successful year for growth in 2022, with BCN's recent acquisition of Evo-soft, a Microsoft Dynamics 365 Business Central specialists, Braund will focus on evolving the strategic direction of the group, reinforcing its strong organic growth and advising on future development plans.
Braund has more than 35 years' experience in the technology, consulting and business services sectors and has a strong track record of leading teams through profitable change and materially improving shareholder value. In addition to his role as non-executive chairman at BCN Group, Braund is also chair of Livingstone Group, NFS Technology Group, Parity Group and React Group, highlighting his leadership skills and valued strategic approaches.
Prior to setting up his own advisory practice, Braund was CEO of RedstoneConnect, leading them through a well documented turnaround, the profitable sale of legacy assets and carving out of an exciting software technology business, now known as Smartspace Software.
Braund said: "I'm excited and humbled to take on this role at BCN Group. Tech services is an industry which so many businesses rely on, and the sector will only grow with technological advances. 2022 is an exciting time to be joining the board, with the company having received investment earlier this year, and most recently completing the acquisition of Evo-Soft, strengthening the company's portfolio."
Rob Davies, CEO of BCN Group, said: "Mark has great credentials and track record of steering teams strategic growth in the tech services sector, but his understanding of people development and his cultural approach makes him an excellent fit and choice for BCN."
::
The expansion of independent property regeneration consultants AspinallVerdi continues with the appointment of Malawian Davies Jiva as a development surveyor in the firm's Liverpool office serving clients throughout the North West of England.
Davies joins the growing practice with a BSc in Land Economy from the University of Malawi and is also a graduate of MSc in Real Estate from Liverpool John Moores University.
His extensive professional property sector experience includes roles at regeneration and housing policy at the Department for Levelling Up, Housing and Communities, FDH Financial Holdings in Blantyre, Malawi, Malawi Housing Corporation and also Malawi's Ministry of Lands, Urban Housing and Development, CMC Property Consultants in Blantyre, Malawi.
Davies was also winner of the Global Scholars Award at Liverpool John Moores University in 2019, vice president of All Africa Students Union in 2016 and from 2014 to 2016, president of the University of Malawi Students Union.
Led by director Andy Delaney, the AspinallVerdi team serving the North West opened in summer 2019 and has recently moved its office from the Albert Dock to new space at No 1 Mann Island. The company has clients throughout the region including Wirral Borough Council, Homes England, Ion Developments and Cains Brewery Village.
Andy said: "Davies is an outstanding example of a young and ambitious property professional, already boasting invaluable experience of key disciplines including property valuation, investment, management and development. We were particularly impressed with his determination to secure a career in England.
"His skills will be invaluable to our team and clients as we continue to offer regeneration and development advice to the public and private sectors around the North West."
::
Manchester and Leeds-based planning, project management and cost management consultancy, Zerum, has made four new hires to its Manchester team.
Kate Salter has joined as senior planner from Nexus Planning based in Manchester. Kate has previously worked on projects such as Cowley Hill, St Helens and Sale West Estate Regeneration, Trafford.
Kate will be working on a number of major mixed-use schemes across the North West, Yorkshire and the wider UK, including the delivery of more than one million sq ft of office and hotel space in Leeds city centre, a new Hydrogen facility in Wales, and a transformative new residential development in Nelson.
She said: "I am very excited to be involved with the incredible schemes we are working on at Zerum. I am looking forward to joining such a great team full of top tier talent and re-shaping skylines across the UK."
Zerum has also welcomed Paul Loft as senior project surveyor who has joined the business from Capita.
Takudzwa Rashai will also join as project surveyor, working alongside Paul Loft and the wider team. He has previously worked at Manchester City Council and both will assist with the delivery of a selection of prestigious residential schemes across the North West and Yorkshire including Gorton Street, Salford and City Place, Chester.
Ben Kilbride also joins Zerum as a trainee project manager to support the project management team. Ben will be working on a number of Zerum projects including Natex, Liverpool.
Zerum is currently delivering services on site with notable schemes including KKR's St Michael's Phase 1 (£59m), Natex in Liverpool, City Place, Chester and Thorpe Park, Leeds.
Russell Wright Turner, cost management director, said: "People are a huge part of our business and we are delighted to have expanded our team again with four new excellent hires.
"We are very much looking forward to finishing off 2022 on a high and jumping into 2023 raring to go as we continue to work with our clients on some of Manchester and Leeds' biggest developments."
::
Ramya Ravichandran has been appointed as buyer/planner at UK Circuits, the latest of a series of staff hires by the electronics manufacturer amid a buoyant period of growth.
Ramya's manufacturing career started almost 10 years ago at Flextronics in India as senior analyst, before becoming material planner at aerospace manufacturing materials handler Accenture. Prior to joining UKC, she worked as supply chain specialist at welding and cutting firm ESAB, based in Chennai. She is currently studying for her Master of Science post-graduate degree in MS, Procurement, Logistics and Supply Chain Management at The University of Salford.
In her new role, among her key responsibilities at the Manchester-based PCB firm will be securing the availability of stock allocation for production and checking demand for critical items to ensure on time deliveries, while helping the company to navigate through the post-Brexit components supply market and procurement challenges that the manufacturing industry continues to face.
Ramya said: "I am looking forward to being part of a company that has such ambitious growth plans and is committed to successfully navigating the current global economic challenges."
Chris McTernan, procurement director of UKC, said: "Ramya is a great addition to our team. It'll use both her academic knowledge and professional experience to help drive our procurement strategy forward while continuing to develop relationships with suppliers old and new."
Ramya is the latest in a string of appointments and promotions at UKC in 2022, reflecting a strong period of growth for the business. Katie Lamb joined the team earlier this year as purchasing assistant and Shaney Kelly has been promoted to buyer/planner since starting at the company in 2018.
Now celebrating its 25 th year in business, UK Circuits has been manufacturing printed circuit boards (PCBs) from its 20,000 sq ft state of the art facility in Middleton, where it employs more than 50 staff and has a 100+ strong client base across a range of sectors including audio, automotive, electronics, pest control, telecommunications and, more recently, the indoor farming market.
::
Audit, tax and consulting firm RSM UK has announced 40 new promotions to director, with nine of the promotions based in the North West.
RSM UK has strengthened its audit faculty with the promotion of Charlotte Massey in Manchester, Michael Oates in Preston and Chris Phillips in Stoke. In its tax faculty, Louise Cowell (Manchester) and Chris Alderman (Stoke) have both been promoted. In addition, Chris Buckle has been promoted in consulting (Crewe), Helen Gibson in mergers and acquisitions (Preston), and Nicki Wall in accounting and business advisory (Stoke).
The newly appointed directors are among 40 promotions to director across the national firm – matching 2021's largest ever cohort of new directors. Dozens more staff have also been promoted as RSM UK aims to become a first choice employer of highly skilled people, and the leading adviser to middle market firms globally.
This latest promotion round marks another significant milestone in its continued bid to strengthen the growth of the firm from within its own ranks.
RSM UK has also recently recruited a record high of 723 new students across the UK in 2022. The move surpasses its 2021 intake by 20%, as the firm continues to invest in its long term growth plans. Specifically in the North West, the firm has taken on 112 new students, across all service lines in the business.
Kevin Duffy, RSM UK's regional managing partner for the North West, said: "Our latest round of director promotions recognises the hard work, dedication and talent of our team in the North West. They have worked incredibly hard to reach this stage and I know they will each play an important role in driving our regional growth.
"I am also delighted to welcome our new trainees for 2022 who will look to our new directors for support as role models as they embark on their careers at RSM UK.
"Both the promotions and record intake of trainees this year demonstrate our confidence in the strength of the region and our desire to be both a key player and employer – recruiting, developing and retaining the very best of talent in the North West."