Retailer confident about 'Golden Quarter' after strong summer sales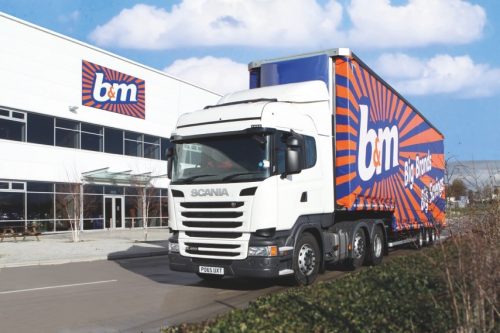 Value retailer B&M enjoyed a good summer with shoppers becoming more cash conscious as the cost-of-living crisis worsened.
The FTSE 100 company said "momentum is good" and it is confident about its position for the "Golden Quarter" of Christmas trading.
It has confirmed its previous guidance of group earnings of £550m-£600m for the full year, which would be up to 75% above earnings in its last pre-pandemic year.
Alex Russo, who replaced long-standing chief executive Simon Arora in September after two years as chief financial officer, said: "Sales momentum is good as we enter a difficult period for the economy and consumers.
"Our value-based approach is winning with existing and new customers, and we will do our very best to help them weather the cost-of-living crisis.
"We are well positioned as we trade through the Golden Quarter and our strategy remains unchanged – a relentless focus on price and product."
The group has three divisions – its B&M stores in the UK, which account for 80% of revenue, its French stores, and food retailer Heron Foods.
The group generated £2.3bn sales in the 26 weeks to September 24. B&M France led the way with 18% growth in revenue and a 54% increase in earnings.
Russo said: "Our business in France offers excellent long term growth potential – through new stores and through improving the offer as the business adopts B&M best practice and the B&M supply chain.
"With just 111 stores in a country with a population similar in size to the UK, medium to long term growth potential is high."
Russ Mould, investment director at Manchester investment platform, AJ Bell, said: "B&M had a good pandemic as it was able to stay open thanks to its food offer when other rivals could not.
"In theory the current environment should also be supportive as its discounted offering chimes with a consumer struggling to make ends meet.
"To some extent this is the case and is reflected in a positive outlook for festive trading alongside first half results with the company already shining in what B&M calls its 'Golden Quarter'.
"However, there are signs of margin pressure on the business. An uncharitable takeaway is that B&M doesn't have a great degree of pricing power, a prized quality right now.
"When your whole model is about offering products at bargain prices, you probably have to absorb some of the extra cost so the brand's reputation for value isn't undermined.
"There are also signs that B&M has been caught out by unpredictable weather and left with stock which it has had to sell at big markdowns."