People: Dow Schofield Watts; ANS Group; DTM Legal; Blume; Vincents Solicitors; Cowgills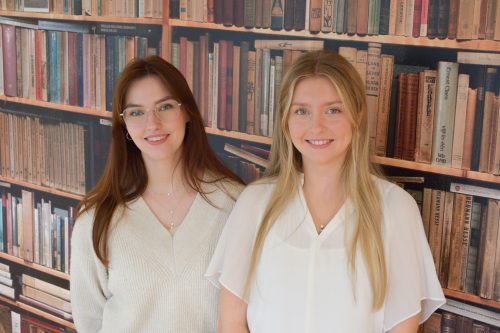 Fast-growing advisory firm Dow Schofield Watts has made two new appointments in its North West office in line with its aim to champion diversity across its network and provide access to specialist finance roles for ambitious school leavers and graduates.
Feona Donnelly-Worthington has joined its forensic accounting arm, DSW Bridge Houghton Forensic, as a graduate forensic accountant. Feona, who recently graduated from Queens University Belfast, has also worked in administration for a fire protection company during term breaks for the past four years.
At DSW, she will be studying for her Chartered Accountant (ACA) qualification while pursuing her keen interest in forensic and investigative accountancy.
Meanwhile, Madeleine Andrews has joined the transaction services team as an apprentice financial analyst. Madeleine, who joins straight from The King's School Chester, will be studying for an accounting qualification while learning financial due diligence skills.
Accounting apprenticeships offer a 'debt-free' route into the profession, enabling candidates to train on the job and earn a salary instead of going to university.
Pete Fendall, of DSW Capital, the company behind the Dow Schofield Watts brand, said: "Our decision to encourage the recruitment of trainees and apprentices gives candidates greater choice – not only by offering different routes into the profession, but also the opportunity to cut their teeth in areas such as forensic accounting and due diligence rather than the usual audit departments.
"It will also enable the firm to attract a wider range of candidates and develop our own home-grown talent with the specific skills that our specialist teams require."
::
Technology firm ANS Group has appointed former Samsung, Dentsu and Dixons Carphone Warehouse executive Toria McCahill as its first chief people officer (CPO).
McCahill joins the firm's group board and takes responsibility for building on ANS's award-winning culture of investment in people, training and career development.
Now one of the largest tech employers in the North West, ANS has a growing headcount in excess of 700 as it works to deliver the highest levels of service to its 7,000 B2B customers.
With a background in finance and M&A, McCahill made the switch to people/HR more than a decade ago and has held senior roles, including CPO, at a string of household name businesses.
McCahill brings significant experience of managing merged companies and nurturing outstanding cultures, while supercharging people systems and processes. She joins from Comparison Technologies, another tech business in the Inflexion Private Equity portfolio.
McCahill is also a founder member of the Reward Employee Benefits Association (REBA), a professional network for the reward and employee benefits community.
She said: "The investment ANS has made into its people and culture is huge. My role ensures that everybody has an opportunity to maximise their contribution on our exciting journey. My passion is to build diverse and high performing teams, enabling people to develop and grow their careers."
ANS CEO, Richard Thompson, said: "Toria brings a unique set of skills to the role of CPO, with a deep understanding of commercial strategy and how it links to people strategy.
"She joins the business at a pivotal moment. As we look forward to the coming years of growth, we are investing to make sure our team have all the tools to deliver on our ambitious plans, and that we attract, retain and engage amazing people."
::
DTM Legal is expanding again. Helen Davies has recently joined the family team as an associate. She joins with a wealth of experience in all aspects of private family law with her particular expertise being in financial and matters for both married and co-habiting couples. Helen's work also encompasses complex Children Act applications to include those with an international element.
Lesley Smythe, head of family, said: "Our family team has recently been awarded 'Firm to Watch' in the 2023 Legal 500 rankings. Helen arrives at an exciting time for our growth and will be a great asset to the team."
Recommended Lawyer and Resolution-accredited in complex higher income and financial remedies and Children Law, Helen said: "I have over 12 years' experience in family law and find a real satisfaction in giving practical and sound advice to a client and ultimately knowing you have helped them navigate one of life's most difficult periods."
Partner, Jim Morris, said: "We have had year-on-year growth across the firm and our Legal 500 rankings show our legal excellence and outstanding service. We welcome Helen to the team. She will be invaluable to the family department."
::
Customer acquisition specialists for the legal sector, Blume, has appointed Callum Naylor as paid social manager to lead its paid social media strategy.
In this newly-created role, Naylor will focus on optimising paid social media campaigns for Blume's consumer-facing brands to drive customer acquisition and growth for its law firm panel. He will work closely with the wider digital marketing team to deliver its integrated, cross-channel digital marketing strategy.
Naylor joins Blume from Social Tap, where he was responsible for building a team of six to deliver complex Facebook and TikTok campaigns for a range of clients. He has extensive experience managing social media tools and digital media platforms across all aspects of the customer experience.
Blume is on a wave of senior hires as it grows its in-house tech and digital marketing capabilities in a move to implement more innovative and flexible digital strategies to attract and engage with prospective customers, on behalf of its clients.
Steve Evans, Blume COO, said: "Extending our in-house digital marketing operation is more important than ever as people interact with brands across an ever-increasing number of channels, through multiple devices. Callum is a great addition to the team and will play an important role in shaping Blume's social media strategy moving forward."
Callum Naylor said: "I'm really excited to join such a strong and dynamic team, and look forward to supporting Blume's customer acquisition strategy with a collaborative, focused and data-driven approach to paid social advertising."
::
Lancashire's Vincents Solicitors has appointed Oliver Banks as the firm's new head of Court of Protection and trusts within the private client department.
With almost 10 years' experience in Court of Protection work, Oliver will oversee the financial affairs of clients who have lost capacity through injury or illness.
Appointed either by the client as their named professional attorney or Professional Trustee, or the Court of Protection as their professional deputy, Oliver will be personally responsible for managing and paying for care needs, investing compensation pay outs, and protecting funds from misuse or fraud.
He said: "It is my responsibility to provide the highest quality care and support to clients as their named professional attorney, professional trustee or professional deputy – the buck stops with me. This highly personal service is my preferred approach and I'm delighted that Vincents takes the same view.
"It benefits clients much more than a Trust Corporation which many other companies use, where anyone in the firm can work on that client's case. Court of Protection clients are extremely vulnerable and deserve nothing less than one-to-one support and continuity, and it's crucial to develop genuine trusted relationships."
Most of Oliver's work comes through personal recommendation and word of mouth, particularly via case managers and financial advisors with whom he works closely on behalf of clients, and other law firms without a Court of Protection specialist in-house.
He will also take on Trustee work for clients of Vincents' successful personal injury department, helping victims for whom the firm is fighting for compensation.
Oliver, who is from Bury, joins from Fletchers Solicitors, prior to which he has worked at Slater and Gordon, Clyde & Co, and Serious Law. He takes over the head of department position from Lisa Lodge, who was promoted to head of the private client department earlier in the year.
Lisa, who also heads up the Garstang branch and is a director of the firm, said: "It's an enormously important decision for clients and their families to appoint a professional to support them at an often difficult time. It's crucial that is someone they can trust and get on with, alongside being professional and experienced.
"Oliver has that unique combination of knowledge and compassion which will make him an exceptional advisor for his clients. While I will continue to support my existing clients, I am delighted to have appointed Oliver to take the department forward."
::
Cowgills has promoted James Kennedy to partner, as its deal advisory team continues to grow at pace.
James, who joined the company four years ago from Clearwater International having qualified with Deloitte, is now the sixth partner in the deal advisory team and the 19th partner in the firm. It follows the continued expansion of Cowgills with a series of key appointments and promotions this year.
Ian Johnson, head of deal advisory, said: "This promotion is extremely well deserved. James has played an integral role in driving the growth and momentum of the business, providing sound advice and guidance for his clients and colleagues and we are extremely proud to announce his partnership."
This year has been one of extraordinary acceleration and achievement for Cowgills, with its deal advisory team advising on 22 transactions with a deal value of more than £260m. Since joining in 2018, James has led on many transactions and built significant experience in the healthcare sector. He was also the lead advisor on the recent acquisition of Total Swimming Group by JD Sports.
James Kennedy said: "To be made partner is a proud moment in my career and I'm very thankful to my fellow partners for the opportunity.
"We have a great team which continues to reach new heights and my promotion is a clear example of the opportunities that are available at Cowgills. The momentum we have built shows no sign of dissipating as we look forward to another office move in the new year to accommodate the growing team."
Since James joined Cowgills, the deal advisory team has grown from 12 people to 31 as additional service lines have been launched to support clients in all aspects of deal advisory, across a variety of specialties including business services, healthcare and technology.
The Manchester team has filled its existing space at ABC and will be announcing a move to a larger office in the coming weeks.
Headquartered in Bolton and with offices in Manchester and Liverpool, the company now has 230 staff and is attracting the region's talent with its compelling offer of exceptional benefits, flexibility, and professional opportunity.