Latest generation takes the hot seat at Lancashire seating specialist in MBO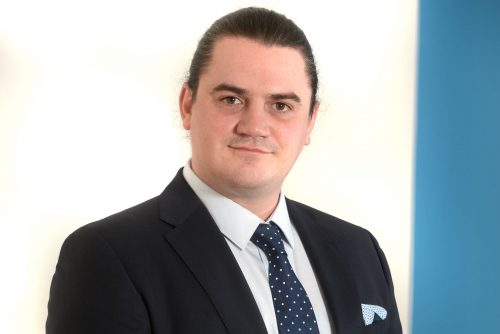 A family-owned Blackburn business has changed hands in a management buyout, for an undisclosed sum.
Evertaut designs, manufactures and installs specialist seating at locations including football stadia, theatres, cinemas and university lecture theatres.
It has now passed to the next family generation after husband and wife team Christopher and Nicole Smalley acquired the company from Christopher's parents, Nigel and Gail.
Evertaut, which is based on the Shadsworth Business Park, employs 16 staff and turns over £1.6m.
The firm was established in the 1930s as a manufacturer of industrial furniture for factories and offices. It has undergone many changes over the years, but has remained a key player in the commercial seating market with a loyal customer base.
Nigel joined Evertaut as a warehouse operative in 1981 and rose through the ranks to take on the role of director in 2002 following an MBO. With Nigel at the helm as director and Gail as company secretary, the couple took full ownership in 2013. They plan to retire as a result of the sale to Christopher and Nicole.
Christopher started with Evertaut as a teenager on the factory floor. He worked initially in production, then with the CAD team, before becoming part of the management team. Nicole, who has more than 20 years' experience in TV and advertising, joined Evertaut in 2020 as head of operations. She and Christopher become directors following the buyout.
Evertaut, which uses sustainably-sourced timber and timber-based products, supplies new seating and undertakes refurbishment projects nationwide.
Its vast range of completed large scale refurbishment projects have included VIP seats for the directors' area and executive boxes at Premier League football clubs including Manchester City's Etihad Stadium.
Evertaut has also overseen the refurbishment of seating at theatres, including the Royal Court in Liverpool and The Blackpool Opera House in the resort's Winter Gardens. Other contracts include ones for tiered seating in lecture theatres at universities such as Cambridge, Manchester and Warwick.
The company also supplies seating for workspaces, such as offices, boardrooms, meeting rooms, waiting rooms, reception areas, children's nurseries, surgeries, hospitals and fitting rooms, as well as conference chairs.
Christopher and Nicole said: "We are incredibly proud to have finalised our acquisition of Evertaut. The company and our staff have the advantage of having garnered almost a century's-worth of knowledge and expertise and we are thrilled to be able to continue its legacy.
"Staff are local to the area and know Evertaut, the team all care about the quality of the chairs that we produce, and we really care about the team. We are excited to begin work on some big plans for the future, including the launch of our heritage range next year."
Matthew Catterall, a corporate partner at North West law firm Taylors Solicitors, advised Christopher and Nicole on their MBO.
He said: "It's extremely pleasing to have acted for Christopher and Nicole to bring this very successful Lancashire business down to the next generation. Evertaut has designed and manufactured quality seating solutions since its inception in the 1930s, priding itself on high standards of manufacturing and customer care alongside continued innovation and progression."