City round-up: Carr's Group; Tatton Asset Management; Altitude Group; Byotrol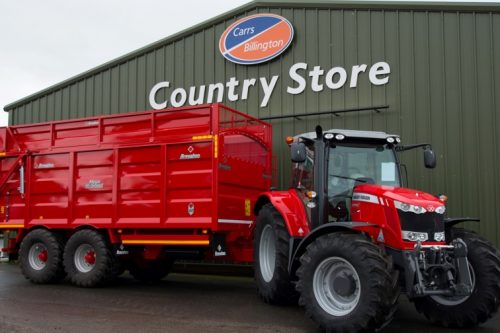 Carr's Group, the Cumbrian agricultural and engineering business, announced a trading update today, and a delay to its audited results which will likely result in the suspension of dealing in its shares early next year.
Since the group's last trading update on August 5, Carr's has continued to perform strongly, with performance for fiscal year 2022 in line with the board's expectations and ahead of the prior year.
Post period-end, the group disposed of its Agricultural Supplies division. The continuing group is, therefore, made up of the Speciality Agriculture and Engineering divisions.
Fiscal year 2022 adjusted operating profit in Engineering was behind the board's expectations, as previously indicated. However, it was significantly ahead of the prior year. In Speciality Agriculture, adjusted operating profit was ahead of expectations but down slightly versus the prior year due to margin erosion in the first half. Net debt, excluding leases, for the continuing group as at September 3, 2022 was £14m (2021: £10.0m).
Trading for continuing group operations in the current financial year has started well, in line with the board's expectations and ahead of 2022.
Carr's said Grant Thornton UK was appointed as its auditor at the AGM held in January 2022, following a competitive tender process. GT's planned audit approach, consistent with that adopted by the group's previous auditors, KPMG and PricewaterhouseCoopers, included reliance on the audit undertaken by Mitchell Charlesworth, the statutory auditors of the group's associate company, Carrs Billington Agriculture (Operations) (CBAO).
While the audit undertaken by CBAO's statutory auditors is near completion, it has been determined that, for independence reasons, GT can no longer place reliance on that audit. As a result, a separate audit of CBAO is now required for the purposes of completing the group's 2022 audit process.
The board and GT have actively explored all options for completing the second audit of CBAO in the required timescales. However, no practical solution has been identified. The expected completion date for the group's audit and publication of the group's FY22 audited results is now mid-January 2023, later than the January 3, 2023 deadline required by the Financial Conduct Authority.
As a result, the group expects that it will request for the listing of the company's shares to be temporarily suspended with effect from 7.30 a.m. on January 4, 2023. The company intends to request a restoration of the listing of its shares on publication of its FY22 audited results.
The group had a 49% shareholding in CBAO throughout FY22, with the share of profit representing approximately eight per cent of the group's total adjusted profit before tax. After the financial year end, with the approval of 98.73% votes cast at a shareholder general meeting, the group completed the disposal of its Agricultural Supplies division, including its 49% shareholding in CBAO, on October 26, 2022.
The board's audit committee is scheduled to meet in early December 2022, to review all other aspects of the audit and the board will issue an update afterwards.
::
Wilmslow-based investment management and IFA support services group, Tatton Asset Management, published improved results for the six months to September 30, 2022, today.
Group revenue increased 15.1% to £15.9m, a pre-tax profit of £6.624m was an increase on the previous year's £4.787m level, and the interim dividend was raised by 12.5% to 4.5p per share.
There were record organic net inflows of £907m, compared with £652m in September 2021, an increase of eight per cent of opening Assets Under Management.
Assets Under Management/Influence increased by £1bn to £12.3bn, and Tatton's IFA firms increased by 14.7% to 806.
The group had a strong financial liquidity position, with net cash of £21.6m, compared with £14.7m at the same point last year, and a strong balance sheet, after net assets increased by 29.5% to £35.7m.
Chief executive, Paul Hogarth, said: "We are pleased with our performance and while volatile markets were a drag on AUM (assets under management) growth, by delivering record net inflows coupled with the acquisition of 8AM we continue to execute our Roadmap to Growth strategy, a three-year target of increasing AUM from £9bn (Mar 2021) to £15bn through a combination of organic new net inflows and strategically aligned acquisitions.
"At the end of this period our AUM/AUI sits at over £12.3bn just over halfway to our target.
"As we look forward, while net inflows were very strong in the first six months as we had a number of significant wins which complemented underlying flows, we anticipate net inflows will return to a more normalised level in line with the second half of the prior year and that the Paradigm business will continue to perform well.
"We look forward to making further progress over the rest of the year while remaining mindful of the continuing macro-economic turbulence and market volatility and we remain confident in the group's longer term prospects."
::
Altitude Group, the Manchester-based operator of a leading marketplace for the global promotional products industry, said it expects to achieve record results for the current year.
It said it continues to deliver on its strategy and has been experiencing continued robust trading via expansion of its Services and Merchanting programmes.
In a trading update for the current year, ending March 31, 2023, it said, as a result of the strong underlying business performance which has been maintained throughout October and November, the board anticipates that financial year 2023 trading will be materially ahead of current market expectations, and that the group will achieve record year-end results.
The board also anticipates that the group, headed by chief executive, Nichole Stella, will continue to experience revenue and EBITDA growth throughout 2023 as a result of the out-performance of the business this year.
It said it will publish its interim results for the period to September 30, 2022, on November 29.
::
Daresbury-based hygiene group, Byotrol, the developer of anti-microbial hygiene technologies, has announced long-planned board changes.
John Langlands, non-executive chairman since February 2017, has notified the board of his wish to retire from business and to step-down as chairman and as a director. John originally only intended to serve as chairman for five years, but has remained slightly longer to guide the company through this year's AGM. John will initially remain as a non executive director to aid the leadership transition, but will then retire on January 31, 2023, having completed six years of service.
David Traynor, chief executive since October 2013, is moving to executive chairman, with immediate effect. In addition to his responsibilities as chairman, David will now focus on securing and developing intellectual property agreements and commercial alliances for the company.
Vivan Pinto, currently Byotrol's chief growth officer, and formerly VP and area MD at Johnson and Johnson Consumer Health, is being promoted to chief executive and joins the board as an executive director with immediate effect. He will now assume formal responsibility for the day-to-day sales and operations of the company, working closely with Chris Sedwell, executive director and chief financial officer.
The board expressed its sincere thanks to John Langlands for his guidance and advice to the company over the past six years, during highly volatile market conditions.
Mr Langlands said: "I have certainly enjoyed my time as chairman of Byotrol, but with the pandemic now subsiding and the Byotrol team and its technologies so much improved, it is the right time for me to step down. I will remain a supportive shareholder and will continue to offer the team advice where I can."
David Traynor said: "We are very grateful to John for his excellent contribution to the company through some extraordinary times and wish him every happiness in his retirement. We will certainly miss his calm, pragmatic and good-humoured presence in the company.
"I am looking forward to taking over as chairman of the company and handing the CEO reins across to Vivan Pinto. Vivan has had a big impact on our business so far and has an excellent track record of building healthy businesses at all operational levels."
Vivan Pinto said: "Byotrol has built an exceptional base of technology platforms, the most recent of which we launched last week at the London Vet Show. I know we can bring those technologies to more customers in more geographies and I am looking forward to making it happen."