New HQ for housebuilding and property company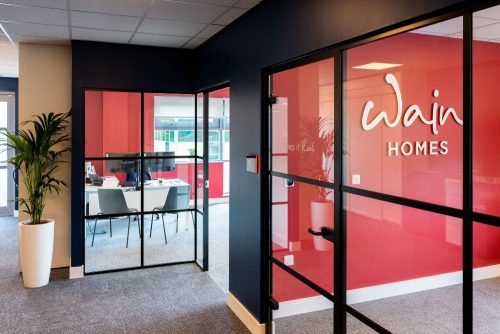 A North West housebuilding and property company has completed a double investment into Warrington.
Wain Group has acquired a new office and completed an extensive refurbishments to its existing Wain Homes North West headquarters.
Fontwell House, a modern 13,223 sq ft two-storey office on Trident Business Park will become its new HQ and will also house property, regeneration and strategic land company Wain Estates, as well as the Wain Homes Hub – the centralised support functions for all regions of Wain Homes, including marketing, IT, design, procurement and finance.
Completing the double investment, Wain Homes has undertaken a full refurbishment of its North West office at Kelburn Court in Daten Park.
The property, which has had Wain Homes' new branding applied, now features a 'townhall' area for team meetings, socialising, rest and relaxation and more open plan space with soft furnishings and homely decor to allow greater collaboration between teams.
Will Ainscough, Wain Group executive chairman, said: "Birchwood is Warrington's primary office location and is an ideal base for the Group.
"Fontwell House offers all the services and amenities you would expect in a 21st Century office with first class facilities making it a desirable place to work and giving easy access to our regional Wain Estates developments and regeneration projects. It also serves as an efficient base for our Wain Homes Hub, which provides essential support services to all four Wain Homes regions.
"We also took feedback from our Wain Homes North West team and undertook a full modernisation of Kelburn Court in order to provide them with the most comfortable and well-equipped facility.
"Having access to the very best, modern office space is incredibly important to the wellbeing of all our team and makes us an attractive proposition for talented people looking for the next steps in their careers."
In total, nearly 100 people will be based in the two offices, a number set to increase as the company delivers its strategy for growth.
Wain Homes has 15 live new homes developments across the North West with a number of new sites set to launch in early 2023.