Summize office move paves the way to planned doubling of headcount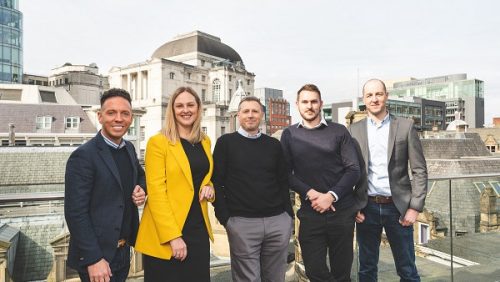 Summize, the Manchester-based contract lifecycle management disruptor, has moved into a new 5,100 sq ft office space.
This doubles the size of its head office which will facilitate further growth in planned headcount of 133% by 2025.
Founded in 2018, Summize has experienced rapid growth by innovating the contract lifecycle process through its intelligent SaaS technology.
The team has pioneered the world's first integrated Contract Lifecycle Management (CLM) solution that works directly with established platforms including Microsoft Word, Microsoft Teams and Slack, improving collaboration between in-house legal and business users.
The business reported a record-breaking 257% increase in revenue in the past financial year and continues to attract blue-chip clients including Fujifilm, Everton FC, NCC Group and Moonpig.
Based at 127 Portland Street, Summize's new home has undergone a significant transformation and includes collaboration spaces, a treehouse, a snug and spiral staircase.
Taking inspiration from its Manchester roots, there are hints to the company's 'GROW' values and heritage of the city throughout the space to help fuel creativity, wellbeing and cross-functional communication to prepare for continued team growth.
The news comes as Summize recently secured £5m Series A funding from YFM Equity Partners and Maven Capital Partners to fuel its international expansion strategy, product innovation and recruitment.
Tom Dunlop, CEO and co-founder at Summize, said: "The last 12 months has been transformational for Summize.
"We have hit a number of key milestones along the way including surpassing $1m in annual recurring revenue and over 100 customers as well as our Series A investment, but moving into our new home is the most recent and visible measure of growth."
He added: "While many businesses are scaling back their physical offices, we see it as ever more important to foster collaboration and learning, with more emphasis on different zones to meet different ways of working.
"I'm really proud of the new office space, it's deliberately different, just like our product offering, and perfectly reflects our fun and ambitious culture. I am really looking forward to seeing what our fantastic team continues to achieve as we settle in."
Laura Proctor, VP of marketing at Summize, said: "Team Summize has created a strong culture that has been refined around the concept of GROW: Growth mindset, Respect others, One team and Will to win, which just so happens to fit right in with the tree that spans the two floors of our new office."