Rising freight and energy costs hit Pets at Home profits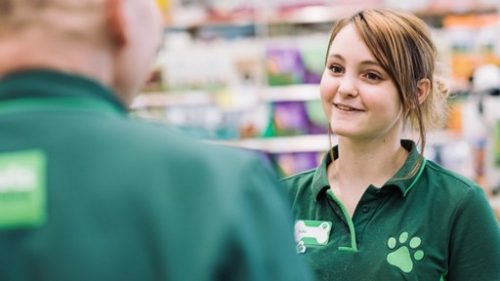 Revenues at Pets at Home have grown thanks to a record number of UK pet owners who have continued to prioritise spending on their pets.
However, profits have dropped as the group has been hit with increasing freight and energy costs.
Reporting its half year results for the 28-week period to 13 October 2022, the retailer said the number of new customers remained strong with registrations into its Puppy & Kitten club accelerating throughout the first half and customer spend maintained across the group.
Revenues for the period grew 7.3% to £727.2m, with group like-for-like revenue up 6.4%.
Its Vet Group revenue increased by 12.4%, with LFL revenue up 10.5%. It also reported retail revenue growth of 6.8%, and LFL growth of 5.9%.
The group's underlying pre-tax profits were down 9.3% to £59.2m. This has been impacted by increased freight and energy costs and increase in investment in digital assets.
However, the retailer said there was no change to full year guidance despite the challenging macro-economic environment.
Consensus is currently £131m, with a range of £121m-£136m.
Pets at Home said the business 'remains highly cash generative', and it expects to finish the year in a net cash position.
CEO Lyssa McGowan said: "In my first six months as CEO, I have spent my time forming a deep understanding of the business and sector, learning from the ground up how the business operates.
"I am more convinced that Pets at Home is well positioned to capitalise on an attractive growth opportunity in our structurally growing pet care market, supported by our unique blend of products and services, deeply embedded culture and expert, passionate colleagues, and partners.
"Our first half performance shows progress and resilience across the business.
"In a challenging macro-environment, the pet care industry remains in growth across all channels, and we have continued to acquire new customers at an impressive rate, setting new records for customer numbers in recent months."
Russ Mould, investment director at Manchester investment platform, AJ Bell, said: "Specialist retailer Pets at Home benefited from a significant expansion in the pet population during lockdown – a supportive trend it capitalised on well.
"Despite competition from non-specialist rivals like supermarkets, Pets at Home used its 'everything under one roof' offering, including veterinary and grooming services, to secure a strong market position.
"Pets at Home was also quite clever with its customer loyalty schemes – which came with relatively little cost attached but helped to drive repeat business.
"However, just like all retailers now, Pets at Home is exposed to rising costs and a customer base whose budgets are increasingly squeezed. Those pressures are reflected in a first half fall in profit.
"Britons may prioritise their pets when it comes to spending, but when they go into a Pets at Home store, they might just be buying the basics these days rather than extras like a new dog toy.
"All in all, it's not the best start for new CEO Lyssa McGowan, who had a hard act to follow. Her predecessor, Peter Pritchard, helped to lay the foundations for the company's recent success.
"Investors will be hoping she can use her consumer-facing experience at pay-TV broadcaster Sky to better understand and serve its customer base during what is likely to be a tricky period."