UK first as hoteliers vote 84% in favour of Liverpool Accommodation BID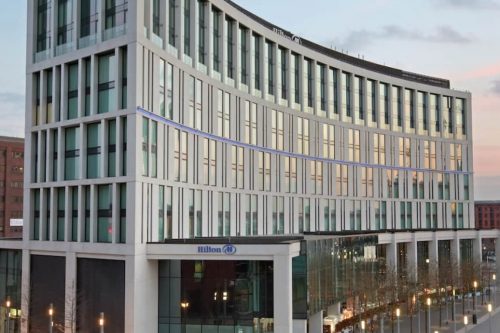 Liverpool is to become the first UK city to launch an Accommodation BID.
The announcement follows the a vote by the hotel and serviced accommodation sector that was 84% in favour of the scheme.
With a £4.3m investment, the Accommodation BID is designed to provide security both for the industry and for visitors, helping to continue to attract major events to the city, such as Eurovision.
Alongside other measures, the new BID will see the establishment of a subvention fund, focused on attracting small, medium and large conferences to the city, that convert into hotel stays.
An Accommodation BID could have wide reaching benefits for the wider city and the accommodation sector.
The city could see more money being spent per night on hotel rooms, providing additional income for the sector. Additional tourists, and their expenditure, will be attracted to the city, who will then stay within hotels and other serviced accommodation.
Over the past two decades, Liverpool's visitor economy has grown substantially. In 2019, before COVID, there were 37.06 million day visits and overnight tourist trips to Liverpool. Because of these visitors, the visitor economy was worth £3.35bn, which supported more than 36,900 jobs.
With a levy paid by those with a rateable value above £45,000, it is predicted the Accommodation BID would help create jobs and increase the economic performance of the city, with 200 jobs created in year one and £10.6m created economically, rising to 311 jobs in year five, with £16.5m added to the city's GVA.
The successful BID ballot comes as Liverpool BID Company announces it will seek a new term for the Retail & Leisure BID in 2023, providing crucial changes to the current offer to support both Liverpool's growth and the viability of the sector.
Liverpool BID will increase the rateable value from which an organisation will begin paying a levy to £45,000, meaning small and independent businesses within the BID area will no longer need to pay an annual levy, while still benefiting from its services.
The new BID area will also be extended, including Hardman Street, Hope Street and potentially the Knowledge Quarter. If successful it means Liverpool's BID areas will extend from the waterfront to include both city centre universities, major cultural organisations and heritage areas.
Bill Addy, CEO of Liverpool BID Company, said: "This Yes vote is a sign of confidence and determination for BID to continue to serve the city. In 2023 we'll be going back to our Retail & Leisure levy payers to seek a new ballot, securing for five years. We will be increasing the baseline for those to pay a levy to £45,000.
"We are also looking to increase the size of the BID area to incorporate more of the city centre. The pressure on the public purse is acute, and a larger BID area means a greater level of investment into the whole city centre, vital if we are to attract investment, support the visitor economy and maintain the public realm."
Marcus Magee is co-chair of Liverpool Hospitality and general manager of Hilton Hotel Liverpool. He said: "The Accommodation BID has been a long time in the making and its success is testament to the resilience, drive and determination of the accommodation businesses in our great city that have united together to make a difference by investing private sector monies in a robust sales and marketing model that will set the standard for years to come."
Stephen Hesketh, CEO Savvy Hotel Group and vice chair of Liverpool Hospitality, said: "I am thrilled to see this Accommodation BID successfully be voted through. Liverpool Hospitality Exec Board and its members have worked closely with key city stakeholders and this now cements our seat at the table to ensure the Visitor Economy is at the continuing forefront of Liverpool's economic success. I sincerely thank my hotelier peers for supporting this."