People: Cocogreen; Stock Exchange Hotel; AG Built Environment Consultancy; K3 Capital Group; Together; SAS Daniels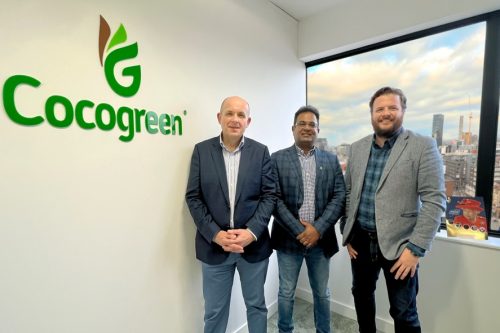 Cocogreen has appointed Simon Shelbourn as chief financial officer.
Joining the Manchester-based business with immediate effect, the business said the move demonstrates its commitment to continued growth and further international expansion as the global leader in low-carbon, high-yield and sustainable growth substrates for berries, salads, citrus and avocados.
With significant experience spanning numerous finance and senior leadership roles, Shelbourn brings invaluable knowledge, insight, and expertise in scaling internationally to Cocogreen's senior leadership team. Prior to joining the business, he held the position of group finance director at County Milk Products and has also worked internationally over three decades, ending a hugely successful career as a finance director with multibillion-euro dairy conglomerate Arla Foods amba in the UK/Denmark, and remains a Pension Fund Trustee.
A key strategic hire for Cocogreen, Shelbourn's appointment forms part of a wider, forward-looking, and highly ambitious growth strategy for the sustainable coir substrate brand. In 2021 the business secured a multimillion-pound growth equity investment from Circularity Capital, a specialist investor in the circular economy, which has already enabled accelerated expansion globally and helped the business deliver record performance.
Shelbourn said: "Cocogreen is a hugely exciting company with an enviable customer base, unique products, unmatched technologies, and a globally renowned brand. This, alongside Cocogreen's clear mission and purpose was a real pull for me. The next phase of the growth story is set to be an exciting one that I am really looking forward to being part of."
Thomas Ogden, co-founder and CCO of Cocogreen, said: "Cocogreen is internationally respected for consistently delivering high performance, sustainable growing substrates from our vertically integrated, traceable in-house supply chain. Cocogreen's offering is essential for the large scale cultivation of food, achieving this in a more efficient, sustainable and ethical manner. Simon's appointment will help us to explore the many significant opportunities to expand our brand in existing, new, and horizontal markets."
Dr Sudesh Fernando, founder and CEO of Cocogreen, said: "As a global company which believes in the vital importance of a circular economy underpinned by ESG with substance, it was vital for us to follow a thorough search process to appoint someone with extensive experience in senior finance roles as well as being equally committed to our core values. Simon's knowledge and experience will further support our outstanding continuous growth globally and we welcome Simon onto the Cocogreen executive board."
::
Hospitality veteran, Matthew Miller, has joined the team at Manchester's Stock Exchange Hotel as sales and marketing director.
In his 30 years and counting in the hospitality industry, Matt has worn many hats, ranging from catering and special events manager to sales and marketing manager at five-star establishments, including at Hotel Gotham, and more recently, the Lowry Hotel with his exposure spanning operations, sales, revenue management and marketing.
Matt said: "I have an extensive and successful track record in sales and marketing, and I look forward to leveraging my long standing relationships with companies and individual stakeholders from around the globe, to build on the recent success, and enhance the profile of the Stock Exchange Hotel."
Matt's role will focus on seeking out, qualifying, and growing new corporate, entertainment and production opportunities for the hotel. It will also include assisting with the development of the hotel's commercial strategy and the implementation of the agreed sales strategy directed by Stock Exchange Hotel owners.
A large part of Matt's role will also focus on growing the current entertainment portfolio of clients across film, media, music, sports, and corporate VIP clients.
General manager of Stock Exchange Hotel, Jacqui Griffiths, said: "It has been great to welcome Matt to the team in what is an incredibly exciting time for the venue. His experience in the hospitality sector is unrivalled and we are looking forward to watching Matt grow and become an integral part of Stock Exchange Hotel family."
Stock Exchange Hotel launched in November 2019. It is located within the heart of central Manchester and is set in the former home of Manchester Stock Exchange boasting luxury boutique accommodation capturing the spirit and heritage of the building.
::
AG Built Environment Consultancy has restructured its board as it continues with plans for further growth.
The founders of the specialist built environment consultancy, Jonathan Shaw and Andrew Whittle have been promoted to chief executive and managing director, respectively.
Johnathan Shaw will now focus on the firm's future strategy, with a view on developing additional services to service growing demand for the consultancy's expertise, while Andrew Whittle will now take over the day-to-day running of the business.
Established over 15 years ago in Preston, the firm has been organically growing, but in the past three years, it has expanded its service line and offering due to increased demand for specialist support.
Early this year, AG recruited new teams to develop the firm's growing presence in the housing sector while also launching a new Sustainability and Energy Performance Advisory service, which has witnessed significant demand.
Jonathan Shaw said: "After 15 happy years developing the business, and in my role as MD at the firm, I began to notice a shift in what was required from that role. The vision and strategies for the business were moving us along, but far more attention was needed on the day-to-day management of the business.
"Along with Andrew Whittle, my friend and business partner, and our fellow board members, we decided we should restructure the board with my focus being on the future strategic direction of the business and planning its next phase of growth, which offers us many opportunities. Andrew Whittle will make a fantastic managing director, and I look forward to working alongside him in continuing to build what I think is a great business."
Andrew Whittle said: "The past 15 years have been incredibly enjoyable, and together we've built a strong team that shares our vision and, importantly, is pulling in the same direction.
"I'm looking forward to the next chapter in our firm's history and working with my fellow directors and colleagues to help our clients build a built environment of the future."
The firm, which is based in Preston and Manchester, has recently opened a base in Liverpool and now employs 50 people across its three sites.
::
Bolton-based professional services group, K3 Capital Group, has appointed Louise Roberts as its new chief people officer, adding to the group's more than 575 staff across seven countries globally.
Louise joins K3 from Florence, a technology and recruitment start-up where she was chief people officer, and will take responsibility for HR strategy across the entire K3 Capital Group.
Ian Symes, group managing director, said: "Louise will help us to ensure that we can acquire, develop, and retain the best talent to help drive our ambitious growth plans.
"Louise's boasts previous HR leadership roles at InMoment and Orbit, as well as a degree in Psychology and Sociology from the University of Liverpool and is a Fellow of the Chartered Institute of Personnel and Development. Her appointment demonstrates our commitment to invest in talent across our business."
He added: "Over the next year you will see new initiatives across our company as we look to develop talent, provide team members with career opportunities and seek to attract the best new talent to join us."
::
Specialist Cheadle-based lender Together has appointed Annette Tilbury as new commercial finance regional sales manager for the south.
Her role will entail looking after key packager partners across the region, helping to train, support and develop the relationships that Together has with them.
Annette brings with her 38 years' experience in the industry, working with a number of specialist lenders. She has extensive knowledge of the mortgage industry from sales, underwriting and asset management.
Her most recent role was with West One Loans as national account manager, where she had sole responsibility for a number of its key packager partners. She has also held positions at Foundation Home Loans, CHL Mortgages and Alliance & Leicester Building Society.
While at CHL Mortgages, Annette also gained six years' experience as recoveries manager within the asset managing team, overseeing a receivership portfolio of nearly 1,200 properties.
Annette said: "I am incredibly passionate about understanding the needs and delivering excellent customer service, adding value to build strong, mutually beneficial relationships with our key partners.
"I have a love for getting complex deals through, so Together is the perfect lender for me. The focus on customer service and speed it turns funding around is phenomenal. It feels like everyone plays their part and we are all working together to get the best outcome for the both the customer and the introducer."
Tanya Elmaz, head of intermediary sales for commercial finance at Together, said: "We couldn't be more pleased to have Annette on board with our team. She is known across the industry as one of the best at what she does – her experience and knowledge will be invaluable in taking our ambitious company forward during these turbulent times.
"Her passion for the industry, her teamwork and collaboration, her professionalism and her strong work ethic will be a real asset to our team."
Annette joins other new starters across the regions working with Tanya, with the recent appointments of three new roving underwriters: David Spruce, Kerry Jordan and Clare Sadler.
Each will be supporting Together's key intermediaries, assessing risk and accurately preparing submissions of commercial and mortgages to support business submission and improve case quality for mandating underwriters to approve.
::
North west law firm SAS Daniels has appointed a quintet of conveyancing assistants and promoted a senior property lawyer to partner.
Steph Lyke has been promoted to partner in the residential conveyancing team after joining the full service firm as an associate in 2019. She heads up a residential real estate team at the Chester office and specialises in working with brokers and IFAs across the UK.
Jack Lawrenson-Leroux, Leon Gagnon, Danielle Jarrett, Shanae Byrne and Rebecca Stubbs have been appointed conveyancing assistants.
Jack, Danielle and Leon will be based in Chester, Shanae in Macclesfield and Rebecca in Congleton.
Jeremy Orrell, chief executive at SAS Daniels, said: "Steph joined us three years ago and she quickly made her mark adding strength and depth to the team. Her promotion to partner is very well deserved and reflects her expertise and contribution to the growth of the firm's property offering.
"Steph's well developed relationships with other advisors and the repeat instructions from long standing clients is testament to the excellent personal service she consistently provides. Our team continues to expand in line with demand for our services and I'm delighted to welcome our new assistants."
Steph Lyke said: "Since I joined SAS Daniels three years ago the property market has been buoyant, and this is reflected in the growth of our conveyancing team. I'm looking forward to continuing to work closely with our partners and clients in the months ahead."
SAS Daniels has a 40-strong residential property team located across its four offices in Stockport, Chester, Macclesfield and Congleton. A full-service law firm, SAS Daniels acts for businesses and individuals across the North West and nationally.