North West business briefs: Sterling Events; Forshaw Group; Popeyes; VEKA; Findel; Açai & The Tribe; Clear Crystal; Blackburn College
Liverpool-based Sterling Events has been acquired, for an undisclosed sum, by the Mark Allen Group.
Sterling Events, owned by Lauren Sterling, stages two major national exhibitions and conferences, Health and Wellbeing at Work and Primary Care and Public Health. These events will next be held, respectively, at the NEC in Birmingham in March and May of next year. The six-strong staff will remain in Liverpool.
The purchase of Sterling Events completes a trio of events companies which London-based Mark Allen Group has acquired this year. The first of these was Regen, an exhibition, conference and networking event for the regeneration industry which was successfully held for the first time by Mark Allen earlier this month in Liverpool.
This was followed by the acquisition of Heelec, co-owned by Lord Rupert Redesdale and Jason Franks. EMEX, its net zero and energy management expo, was held under the Mark Allen's colours to record attendees at London's ExCel centre earlier this week. Like EMEX, the two Sterling shows will come under the umbrella of MA Exhibitions, headed by Tim Willoughby, one of the seven operating companies in the group.
Executive chairman Mark Allen said: "Acquiring these two well-established exhibitions is a real triumph. With our predominant interest in healthcare and human resources, through our combination of primary care and HR magazines, this touches our sweet spot."
Lauren Sterling said: "I am really excited to be part of the Mark Allen Group. As market leaders in delivering healthcare and HR focused events, there are great opportunities to develop them even further under the MAG banner. We are already working on some new ideas that will strengthen our 2023 events. There is great synergy between the two companies, and I feel extremely confident that our events will continue to grow and be at the forefront of their respective industries by working together."
::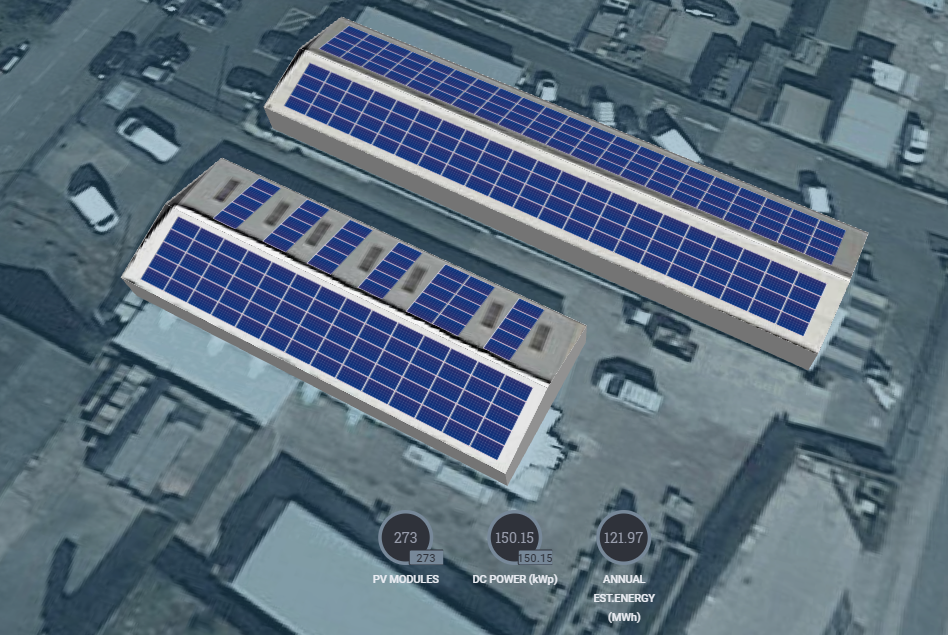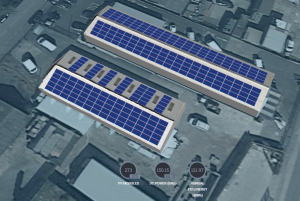 The Knowsley-based Forshaw Group has received the green light on its PV solar panel project. Having secured £300,000 funding for the continued expansion and development of its Knowsley head office site through Bathgate funding circle, and with the help of a £75,000 grant from St Helens Chamber of Commerce, it is ready to move to the next stage.
On completion, the Forshaw Group roof will be covered in solar panels, and it aims to be a carbon zero company by March 2023. This furthers its move towards sustainable practices, as part of the ongoing commitment to environmental responsibility. The group is also looking into services where any excess power can be directed to a community hub, to give back to local people who might be struggling with energy financial challenges.
The Forshaw Group managing director, Liam Hanlon, said: "We are proud of our ongoing environmental commitment. We were delighted to add electric cars to our fleet, and now to be able to produce our own power for the business and hopefully give back in time to the community, is a great next step.
"We thank St Helens Chamber of Commerce for the grant it has awarded us, to help make our solar power dream a reality.
"With the support of a £33,000 loan from Lloyd's bank, we have also recently invested in five new electric vehicles. This makes up 20% of our fleet. We hope to build on this as we continue our journey to carbon zero."
::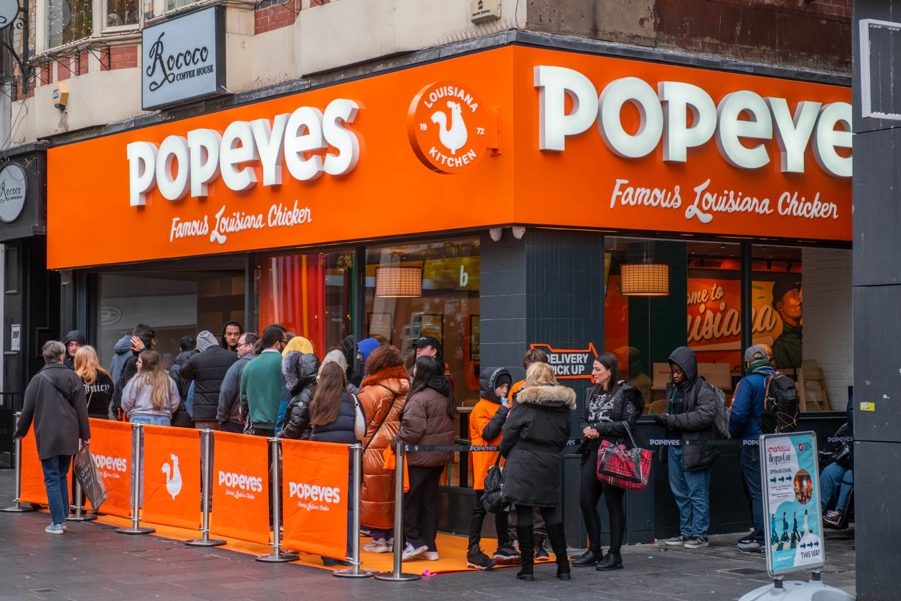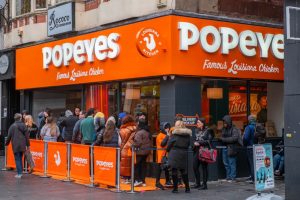 Customers queued overnight ahead of the opening of American fried chicken restaurant Popeyes on November 26, its first North West restaurant, located on Liverpool's Lord Street.
The first three customers through the door won the prize of free chicken sandwiches for a year, while the first 50 received a free chicken sandwich and official Popeyes UK merchandise.
Ryan Thompson, Sean Thompson and Fares Jamal, were the first through the doors of the new restaurant, bagging themselves free sandwiches for a year after queueing up from 10pm the night before – a Popeyes record.
Ryan, Sean and Fares said: "It was worth the wait and we're buzzing to get free chicken sandwiches for a year."
Nicole Cockburn, senior training manager at Popeyes Liverpool, said: "We've seen some great excitement for the launch with fans queuing up from as early as 10pm the night before. We can't wait to see the buzz continue to grow and for more people to try our 'shatter crunch' for themselves."
::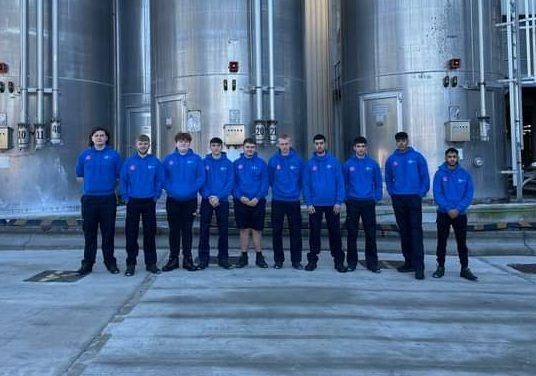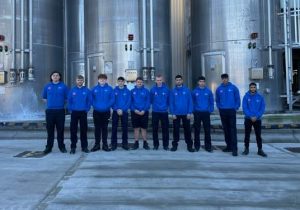 VEKA has recruited a record 14 new apprentices adding to the four already in post from last year's intake. The apprenticeships, which are split between manufacturing and engineering aim to develop the next generation of the Burnley fenestration industry experts.
Employing 400 people, the majority of which have a BB postcode, VEKA is a large family-owned business and one of Burnley's biggest employers. The appointment of one of the new recruits now also means that VEKA employs three generations of the same family. The company believes that developing and nurturing the younger generation is vital and it has various programmes in place to facilitate this. The apprenticeship scheme, which was first implemented in 1994 has been hugely successful.
The 18-month long manufacturing apprenticeship aims to give hands-on experience from the outset, while engineering apprentices will spend their first year in college before completing three years' on-the-job training.
Howard Riley, warehouse manager spoke of his VEKA experience, saying: "The business is dedicated to the development of staff. I am speaking from personal experience as I started my career as a picker in the warehouse, before moving around the business and achieving my end goal of becoming warehouse manager.
"My daughter is a valued member of the sales team and my son worked in the IT department. The huge number of long serving staff is a testament to the VEKA family way."
::
Hyde-based educational resources supplier, Findel, has launched a long-term initiative to provide ongoing support to a range of children's education, wellbeing and environment causes throughout the UK.
Called the Findel Foundation, its ambition is to give back more than £200,000 per year and has started by making volunteering support, donations and funding available of £100,000 this year. In addition, the company will invest its people's time spent running the Findel Foundation.
The Foundation comprises six pillars. The first is 'charities' where fundraising will take place for a nominated annual charity which is due to be announced in the first quarter of 2023. Additional donations to other charities will be given by the Foundation where a demonstrable benefit to children and their education is identified.
The second is 'breakfast clubs' where the Foundation will build on its work with the Greggs Breakfast Club Programme to create additional breakfast clubs for more than 500 children a year at schools located throughout the UK. Thirdly, there is the 'Findel Forest' initiative which will see the Foundation involved in the planting of trees to reduce the carbon footprint of Findel's people and customers.
The fourth pillar is 'volunteering' with the goal of more than 30% of Findel's employees volunteering on projects that will positively contribute to the education of children and benefit the environment. The fifth is 'careers' where the Foundation will aim to provide experiences of work to more than 300 children over the next three years, and the sixth pillar is called 'Leading Positive Change' and relates to the Foundation actively supporting Findel's customers, schools and nurseries to become more sustainable.
::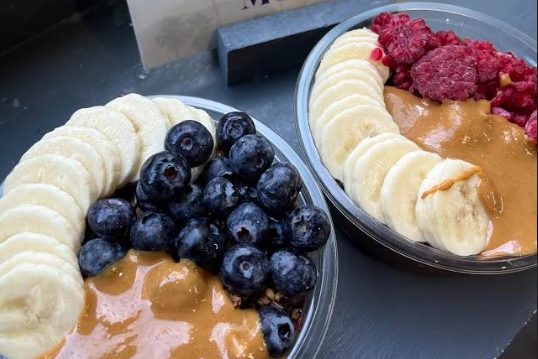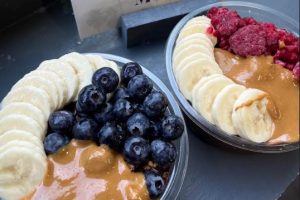 Manchester's Great Northern Warehouse is welcoming its latest arrival on Deansgate Mews, brunch café, Açai & The Tribe.
Relocating from its original pop-up shop location in Arndale Market, the popular Açai and breakfast spot is relaunching with a new 'build your own bowl' menu in the heart of Deansgate. Launched in 2021, Manchester's first-of-a-kind açai hotspot brings the exotic berry to Deansgate with filled breakfast bowls and deliciously nutritious treats and smoothies – primarily vegan and gluten-free friendly.
Following customer demand, Açai & The Tribe's newest breakfast option is the fully customisable açai bowl, where customers can now personalise the açai base, selecting from regular or cacao açai, vanilla or cacao sea salt granola – homemade, toasted and baked by owner Alisha Oswell – and toppings including fruit, superfoods and nut butters.
Açai & The Tribe offers indoor seating, as well as the grab-and-go kiosk – with outdoor seating planned for the summer months. Alisha Oswell said: "Açai is a tropical berry that's high in nutrients and loaded with antioxidants, making it a fantastic breakfast choice to leave you refreshed and keep you functioning all day. I love the idea of being surrounded by other independent businesses and like-minded individuals, so the move to Deansgate Mews at Great Northern Warehouse felt like a perfect fit."
Mark Schofield, centre director of Great Northern Warehouse, said: "Açai & The Tribe brings a completely new and innovative breakfast experience to Great Northern Warehouse. We're very excited to see what Alisha's latest endeavour has in store."
::
A Bury-based ecommerce business has been boosted in its attempts to expand globally, after agreeing a £220,000 funding deal with Reward Finance Group.
Clear Crystal, which has been trading for 10 years and is based at Bury Business Centre, is an online jewellery and giftware retailer. Key to growing sales worldwide is via securing a working capital facility with Reward, which provides tailored business finance loans and asset based solutions between £50,000 and £5m to SMEs.
The funding through the lender's Business Finance product enables the retailer to invest in the inventory needed to fulfil orders globally, having traditionally only supplied to online shoppers in the UK. Central to this global expansion is a new deal secured with major American-based online marketplace, Groupon, with the working capital allowing Clear Crystal to guarantee fulfilment and place stock on the ground at Groupon's US warehousing facilities near Chicago.
The retailer has also recently secured a partnership with the Ideal World shopping TV channel in a bid to further grow its UK sales. Clear Crystal managing director, Lee Donaldson, said: "The funding facility provided by Reward is a massive boost to our global growth ambitions and ability to introduce our jewellery and giftware products to new markets. It provides the working capital to secure vital inventory, which in turn, enables us to fulfil international sales and partnerships such as the potentially game-changing one with Groupon in America."
Steve Noble, managing director for Reward Finance Group in the North West, said: "Being able to provide the financial support that helps Lee and his business achieve its international growth aims and realise its strategic vision is hugely satisfying. We've built up a close working relationship with the team at Clear Crystal to understand their business, future plans and how our tailored funding solution can help overcome any short-term operational challenges such as stock availability."
::
Blackburn College has been announced as one of the first in the country to launch a new digital marketing apprenticeship programme created by multi award-winning North West tech business +24.
Apprentices at Blackburn College, are now able to bolster their skills with access to the +24 Academy, a new and unique digital skills programme, designed by current industry professionals at Burnley-based +24 in a bid to help bridge the digital skills gap. The programme, which is offered nationally, provides colleges, training providers and employers with all the tech tools they need to create the next generation of digital pioneers.
Dave Walker, founder and MD of +24, said: "Digital industry heads have been crying out for better education for years, and we are proud to be able to provide a specialist, up-to-date platform for the business leaders of tomorrow to get their springboard. There is a huge digital skills gap in the UK. A shortage in those suitably skilled for digital jobs is a major risk to business growth, innovation and development. Ultimately, a risk to the economy, too."
Blackburn College is the first in the UK to invest in the +24 Academy programme. Nicola Clayton, director of business development at Blackburn College, said: "The new Digital Marketing Apprenticeship in partnership with +24 Academy, is a fantastic industry-designed offering unlike anything else currently available.
"It marks a step change in our approach to delivering the apprenticeship, with a fully blended model of delivery, providing our apprentices with access to monthly master classes delivered by a range of industry experts."