Property round-up: Peel L&P; Equans; Chester Northgate; Friars Court Inn and FC2 Nightclub; Bespoke; RPS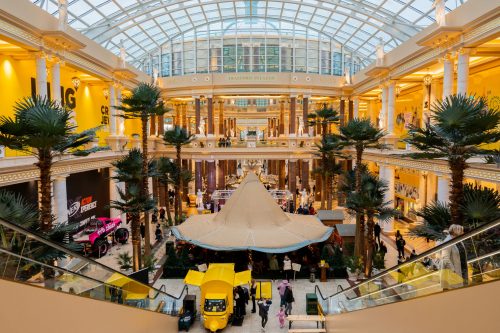 Peel L&P is celebrating at Trafford Palazzo, as its team completes 60,000 sq ft (5,575 sq m) of lettings and brings four significant flagship venues to TraffordCity's innovative retail and leisure destination, in just one year.
The landlord acquired the retail and leisure asset in 2021 and rebranded it to Trafford Palazzo, a brand which encompasses and complements the Italian heritage design.
In the past year Trafford Palazzo has agreed transactions with international brands, national firsts, new concepts, major flagship venues and some of Greater Manchester's most popular and exciting brands.
Trafford Palazzo has also become synonymous with creating a programme of community events and activations for all ages, from a month-long wellness activation, a half term extravaganza, a four-week Summer Fest and more recently the festive, 'Christmas on TP Street'. Over the past year, Trafford Palazzo has played host to an average of 100,000 visitors a week.
The food and beverage offering has been elevated with Italian restaurant Matterello, backed by Manchester foodie, Steve Pilling, opening its doors to rave reviews and Manchester born and bred Second City Coffee launching its coffeehouse earlier this year within the Trafford Palazzo mall.
King Pins, a multi-purpose bowling venue, will open its doors in 2023. King Pins at Trafford Palazzo is the first site in the UK and will feature 15-lanes of ten pin bowling and six-lanes of duckpin bowling alongside a focal point bar serving more than 20 beers and a selection of soft drinks.
Rocafella Leisure announced last month that Nerf AX will join a growing leisure mix at Trafford Palazzo with Manchester-based American-inspired diner, Archie's, to be their operator of food and beverage.
An exciting coffee operator has also taken 2,150 sq ft (200 sq m) of space with further details to be announced.
Mark Whittaker, executive director property investment and management at Peel L&P, said: "Trafford Palazzo has gone from strength to strength this year and we are extremely proud of what our team has achieved. We have really focused on delivering high quality customer service and memorable experiences and space now represents the next generation of shopping and leisure destinations. Our aim is for Trafford Palazzo to be known as a destination for memorable experiences that combine retail, leisure, and entertainment. The operators that are opening and are set to open in 2023 absolutely highlight our vision is coming to life."
::
Equans has started a programme of key decarbonisation and regeneration works across 132 properties in Murdishaw, Runcorn. The work is being carried out after collaboration with Onward, which Equans supported with its application for Social Housing Decarbonisation Funding (SHDF Wave 1).
The scheme will take a 'fabric-first' approach to decarbonising the properties, including external wall and loft insulation, replacement windows and doors, mechanical ventilation and ongoing energy monitoring. Residents will benefit from increased thermal comfort during what is a turbulent time with the cost of living.
A total of £5.9m of investment will be made in the area on regeneration works including roofing and externals in addition to the energy efficiency measures. Equans' refurbishment team has been working with Onward in Murdishaw since last year, undertaking property and structural surveys, gathering retrofit data and carrying out energy assessments, ensuring the works will be completed to PAS2030/2035 specification.
Neil Warburton, refurbishment director at Equans, said: "We are using our latest retrofit expertise to help make the homes more sustainable. We're all excited to see the finished improvements."
James Hill, property strategy director for Onward Homes, said: "Onward has been working with residents, local partners and Equans to regenerate Murdishaw and this programme of work to enhance the energy efficiency of 132 homes is another important milestone in helping create an improved environment for local people.
"We will continue to work collaboratively with our customers, elected members and partners throughout this process, and look forward to delivering this programme of works to provide warmer, more comfortable homes for those living in these properties."
::
A Chester landmark development has secured its first office tenant, with Sovereign Corporate & Trustee Services (SCATS) signing for 1,200 sq ft at Coachworks Arcade.
Sovereign, which is relocating from Bromborough, is one of the largest independent corporate and trust providers with 26 offices globally.
Commercial property consultancy Legat Owen secured the deal on behalf of Cheshire West and Chester Council with RivingtonHark acting as development and leasing managers. Around 10,000 sq ft of office space is available across four office suites above Coachworks Arcade.
The arcade itself is the principal covered walkway linking Northgate Street with Exchange Square. The original 1914 terracotta façade of a car and coach works has been restored as part of the development.
Stuart Stobie, SCATS managing director, said: "For a business like ourselves, working with a range of corporate clients and high net worth individuals, it's really important to work in a setting that reflects the bespoke, high quality service we provide, and the Coachworks Arcade feels a fitting environment."
Will Sadler, director of office agency at Legat Owen, said: "Northgate is a hugely important project for Chester, and takes the city forward in so many ways. The workspace component is an important part of that, and we're delighted to welcome the first tenant to Coachworks Arcade."
Within the Northgate scheme, the first elements are now open including the new 36,000 sq ft Chester Market, 800-space New Market Parking and Zizzi restaurant alongside the Cosy Club restaurant which opened in the summer, and with further food and beverage units and a new six-screen cinema opening in the new year.
::
A Warrington venue that has hosted a who's who of the country's top indie acts has been put on the market. Blacks Business Brokers is seeking a new owner to take over Friars Court Inn and FC2 Nightclub on Barbauld Street in the town centre.
Bids are being invited to take over the lease on the two premises, which are connected to one another and, uniquely in Warrington, share a large, covered outdoor courtyard. The venues, which incur annual rent of £60,000, have a joint capacity of 700 and have historically generated annual turnover of around £700,000.
Both Friar's Court Inn and FC2 are equipped with DJ booths, high-end sound systems and DJ lighting. Friar's Court also has a stage for live bands, and has been a key venue on the indie scene for more than 30 years.
In recent years the Friars Court stage has seen performances from the likes of Catfish and the Bottlemen, who were regular visitors early in their career, Viola Beach, The Sherlocks and The Lathums. The venue has also hosted DJ sets from legendary performers including Bez from the Happy Mondays, the Inspiral Carpets' Clint Boon, and Carl Barat of The Libertines, as well as The Cribbs and The Futureheads.
Both premises were fully refurbished during lockdown and, as well as sound and lighting equipment, also come with a professional kitchen which is equipped with a pizza oven and a range of appliances.
John Gaskell, director at Blacks Business Brokers, said: "Friar's Court Inn and FC2 Nightclub have been at the heart of Warrington's music scene for more than three decades. They also function as hospitality businesses in their own right, attracting customers with their food and drink offer and hugely popular courtyard area.
"The two properties are interconnected so a new owner would have the option either of operating them as separate venues with individual entrances, or jointly as a single venue. This is a business with an amazing history, it is brilliantly equipped and has all the versatility a new operator might need, so I am expecting really strong interest in what is genuinely a unique opportunity."
::
Digital agency Bespoke has renewed its lease at Strawberry Fields Digital Hub, Chorley, hailing its hybrid working programme a success 12 months after returning to the office post-COVID.
Commencing its hybrid working programme after the final lockdown in September last year, the digital lead generation specialist listed team wellbeing as central to the decision to adopt a hybrid approach, which also enabled the recommencement of its face-to-face digital strategy workshops, which had been running online during the pandemic.
The team currently works at the office twice a week, Tuesdays and Thursdays, and Bespoke provided all team members a £500 budget to improve their home office space for working from home during the rest of the week.
The agency also invested in coaching from Leslie Calland of MyOnlineCoach, using psychometrics to help the team understand each other's personality types and how to work best together. The company says the tests also helped them to map out the balance of the team, enabling them to identify and then fill any gaps in skill sets or natural aptitudes.
Bespoke CEO, Steve Brennan, said: "Back in February 2020, we were all cued up to move from our old head office in Bamber Bridge to the new offices in Strawberry Fields. But then COVID arrived.
"A few weeks before the official first lockdown was announced, we made the decision to hold the move and transfer the entire company into working from home. Like many people, we were actually pleased, and admittedly a little surprised, at how well that transition went. As early as April, we were proudly announcing our first significant project completed entirely over Zoom. As the months went on though, feedback from the team about the realities of working from home went through something of a curve.
"Over time, there was majority agreement, across the team and clients, that for collaborative working, the office provides that extra level of solidity and stability that helps underpin, and even enhance, creative processes. Also, for many the office can actually provide a haven, where work is the sole focus and where there is a fixed cut off at the end of the day, which actually improves overall work-life balance.
"Thinking beyond COVID, though, we took a real blank canvas approach to looking at how the office is set up, with wellbeing at the heart of our thinking. Moving forwards, we see the office now as somewhere newly vibrant and rich with new opportunities and increased productivity benefits, where work is a happy place to be, which I think bodes well for the future."
::
Regional Property Solutions (RPS) has secured three new local property management instructions to add to its growing property management portfolio.
Beachetwood Holdings has handed over the management of 31-33 Stamford New Road, Altrincham, which it purchased in September for £1.8m. The former Slug & Lettuce building, now converted, comprises 8,500 sq ft on four floors providing six, two-bedroom rental apartments on the upper floors with German retailer Kutchenhouse occupying the ground and produces a total income of £126,100 per annum.
The 5Am Group has appointed RPS to manage a Grade II-listed former office building at 16 Old Market Place, which has been transformed to provide three quirky floors of high specification accommodation comprising a total of 1,400 sq ft, now let to Quinta Group.
Lorcom Properties has selected it to manage a recently acquired investment at 179 Ashley Road, Hale. The two-storey 1,600 sq ft mixed use building in the centre of Hale village is let to established jewellers, W Frank and Son, who occupy the ground and basement accommodation with the first floor currently occupied by the landlord.
Daniel Lee, managing director, Regional Property Solutions, said: "We are delighted to add these properties to our property portfolio of over 100 buildings and estates with a rent roll of circa £6.5m and look forward to actively managing them to ensure the smooth running of these properties which encompass the full spectrum of management issues across the retail, leisure, office and residential sectors."