Planning application submitted for mulitmillion-pound Salford youth zone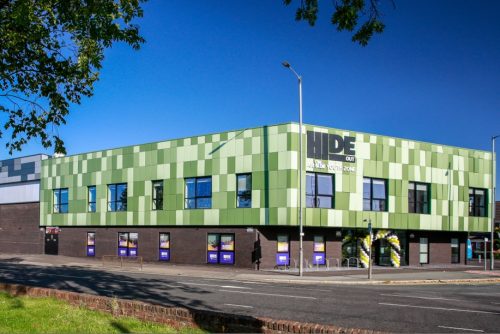 A planning application has been submitted to Salford City Council for a multimillion-pound Youth Zone.
The submission is from Manchester based youth charity, HideOut Youth Zone, with the support of national youth charity, OnSide.
Subject to plans being approved, the new Salford Youth Zone development will start in August 2023, with an estimated completion date of late 2024.
The new youth zone will be located next to Belverdere Road and Broadwalk in Pendleton, a prominent position just off the A6 facing the University of Salford.
Youth Zones are state-of-the-art spaces for young people filled with incredible facilities and staffed by highly skilled youth workers who help young people achieve their potential.
Open seven days a week, Salford Youth Zone will offer members the opportunity to access 20 activities each night, ranging from sports such as football, boxing and climbing to creative arts, music, drama and employability training.
Young people will also be able to access support from dedicated youth workers – all for 50p per visit and £5 annual membership.
Salford Youth Zone will join HideOut Youth Zone, based in Gorton, following the success of the existing charity's establishment within its first two years of creation.
The two sites will be managed via a single umbrella charity and will be part of the successful OnSide network, a national charity dedicated to the funding of, building and launch of state-of-the-art facilities for young people.
OnSide's successful model champions 14 similar Youth Zones across the country, with five of those situated within the Greater Manchester area – HideOut in Gorton, Manchester Youth Zone in Harpurhey, Mahdlo in Oldham, Wigan Youth Zone and Bolton Lads and Girls Club.
Salford Youth Zone's capital and revenue costs will be met by a number of financial contributions, including those from Salford City Council and Salford-born businessman, Fred Done, who was also the major capital donor of HideOut Youth Zone.
Other private sector partners and local philanthropists are being sourced to secure the remaining funds required.
Adam Farricker, CEO of HideOut Youth Zone, said: "Following feedback from local residents and young people gathered during our consultation period, we are delighted to be able to submit our full planning application to Salford City Council.
"This is a very exciting milestone for all the project partners involved and, most importantly, for the young people of Salford."
Salford City Mayor, Paul Dennett, said: "Having personally seen the success of HideOut Youth Zone and the incredible impact on young people in the area, I believe Salford Youth Zone will be a vital asset and much needed facility in our city.
"This planning application submission, should it be approved, is the start of what I'm sure will be a great investment in the future of Salford."