Airbus sees improvement in orders as aviation industry recovers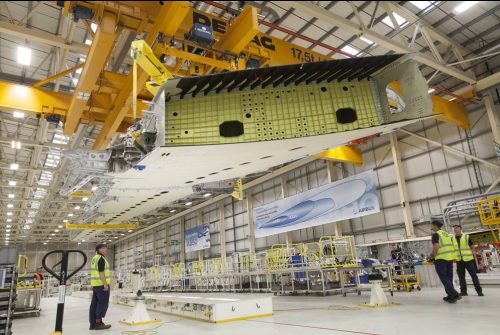 Aircraft manufacturer, Airbus, achieved an eight per cent increase orders for 2022.
It said this was below its original target, but it included two orders to Russian carrier Aeroflot which it was unable to deliver due to the imposition of sanctions following the invasion of Ukraine last February.
The Airbus factory at Broughton, near Chester, employs around 5,000 staff making wings for all the group's commercial aircraft.
During 2022 the group delivered 661 commercial aircraft to 84 customers , and registered 1,078 gross new orders, including from several high profile commitments from some of the world's leading carriers.
The end December 2022 backlog stood at 7,239 aircraft.
Deliveries included 53 A220 family aircraft, compared with 50 in 2021; 516 A320 family planes (483 in 2021); 32 A330 family (18); and 60 A350 family aircraft (55). No A380 aircraft were delivered during 2022, compared with five the previous year.
Per programme, the A220 won 127 firm gross new orders. The A320neo family won 888 gross new orders. In the widebody segment, Airbus won 63 gross new orders including 19 A330s and 44 A350s of which 24 were for the newly launched A350F.
Guillaume Faury, Airbus chief executive, said: "In 2022 we served 84 customers with 661 deliveries, an increase of eight percent compared to 2021.
"That's obviously less than we were targeting, but given the complexity of the operating environment I want to thank the teams and our partners for the hard work and the ultimate result."
He added: "The significant order intake covering all our aircraft families including freighters, reflects the strength and competitiveness of our product line. We continue our ramp-up trajectory to deliver on our backlog."
The manufacturer was severely affected by the pandemic when the aviation industry virtually ground to a halt following the worldwide closure of borders.
In July 2020 the group announced that it would axe 1,435 jobs from its 6,000 Broughton headcount. Worldwide, the group made 15,000 redundancies as operations came to a standstill.
However, as international travel restrictions began to ease and air travel began to return, the group announced in May 2022 that it would be recruiting 550 staff at the wing-making plant as part of a £100m investment.