Property round-up: Prestwich Village; PM+M; B8 Real Estate; Prince's Court; LegalForLandlords; Quayside MediaCity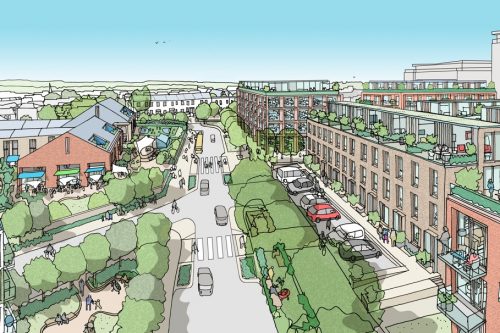 Nationwide placemaker, Muse, and Bury Council have launched the first community conversation on the future of Prestwich Village, as a draft masterplan and new images are revealed to act as a starting point for the discussions to shape the regeneration.
Your Prestwich is an ambitious £100m+ project that will transform the Longfield Centre and cement Prestwich as one of the best places to live in the North West.
The draft masterplan and concept sketches show the joint venture's early thoughts for the plans to create a new beating heart for Prestwich Village, which include:
A community hub that promotes health and wellbeing and provides opportunities for a new library, spaces for community events, clubs, art and culture, and the provision of key local services. The building will also offer an opportunity to deliver a new Prestwich Health Centre, subject to discussions with the NHS and local GP practices
A new village heart with family-friendly, social places to meet. Cafés and retail spaces will spill out onto a vibrant village square, which can host markets and outdoor community events and provide green spaces for the community to gather socially
Complementing the high street with new spaces for independent businesses and a diverse retail, leisure and food and drink offer
An opportunity to enhance the Prestwich arrival experience from the tram by delivering landscaping which connects with green spaces in the village
Moving parking out of the village core and into a new decked car park off Fairfax Road in a sustainable transport hub with electric vehicle charging points and cycle storage. This will enable Fairfax Road to become a pedestrian-friendly safe crossing and Rectory Lane to become a new residential street with front doors
A mix of homes to help meet the fast rising demand for quality housing in the village, from affordable homes, to first time buyers, growing families and downsizers
Green spaces throughout, with the opportunity to connect surrounding green parks and woodland – such as Prestwich Clough, Prestwich Forest Park and Heaton Park – to the village centre
A carbon neutral development that will help safeguard and enhance Prestwich Village's environment for future generations.
Joe Stockton, development manager at Muse, said: "This first conversation on our draft masterplan will help shape our plans to create a vibrant and highly sustainable new destination for Prestwich Village. We want to provide a positive legacy in the village for years to come by understanding the community's needs, aspirations and weaving them into the public spaces, amenities and homes we create. For us, it's all about building a brighter future, together."
Cllr Eamonn O'Brien, leader of Bury Council said: "The council is putting unprecedented levels of funding into transforming the heart of Prestwich. These are tremendously exciting and ambitious proposals which will help to ensure that Prestwich thrives for generations to come. I urge everyone to view the plans and give us your feedback, as it is essential that we all work together in partnership to deliver the very best outcomes."
The first community conversation on the emerging vision and draft masterplan will end on Friday, March 17, 2023, with plenty of opportunities for people to take part and provide feedback.
Attend a drop-in session on Sunday January 29, 11am-3pm at Prestwich Library, Longfield Centre, where the project team will be on hand to discuss the scheme
Sign up for an online Q&A at www.yourprestwich.com on Wednesday, February 1, 6:30pm-8:30pm to learn more about the plans and ask the project team questions
Register your interest in attending a community workshop at www.yourprestwich.com
Complete an online questionnaire at www.yourprestwich.com
Fill in a freepost questionnaire in the newsletter being delivered to all Prestwich addresses in January
Email info@yourprestwich.com
Call 0800 689 1095
Write to 'Freepost HAVE YOUR SAY' (no further address or stamp needed)
Follow social channels – Twitter @YourPrestwich | Instagram @yourprestwich | Facebook @YourPrestwich
Bury Council and Muse formed the Prestwich Regeneration joint venture in October 2022 to drive the project forward. The feedback from the conversation will be used to help the JV develop the vision for Prestwich Village. The JV then plans to hold a further conversation on the detailed proposals for Your Prestwich in summer 2023 before submitting a planning application by autumn 2023.
::
PM+M, the chartered accountancy, business advisory and financial planning group, has moved to new premises at Sandringham House in Bury.
The deal sees the firm take over 2,787 sqft of space which is nearly double that of its old office at Waterfold Business Park where it had been based since 2016.
The move follows a strong 12 months for the firm and will allow it to pursue and deliver its strategic growth plans over the coming years including expanding its headcount – the business has made 20 new hires over the past six months.
PM+M, which also has an office in Blackburn, provides a range of services including audit, accountancy and advisory, cloud accounting, corporate finance, payroll, tax, and financial planning.
Helen Clayton, partner and head of the Bury office, said: "Since we arrived in Bury back in 2016 the business has gone from strength to strength. The calibre of our team is superb. The new office will enable us to continue on and, most importantly, maximise our current growth trajectory which is an exciting prospect.
"Over the past six years we have built up a strong presence in Bury which we are very proud of so it's fantastic to secure this new base for our team and demonstrate our ongoing commitment to the local market."
::
The value of North West industrial investment property deals fell by almost a third in 2022 compared with the year before, but remains well above the 2020 figure and the five-year average, according to specialist agents B8 Real Estate.
Its latest Market Update also shows that while rising interest rates and economic conditions led to a fall in demand from investors in the second half of the year, demand from occupiers has remained strong and rents continued to rise.
B8RE's research shows there were 66 investment deals totalling £900m in 2022 – down 31% on the record year of 2021, but still ahead of the five-year average of £868m. Lettings in 'big box' units (those over 90,000 sq ft) totalled around 6m sq ft, slightly down on the previous year's figure of 6.2m sq ft, but still well above the five year average of around five million sq ft.
While industrial land values have halved from more than £2m per acre at the peak of the market to around £1m per acre now, rents have continued to rise, with 'big box' units now commanding £7.75 to £8 per sq ft – 10% higher than in 2021 – and mid box units now achieving record rents of more than £10 per sq ft.
Steve Johnson, joint head of the agency team at B8RE, said: "Occupier demand remained consistently strong throughout the year, particularly for new build which accounted for over 80% of overall big box take-up.
"With the ongoing lack of supply, a significant proportion of speculative units were let prior to practical completion, setting new headline rents in both prime and grade B locations.
"We expect occupier demand to remain robust, hindered only by the limited development pipeline. As a consequence we expect big box rents to break through the £8 per sq ft barrier in the year ahead."
Simon Wood, who leads the investment team at B8 Real Estate, said "2022 was a year of distinct halves. While the first half was strong, the second half saw huge volatility with prices reducing dramatically. However, there is still a significant amount of capital backing the industrial property market and the strength of demand from occupiers, as well as the potential for strong rental growth, is helping to bolster confidence.
"We did see signs of a return in demand towards the end of the year, which is continuing tentatively into this year. Despite the difficult economy, the fundamentals of the industrial property sector remain strong."
::
Cheshire property agency Legat Owen has completed the £1.85m disposal of three buildings at Prince's Court in Nantwich to Carlton Property Holdings.
Built in the late 1800s, the three, three-storey buildings were originally occupied by Barony Hospital before being closed in 1994 and converted into offices a few years later. Located on a 2.32-acre site, Prince's Court today comprises 18,602 sq ft of multi-occupied office space, home to more than 40 individual businesses with lease terms ranging from one to five years.
The buildings include Charles House, Regent House and Frederick House, which make up a wider operational business centre off Beam Heath Way.
Legat Owen acted as both managing and letting agents for the previous owner and has been retained by Carlton Property Holdings to act on their behalf.
Andy Butler, director at Legat Owen, said: "With no significant speculative office development in the area for over 15 years the stock of vacant offices is extremely low.
"Prince's Court has been a popular location for Cheshire organisations and take up has been particularly impressive during and since the pandemic with the buildings now 90% occupied. We are pleased to be continuing our role as managing and letting agent for Prince's Court to help maintain the high standard of this asset for our new client."
Legat Owen represented SIPP Choice Bespoke SIPP.
::
Warrington-based LegalforLandlords is moving premises, just half a mile from its existing location on Birchwood Way, to the new Olympic Way offices.
Founder and MD, Sim Sekhon, said: "We're running out of room, the team is growing and our ambitious plans demand the extra floor space."
The move involves a business LegalforLandlords acquired in 2021. Proptech platform, Propoly, is also on a growth trajectory with more features being incorporated into the platform.
Sekhon says he is a firm believer in utilising technology to streamline processes, committed to enhancing professionalism in the industry and proud of the service his organisation delivers. He said: "We've got a great team with a huge amount of experience, and this short distance relocation will allow us to keep the team intact.
"Moves can be disruptive, but we've planned everything and I'm confident we'll hit the ground running."
The company's new HQ is at Unit 5B, Olympic Way, Birchwood, and the move is scheduled to be completed by February 13.
::
Quayside MediaCity, in Salford, is one of two retail destinations that are the first of their kind to achieve 'Net Zero Carbon – Operational Energy', in line with UKGBC's Net Zero Carbon Buildings Framework.
The site, and Gloucester Quays, have been added to the growing list of Peel L&P's buildings which have achieved net zero carbon status, demonstrating the company's commitment to climate resilience by rolling out net zero carbon initiatives across its estate, it said.
The buildings have achieved 'Net Zero Carbon – Operational Energy', in line with UKGBC's Net Zero Carbon Buildings Framework, following action taken to reduce those emissions and their renewable energy use. In 2021, many of Peel L&P's assets were transferred to a 100% renewable electricity tariff linked to named wind farms, which considerably reduced carbon emissions across the property portfolio.
Within the retail outlets, energy efficiency programmes have included upgrading lighting systems across all spaces including public areas, food courts, back office and advertising signage.
Jo Holden, Peel L&P's sustainability and ESG director, said: "This is a huge milestone. To have achieved net zero carbon with two significant retail destinations is a UK first and shows just how serious we are at taking action to reduce carbon emissions across our portfolio.
"Net zero carbon status has really driven our energy team and everyone around the business to seek out ways of using less energy and more renewable sources.
"The impact on our carbon emissions has been far-reaching and the effort of our people shouldn't be underestimated. But it is our ambition to build on this and make our properties even more resilient to climate change, which is why we were so proud to have 18 buildings verified at the end of 2022, including two key retail centres."
Yetunde Abdul, head of climate action at UKGBC, said: "The challenge of decarbonising the UK's built environment is a complex one, but Peel L&P's long term commitment to aligning their built assets to UKGBC's net zero carbon buildings framework demonstrates their ambition to take this challenge head-on.
"Given that buildings are directly responsible for around a quarter of the UK's carbon footprint, businesses across the sector must work together to fundamentally change the way we construct, operate and de-construct our buildings, and ultimately drive a more sustainable built environment."