VC platform Fearless Adventures teams up with women's football brand Foudys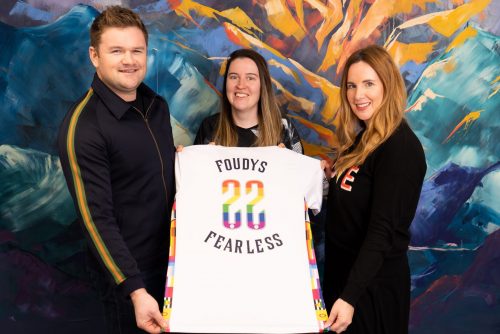 Wilmslow-based investment platform for British e-commerce entrepreneurs, Fearless Adventures, has partnered with Manchester women's authentic football merchandise brand, Foudy's.
It has pledged to inject cash, support fulfilment and provide growth marketing expertise to help scale the fast growing direct to consumer ecommerce brand globally.
As the female game experiences huge growth, Foudys fulfils an unmet need for the swelling numbers of female footy fans. It prints official, authentic club football jerseys and fan apparel for Women's Football League (WSL) teams including Manchester United, Arsenal, Chelsea and Liverpool.
When it launched in December 2020, it was not possible to purchase WSL shirts with the correct letters and badging specific to the women's game directly from clubs, making Foudys the only option for women's club supporters. Previously, their only option was to wear men's league shirts.
Foudys has won WSL printing rights in the UK and recently in Europe, making it well placed to win new licences around the world. It has also just signed contracts with sportswear giants Nike and Puma. So the investment will allow the business to increase its stock buying capability and offer grassroots kit supplies for the women's game.
Helen Hardy, 32, founded the company. Well known for covering women's league fixtures for the BBC, she is a passionate voice for women's equality in football and LGBTQ+ rights.
She said: "I'm so excited to work with Fearless Adventures. They're entrepreneurs who have been on fast growth journeys, and their experience and expertise are hugely valuable. For me, this journey is about so much more than launching a successful e-commerce business, it's about growing women's football by increasing brand awareness and spotlighting products that focus solely on the women's game.
"Unlike other investors, the Fearless Adventures team understands my motivations offering a tailored approach that will help take Foudys to the next level."
Oli Connolly, investment director, Fearless Founders, said: "We're actively investing in businesses with a strong purpose led by passionate, inspiring founders. Helen and Foudys are exactly this.
"With women's football surging in popularity, demand for Foudys has been on fire and its recent deals with the biggest names in sports are evidence of this."
Rachel McDonald, managing director, Fearless Adventures, said: "We are looking forward to supporting Helen and Foudys on its growth mission. We truly believe that Foudys will be the standout disruptor in women's football with customers searching for something other than the male-centric retail platforms."
Helen Hardy founded Foudys in 2020 in her bedroom in Manchester. A native Geordie and football shirt collector, Helen has been working in women's football since 2019, with the BBC and others to spotlight the women's game as a pundit, summariser and co-commentator.
This latest deal with Foudys sees Fearless Adventures tap into the fast-growing women's football arena. Additionally, as a proud signatory of the Investor in Women Code, this continues to highlight Fearless Adventures as a stand out investor for female founders.
Founded in October 2021 by a trio of the country's brightest young entrepreneurs, David Newns, Dominic McGregor and Charlie Yates, Fearless Adventures uniquely offers each partner entrepreneur a platform of support to help their business scale.
Charlie Yates said: "There was a noted wider market slowdown in investment activity towards the end of 2022, but we continue to speak with incredibly exciting brands that are looking to capitalise on their existing success and access support to scale."
Investment through Fearless Adventures brings capital combined with mentorship, marketing, fulfilment and talent sourcing amongst other benefits.
The founders believe this embedded venture capital model isn't currently offered under one roof elsewhere and is the key to high growth and more successful exits further down the line.