People: KPMG; DWF; Gorvins; MediaCity; Price Slater Gawne Solicitors; DTE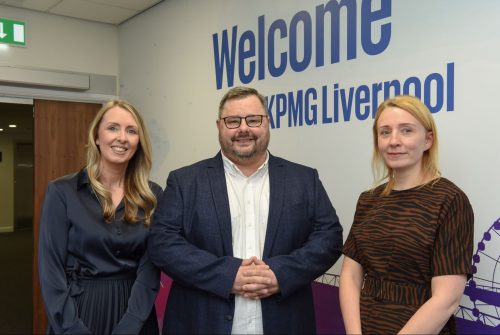 KPMG has bolstered its team in Liverpool with the promotion of three colleagues to director across its consulting and audit practices.
In the audit practice, Jennifer Pickavance has been promoted to director, following 14 years with the business.
The professional services firm has also promoted Alex Fasting to director in the consulting practice. He is leading the IT internal audit team within KPMG's governance, risk and compliance services team for UK clients.
Louise Douglas also becomes director of security, strategy and culture within KPMG business services. Louise specialises in making cyber security accessible and understandable.
The Liverpool promotions form part of KPMG announcing 35 promotions across its network of offices in the North of England, including Newcastle, Leeds and Manchester.
Jennifer Lee, office senior partner for KPMG in Liverpool, said: "Our latest promotions reflect the exemplary skills and commitment of our colleagues here in Liverpool and are well deserved.
"They form part of our hard work to bolster the services we provide to our clients across the city, which will continue through 2023 and beyond.
"We are bringing some of the brightest talent in the professional services sector to Liverpool and providing an exceptional service to the region's businesses, including audit, tax, consulting and deal advisory.
"And we're working across the business community to deliver the support firms need to successfully navigate the challenges and opportunities ahead."
KPMG's Liverpool office is home to a growing team of more than 140 professionals, including three partners and 12 directors.
The promotions follow the complete refurbishment of the firm's Princes Parade office during 2022 and a successful external recruitment drive as KPMG continues to invest in its Liverpool team and the local market.
::
Manchester law firm DWF has announced 45 promotions in its Manchester office.
This round of promotions by the business, which is based at Scott Place on Hardman Street, includes a promotion to partner for insurance lawyer David Woolley and corporate lawyer Simon Belfield.
Nine employees were also promoted to the position of director: Benjamin Johnson, Amy Parrish, Michelle Maher, Daniel Wilford, Thomas Armstrong, Miles Sinclair, Elizabeth Riddles, Idris Maka and Nigel Crebbin.
Office managing partner of DWF in Manchester, Kirsty Rogers, said: "This year, our colleagues have demonstrated clear commitment to our purpose and values as well as outstanding dedication to clients, while driving forward the ambitions of the business."
She added: "I am thrilled to congratulate all recently promoted colleagues in Manchester who have proven themselves extremely worthy of promotion by going the extra mile for our clients, colleagues and communities."
::
Greater Manchester-based solicitors, Gorvins, is strengthening its senior team with the promotion of two solicitors to senior associates.
Senior associate in the employment team, Amanda Isherwood, acts for both employers and employees in a wide variety of employment law matters.
These include advice on complex grievance and disciplinary processes, settlement agreements and exit negotiations.
Amanda specialises in disability, pregnancy and maternity cases, representing clients in a wide variety of tribunals with extensive experience in the contentious aspects of employment law.
Rachel Edwards Barrott, senior associate in Gorvins' family law team, has been practising as a solicitor in family law for more than 20 years, covering divorce, children and family financial matters.
This experience extends to preparing pre-nuptial agreements as well as dealing with non-molestation and occupation orders.
Gorvins managing partner, Mark Deverell, said: "Amanda and Rachel are valued members of the Gorvins team and are instrumental as we continue to grow and strengthen our service.
"We always strive to invest and develop our best people, and to recognise their hard work and commitment. Amanda and Rachel's promotions are testimony to the high quality of work delivered and excellent relationships built up with our clients."
::
MediaCity has appointed Stephen Kirk as head of asset management for Salford's creative, tech and digital destination as it continues to make progress with its phase two plans.
Stephen will lead a team of six who oversee the core portfolio of MediaCity's buildings within the Landsec and Peel L&P joint venture partnership including the Studios, Orange, Tomorrow, Blue and White towers as well as space beyond the JV partnership in Quayside MediaCity and the cluster of Peel L&P properties along Broadway such as The Nest, The Alex and The Vic.
Amassing more than 20 years' experience in real estate investment management and the property sector in the UK and Europe, Stephen was latterly head of commercial investment at Liverpool City Council, including a secondment with the Liverpool City Region Combined Authority as senior investment lead.
Prior to joining Liverpool City Council, he has worked in a range of asset management roles at director level within Lapithus/Apollo as well as Alpha Real Capital and within the European Corporate Real Estate Services department at DTZ, now Cushman & Wakefield.
Stephen said: "It's exciting to be back in the private sector working within one of the most dynamic destinations and its property portfolio in the north of England. There's a vast amount of existing and planned opportunity at MediaCity and I'm looking forward to working within the team on MediaCity's multi layered and unique offering."
Stephen Wild, MediaCity managing director, said: "We're in the midst of an exciting phase for MediaCity where we're continually adapting to market demands through our flexible workspace offer ARRIVE while securing future growth opportunities for our SMEs elsewhere within the site. Stephen's wealth of experience in asset management and insights from the public and private sector will be a great asset as we progress with our phase two plans."
Stephen's appointment follows planning approval in October 2022 for a new, highly sustainable 312,000 sq ft office development in the heart of MediaCity and the recent expansion and rebrand of its flexible workspace offer ARRIVE.
Stephen is a graduate of the University of Manchester (BA Hons) and is a Member of the Royal Institution of Chartered Surveyors (MRICS), specialising in Property Finance & Investment.
::
Specialist law practitioners, Price Slater Gawne, continues to expand and has recently appointed Chester-based, Gareth Williams as a new partner.
Gareth is an experienced, senior practitioner and is accredited by STEP for succession and wealth inheritance planning. His work focuses on complex wills, probate and trusts.
In addition, Gareth has extensive experience working as an attorney and deputy for clients who lack capacity, vulnerable clients and their families in the Court of Protection sector.
Gareth has worked in Chester for many years and will continue to do so, opening and heading up a new office in Chester for Price Slater Gawne. The firm is currently identifying suitable premises.
Director, Chris Gawne, said: "Price Slater Gawne is very pleased to welcome a new partner of Gareth's calibre. We look forward to expanding into Chester and the contribution Gareth will make to our reputation for high end, complex, wealth protection and Court of Protection work. He will be a great addition to the firm."
Gareth Williams said: "I look forward to starting this important new chapter in my professional life at Price Slater Gawne.
"In Chester and its surrounds, and nationally I will continue to help clients navigate through their complex trusts and estates planning needs. I will also continue to serve my clients who ,through injury or medical negligence, cannot make decisions on their financial and welfare matters.
"I am incredibly excited to join the firm at this crucial point in its growth programme and look forward to my future here."
::
DTE Business Advisers has promoted Richard Bell from partner to equity director.
Richard brings a huge amount of experience and expertise to DTE and is keen to assist with its plans for further growth. Since joining DTE in 2005, Richard has been responsible for the growth and development of the internal IT tea, in addition to growing and managing his own portfolio of clients.
Richard said: "I'm very much looking forward to further developing DTE's offering as Chartered Accountants and business advisers.
"The last few years have been fantastic in terms of business performance, and I'm delighted to be building our portfolio across the region."
Fiona O'Loughlin, director, said: "Richard has been an invaluable part of our management team for many years. He is integral to our plans for further growth and development at DTE."