Planning committee approves proposals for £3.5m BOXPARK Liverpool scheme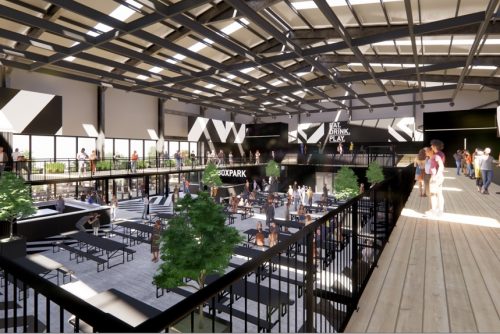 Liverpool City Council planning committee this morning passed plans for a 150-job leisure scheme at Cains Brewery Village.
Brighton-based dining, retail and leisure operator, BOXPARK, will open the venue, its first outside London, later this year.
It has agreed a 15-year lease with Cains Brewery Village for the site, located in the city's booming Baltic Triangle.
The venue will be transformed into a food hall and events destination featuring a large internal space with units set over the ground floor, a small internal mezzanine, and an external terrace.
The group is investing more than £3.5m into the Baltic Triangle and is expected to bring 150 jobs. On top of this, the scheme will also drive a significant volume of footfall to the area, with more than one million people expected to visit each year, based on the annual average BOXPARK footfall number.
Spanning 21,000 sq. ft and holding 400 internal covers, plus 200 external covers, BOXPARK Liverpool will include 10 kitchen units, three internal bars with additional external bars. There will also be a 5,430 sq ft external garden to offer al fresco dining and intimate events.
BOXPARK Liverpool will add to the three current sites in Shoreditch, Croydon and Wembley.
Simon Champion, BOXPARK CEO, said: "We are delighted to receive the news today that BOXPARK Liverpool has planning approval as our team has put a lot of work into bringing the Canning Hall at Cains Brewery back to life.
"We're very excited to bring jobs, and a lot of fun, to the Baltic Triangle which we see as an area with great prospects over the next few years."
Cains Brewery Village managing director, Harj Dusanj, said: "Today marks an exciting day for Cains Brewery Village with the planning approval of BOXPARK Liverpool.
"It takes a village to nurture the regeneration of Cains Brewery and we are thankful for all parties that have worked hard to make this next chapter a truly exciting one. The inward investment into Liverpool is a testament to our home of pioneering creatives that continue to echo the entrepreneurial spirit of Robert Cain."
He added: "BOXPARK shares our passion and enthusiasm to showcase the best independent street food businesses with world class entertainment in the heart of the Baltic Triangle. Within BOXPARK Liverpool expect greater live experiences and opportunities to engage and celebrate the not-to-be-missed moments at Cains Brewery Village."
Cllr Sarah Doyle, cabinet member for development and economy, said: "The arrival of BOXPARK Liverpool will provide a welcome boost to the leisure offer in the Baltic district. The development is a significant investment creating a considerable number of jobs and now they have planning permission, I look forward to their opening."
Today's (January 31) planning committee unanimously passed the application.