Something for the weekend: support your local theatre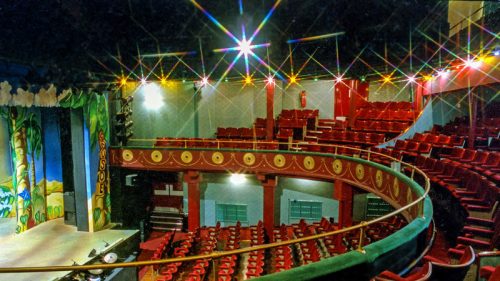 Actor Maxine Peake is leading a campaign to save Oldham's Coliseum Theatre after it told customers there would be no more performances beyond March 2023 after the Arts Council dramatically stopped its funding last year.
The Coliseum applied for £615,182 a year in the funding round, a total of £1,845,546.
It brings into sharp focus the levelling up debate and the role of culture in the shaping of a town, and its decline.
Professor Andy Westwood from the University of Manchester oversaw the Oldham Independent Economic Review in 2022, a report into Oldham's economy. Amongst other factors, it highlighted the importance of cultural institutions to the identity and confidence of a town. His reaction focused on the Arts Council decision to stop Oldham Coliseum's funding, steered by then Culture Secretary Nadine Dorries. 
"Given the precariousness of organisations like Oldham Coliseum, you'd think that Government would have a Levelling Up emergency fund (or at least be more joined up about how different funding bodies support places like it)? Alas not," said Professor Westwood.
An online petition calling for the theatre to be saved, and criticising the plans to build a new theatre on a new site in the town centre has been widely circulated on social media – notably by Maxine Peake – and has attracted over 8000 signatures. 
But the theatre decision has sparked a wider discussion about the future of Oldham. Business owner Darren Ratcliffe, who has recently relocated his digital business to the town said: "Those running our town are seriously letting it down. I moved our main business operations here 18 months ago and am now at the start of plans to move back to Manchester.
"Oldham is not a business friendly town just as much as retail, culture and the arts are being left to evaporate into non-entities."
William Lees-Jones, chairman of the Oldham Town Board, said:  "Every time we did research Oldham people said they wanted a cinema and Oldham Council made it possible for the old Town Hall to be converted into a 7-screen Odeon cinema in 2016 and so I am struggling to understand why Oldham cannot save its award-winning Oldham Coliseum."
Oldham Council leader Councillor Amanda Chadderton quoted in the Oldham Chronicle, said: "Like most people in Oldham I'm absolutely devastated by the news that Oldham Coliseum has cancelled planned shows after the end of March.
"Oldham Council is committed to making sure that Oldham continues to have a thriving performing arts and cultural offer and over the coming months this will include working with the Coliseum to find the best way forward for the future of theatre in Oldham."