Wind energy specialist acquires essential new plant after seven-figure funding deal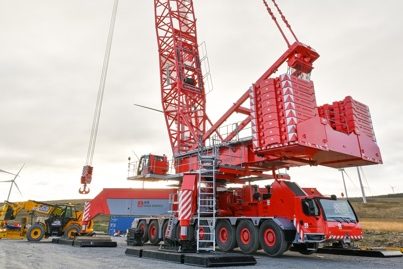 Banking giant, HSBC UK, has provided a seven-figure funding deal for a Wigan-based lifting, industrial services and maintenance business, focused on the wind energy sector, to boost its green investment plans.
AIS Wind Energy has acquired a new specialist crane which it will use for onshore wind turbine installation, as well as decommissioning or repair work.
The 'LG 1750' crane has been evolving for the past 18 years to match the fast-paced and evolving EU Wind Energy sector.
With the maximum lift capacity of 400-tonnes at 20-metre radius, the crane has been developed to reduce transport costs on the heavier and taller wind turbine installations.
Located at the Sandy Knowe Wind Farm in Dumfries and Galloway, Scotland, the new crane supported the addition of 15 new turbines to the site.
With the global wind energy sector continuing to grow rapidly, demand for the new crane is high, with AIS Energy reporting it is already booked for projects through until the end of 2024.
AIS Wind Energy managing director, Andrew McGlade, said: "Funding from HSBC UK has allowed us to embark on an exciting new acquisition of a LG 1750 crane, providing us the capacity to lift the ever heavier and higher turbines that enter the market.
"As the green energy sector continues to grow, we are looking forward to advancing our equipment portfolio further."
Matt Ainscough, CEO at AIS Wind Energy, said: "We are constantly finding ways to enhance our equipment and optimise efficiency.
"This deal is a fantastic opportunity, and it demonstrates our ongoing commitment to investing in the best equipment and people. It's a crucial step in meeting our long term strategy to build the business throughout the UK and Europe."
Leon Crook, relationship director at HSBC UK, said: "We are pleased to support AIS Wind Energy and, in turn, the growing wind energy market in the UK as the country continues on the journey towards net zero and improving energy security."
Founded in 1976, AIS Wind Energy is a subsidiary of Ainscough Industrial Services, built on a track record of complex, technical and heavy lifting expertise in hazardous environments.