Property round-up: Anwyl Homes; First Choice Homes Oldham; Taylor Business Park; Virtue Bespoke Lodges; BGEN

Work will soon be under way to deliver more than 130 homes across two new sites in Cheshire and North Wales, Anwyl Homes has confirmed.
The homebuilder has acquired an eight-acre site near Crewe, where work to create a new 84-home development is due to start this month. Meanwhile in North Wales, Anwyl has bought four-acres of land for 49 homes in Llandudno.
Located off Newcastle Road, Shavington, the Cheshire site has planning permission for 59 private sale homes and 25 new affordable homes alongside public open space and a new play area.
The development will be named Queen's Meadow in honour of the late Queen Elizabeth II and the street names will be named after Her Majesty's favourite horses, as the site had previously been used as an equestrian paddock.
Queen's Meadow is the third and final phase of the Shavington Triangle project that is bringing new homes to the area in a sustainable location, designated for housing under the local plan. As part of a hybrid planning consent, Anwyl also gained outline planning permission for a 700 sq m retail unit to the north west of the site with parking area.
It is estimated both projects combined will support around 400 local jobs.
Phil Dolan, managing director for Anwyl Homes Cheshire and North Wales. said: "Housebuilding and the property industries have an important role to play in the economy providing jobs, investment in the community and addressing the housing shortage by increasing the opportunities for people to buy houses. We're committed to buying sustainable sites in sought after locations across North Wales and the North West of England to provide much needed new homes."
The Cheshire and North Wales acquisitions follow a run of site purchases by Anwyl in Lancashire and Greater Manchester at the end of last year. Land was acquired in Eccleston, Heywood and Carrington, with the latter two locations representing a first foray into Greater Manchester for the home builder.
Anwyl is headquartered in Ewloe, near Chester, with a regional office also in Chorley, Lancashire.
::
Plans to build 88 new affordable, green homes at the gateway to Oldham have entered the next phase as local housing provider, First Choice Homes Oldham (FCHO) has signed a deal with contractor, Caddick Construction, to deliver the project.
The 'West Vale' housing scheme – part of FCHO's £160m plan to deliver 1,100 affordable, modern homes in Oldham and surrounding areas between 2020 and 2026 – will transform the site where tower blocks, Crossbank House and Summervale House once stood at the top of Manchester R0ad, Coldhurst.
Following demolition of the ageing blocks last year, Caddick Construction is now readied to build FCHO's £21m contemporary development of 26 houses – a mix of two-, three- and four-bedroom family houses – and 62 one- and two-bedroom apartments to meet local housing need.
All homes will be off gas, with a high energy performance rating, and use latest sustainable technologies including air source heat pumps and additional insulation to help residents save energy and money.
The mixed tenure project will see 26 homes for shared ownership under FCHO's Fabric Living brand, helping local people to get a foot on the housing ladder at an affordable price.
Sixty two properties will be available for affordable rent – set at no more than 80% of the average local market rent. Properties for rent will be allocated in line with Oldham Council's allocations policy.
Plans for the West Vale site also include landscaped green spaces and a recreational zone with dedicated play area, providing a much needed facility for younger children in the neighbourhood.
Enabling works on site began in January this year and all new homes at the development are due for completion in winter 2024.
Joel Owen, FCHO's director of development, said: "We are very excited to be working with Caddick Construction to bring forward this exemplar scheme in such an important location in Oldham."
Ian Threadgold, managing director of Caddick Construction in the North West, said: "I take great pride in the news that Caddick Construction has been appointed to deliver on the new build phase of this fantastic development. We look forward to building these much needed new homes in Greater Manchester."
Cllr Abdul Jabbar, deputy leader and cabinet member for finance and low carbon and Coldhurst Ward councillor, said: "It is fantastic to reach another key milestone in bringing 88 new affordable and green homes to the West Vale site as First Choice Homes Oldham appoints Caddick Construction to deliver the project."
PRP Architect has designed the West Vale scheme and the professional team also includes Markhams as employer's agent, Alan Johnston Partnership as structural engineering consultants, LeClardo as mechanical and electrical engineering consultants and Jensen Hughes as fire protection engineering consultants.
::
A Warrington business park has secured four new lettings totalling more than 57,700 sq ft of space following a comprehensive refurbishment programme.
McQueens Dairies has leased a 19,022 sq ft unit at Taylor Business Park, with other units being let to Cancer Research UK (12,818 sq ft), civil engineers Amco Giffen (12,325 sq ft) and Grosvenor Power Solutions (7,730 sq ft). B8 Real Estate acted with the landlord, Ribston, on the lettings.
A fifth unit comprising 57,764 sq ft is currently undergoing refurbishment and due to complete in the next month. All but one of the units were previously occupied by materials handling specialist Jungheinrich.
The refurbishment programme, which began in early 2022, was project managed by Cushman & Wakefield and was best in class including new roofs.
Located within a few miles of the M6, M56 and M62 motorways, Taylor Business Park comprises 285,000 sq ft of industrial space on a 55-acre site. It was acquired by Ribston in 2018.
Adam Morgan, asset manager at Ribston, said: "These recent transactions show the continued occupational demand for good quality, well located assets. It's pleasing to welcome new businesses to Taylor Business Park as well as working with our existing tenants to secure their property needs."
Will Kenyon, from the agency team at B8 Real Estate, said: "We had strong interest from potential occupiers from the outset and are pleased to have secured lettings on all four units on or before practical completion of the refurbishment work and at strong rents. Taylor Business Park has become a popular location, with well maintained properties and excellent connectivity links."
::
A six figure funding boost has helped Virtue Bespoke Lodges locate to new premises in Warrington and focus on future growth.
The Warrington-based manufacturer of bespoke designed lodges has received investment from NPIF-FW Capital Debt Finance, which is managed by FW Capital and part of the Northern Powerhouse Investment Fund (NPIF).
This has supported their move and fit out of a new 18,600 sq ft warehouse situated on Howley Industrial Park in Warrington. It is also assisting plans to create new jobs and providing working capital to back new project wins.
Virtue Bespoke Lodges was launched in 2022 by Steve Mattocks and Rob Cook to manufacturer and design bespoke lodges for holiday parks. Managing director, Steve Mattocks, said: "Rob and I are both excited about the fast growth we have achieved since our launch in August and the increased demand for our unique design service.
"The funding from FW Capital is instrumental in our future growth."
FW Capital senior investment executive, Simon Berry, said: "Both Steve and Rob impressed us with their background and expertise in the high-end construction sector.
"This is a luxury product that Virtue Bespoke Lodges are offering, and I'm pleased to be help them with this key stage of their development. The new facility in Warrington supports their manufacturing needs and features an impressive lodge design studio and showroom. Supporting businesses like this is what the Northern Powerhouse Investment Fund is all about – investing in potential growth and ambitious management teams."
::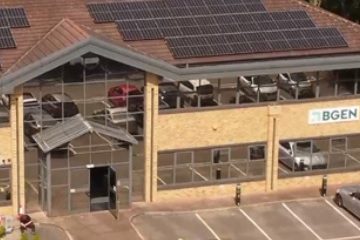 BGEN, a specialist, multi-discipline engineering solutions business, has completed the transformation of its Warrington headquarters into a net zero building.
The project has seen BGEN invest in some of the latest sustainable technologies as the company looks to achieve net zero status by 2035 at the latest.
Oliver Groarke, head of future markets at BGEN, said: "As a business we are committed to reducing our carbon footprint as soon as possible. This project has enabled us to lead from the front by showing tangible ways in which organisations can reduce their carbon footprint.
"As well as supporting our ongoing net zero efforts, the project has provided a great opportunity to implement new technologies which will be of benefit to our clients as they continue their own decarbonisation journeys."
The works, all undertaken in-house by BGEN engineers, included:
Replacing the HVAC system
Fitting solar panels
Installing water reduction technologies
Transferring electricity supply to an Ofgem certified eco-tariff
Fitting LED lighting
Installing electric vehicle charging points
Setting up control and energy monitoring systems
This has enabled BGEN to eliminate all scope one and two emissions associated with the building. BGEN offset all remaining scope three emissions – which in reality can only be addressed and lowered as new technologies become available – by supporting verified carbon reduction projects and planting 207 trees in the North West. Net zero status was certified by Tunley Engineering, a leading decarbonisation consultancy.
Later this month, BGEN is set to launch its own sustainability offering and will provide a range of services and consultancy to organisations looking to reduce their carbon emissions. The carbon reduction offer includes feasibility and planning, implementation and project management, and ongoing monitoring and improvement recommendations.