Next stop Texas as Burnham and Craig sign economic pact in North Carolina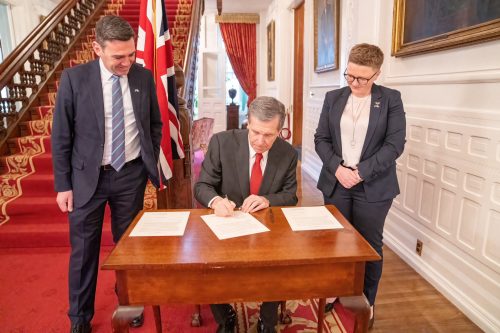 Mayor Andy Burnham and Greater Manchester Economy Lead Cllr Bev Craig, Leader of Manchester City Council, have signed a new economic pact with North Carolina.
As reported last week on TheBusinessDesk.com the Mayor and Cllr Craig are in the US for a two-centre visit to North Carolina and then onto Austin, Texas, for the tech conference South By Southwest (SXSW). 
The agreement commits both places to streamline trade and investment and "lay a framework for increased cooperation" in areas including clean tech and energy infrastructure.
Trade between the UK and North Carolina is worth around $2.5 billion, which is roughly the same as the value of trade between Greater Manchester and the US as a whole. US businesses have created thousands of jobs in Greater Manchester, among them North Carolina-based companies including digital studio Epic Games, manufacturer SPX Corporation, and life sciences firm d-Wise. Last year, North Carolina was named 'America's top state for business' in a study for CNBC.
In Texas, Burnham will launch the Beyond The Music conference, being proposed as a co-operative with Oli Wilson, son of Manchester cultural catalyst Tony Wilson. 
Burnham said in his regular column in the London Evening Standard: "It will be a poignant moment for us in Austin when Tony's son Oli launches our new international music conference — Beyond The Music — with the help of Bernard, Stephen, Gillian, Tom and Phil from New Order. True to our city's disruptive roots, Beyond The Music will be run by a co-operative organisation and will challenge the music industry to promote real change."
He also used the Standard column to call for more devolution of powers and more money for the North in Wednesday's Budget.
"The backdrop to our US visit is a Budget which will be heavily focused on the need for regional growth. It will be a real mid-trip boost for our mission if the Government confirms a positive outcome from the "Trailblazer" devolution talks with ourselves and the West Midlands. We have both asked for more regional control of the post-16 skills system. This would allow us to give better answers to potential investors who cite talent supply as their priority.
"We also want more influence over overseas trade promotion, so that we can show that modern Britain is more than Beefeaters and Big Ben. If we can land a new devolution deal along these lines, you would hope that the same powers would be extended to all cities in time, including London, and that perhaps brings forward the day when Manchester and London will be carrying out joint-trade missions around the world. What a double act that would be!
"For the avoidance of doubt, our message is not an aggressive "move over London". It's more a friendly Northern "budge up and give us a bit of space"."