People: Realm Recruit; Democracy; Freshfield; Astra Group; Savills; QASSS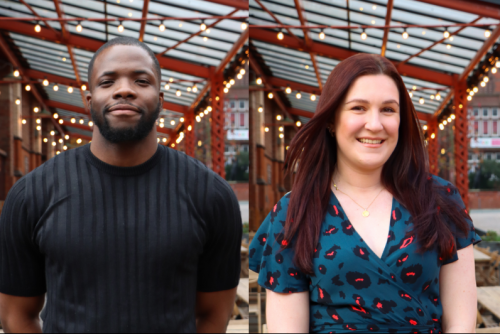 Altrincham-based legal attraction, retention and recruitment consultancy Realm Recruit has welcomed two new consultants to its specialist team and made three promotions as part of its continuing growth strategy.
Kathryn McGeoghegan joins as a consultant specialising in the recruitment of commercial insurance, costs and legal support professionals across the North West.
She previously worked in the internal recruitment team at the global law firm DWF. Before moving into recruitment, Kathryn worked as a paralegal for six years, handling defendant motor work claimant personal injury claims. Her joining Realm signals the business's expansion into legal costs recruitment, further growing the firm's market expertise and service offering to lawyers and law firms.
Nonso Okonyia has joined as an associate consultant specialising in the recruitment of litigation lawyers across Yorkshire. He has joined Realm from another legal recruitment business after previously working within a law firm. He has a Master's degree in Advanced Drafting and Criminology.
Realm's new hires come shortly after three members of its existing team were promoted. Support team lead Rebecca Hopwood has progressed to head of support. Family law recruitment specialist Michaela Baddeley has been promoted from consultant to associate consultant and within the team's marketing department, Emma Marsh has been promoted to associate marketing executive.
Realm managing director, Duane Cormell, said: "I'm thrilled to welcome Kathryn and Nonso to Realm. Kathryn's joining will enable us to further branch out into the recruitment of costs lawyers and Nonso's arrival will help us solidify our presence within the litigation market in Yorkshire.
"I'm also really pleased to have been able to promote Rebecca, Michaela and Emma. I've been really impressed with how they have applied themselves to their professional development over the last 12 months and all three have made a fantastic contribution to their divisions within the business."
::
Digital, social and PR agency Democracy has appointed Sam Christie to the role of head of news.
Christie joins from Reach, where he was news editor of the Manchester Evening News. Previously, he worked nationally on the newsdesk for The Sun, and at the Daily Star and Ferrari Press as a reporter.
Now he will lead across the agency's news output, story creation, newsjacking and media outreach for clients including AkzoNobel, Fray Bentos, Tequila Rose, Eisberg, East Lancashire Railway, Love Energy Savings and Landwood.
He will also train agency colleagues in news writing and assist with media training of spokespeople at the Manchester-based agency.
Dad of two Sam, 35, says: "Telling stories is only half the job now. With the changes to the media landscape, brands need guidance more than ever before as to the best ways to get in front of their target audiences.
"As well as an experienced national journalist's nose for a story, I know the best way to amplify these people and events to make a real difference to Democracy's exciting roster of challenger brand clients."
He added: "Post COVID, the newsroom is transformed. Audiences are getting content in so many different ways now that we add the greatest value to brands by guiding them in how and where to tell stories for the biggest impact and best outcomes."
Jen O'Grady, head of agency at Democracy, said: "Sam brings insights straight from the UK's biggest news publisher as to how content moves up and down its network and we recognise the potential this has for our clients is huge. It will supercharge our ability to shape and grow their reputations and – ultimately – their businesses.
"As an agency we have always valued the power of having journalists fresh from the newsroom in the team. Sam is the latest to make this journey and he's already rolling his sleeves up to deliver top tier coverage for clients."
::
North West PR and marketing communications consultancy, Freshfield, has appointed experienced marketing professional Danny Green to its PR and communications team.
Danny joins as PR and communications manager from content marketing agency, Insightful Communications, which is part of the agricultural media group, Agriconnect.
During his time as client marketing manager at Insightful Communications, Danny worked on sector-led campaigns for clients including Morrisons, Tesco and Harper Adams University.
Prior to his spell at Insightful Communications, Danny was marketing manager at Manchester-based property company, Bruntwood Works, where he managed a marketing portfolio of property projects across the North West.
Simon Turner, Freshfield CEO, said: "We're always looking for fresh talent who can help our clients solve big communications challenges.
"Danny brings a diverse skill set spanning strategy, planning, media relations, content marketing and digital, as well as direct experience of working in sectors we specialise in. We were hugely impressed with Danny's creativity and values, he'll be a good fit for our team and clients."
Danny, who has a media and film degree from the University of Central Lancashire (UCLan) and a Hubspot Inbound Marketing Qualification, said: "Freshfield is a business I have been aware of for many years and am hugely impressed with its sense of purpose, values and the way it supports clients. I am excited to be joining the team and playing my part in helping our clients achieve their goals."
Freshfield has offices in Preston and Manchester and provides a range of specialist services across its consultancy, PR campaigns and branding and design divisions.
::
Full-service provider of traditional and digital signage solutions, Astra Group, has unveiled a new group structure as it eyes continued growth.
The news follows the unveiling of the Manchester-based business's new group identity in 2022, bringing its digital solutions arm, ADXBA, and bespoke architectural signage arm, Astra Signs, under the one brand.
The announcement sees the centralisation of the business's sales and marketing departments alongside certain backend operational functions.
Former sales director, Paul Dyke, steps into the newly created role of group sales director, responsible for the continued UK and international expansion of the business, and leadership of the 10-strong sales team. He reports directly into Astra Group CEO, Jim Kerr.
Supporting Dyke in driving sustained business growth is Joseph Derbyshire, who is promoted to head of business development. A long serving member of the Astra team with more than 10 years' experience, Derbyshire will leverage his extensive knowledge of signage as well as the UK market to further develop the business's relationships with new and existing clients.
Joining the sales division and bringing further extensive signage expertise to the business, particularly in the wayfinding space is Jac Lloyd-Jones, who joins from WIDD Signs in the role of business development manager. It's a welcome reunion for Dyke and Lloyd-Jones, who previously worked together at IS Group.
The sales team will be driven out of Astra's Manchester headquarters with input from regional hubs in London and Dublin.
Group CEO, Jim Kerr, said: "The new group structure follows an in-depth review of our management division, physical locations, continued integration of systems and more. It completes what I like to refer to as the collaboration phase of the business, further to our uniting the digital solutions and traditional signage arms of the business under the one group identity last year."
Paul Dyke, said: "The level of combined digital and traditional signage expertise we are proud to offer clients, along with our unrivalled technological capability and national and international reach, positions Astra Group at the forefront of the market. I'm looking forward to working with Joe, Jac and the wider team to further leverage our market-leading, fully fledged end-to-end offer here in the UK and overseas."
::
Savills has announced the appointments of Andrew Rowland, Gareth Evans and Kelvin Archer to its expanding rural practice across the North West.
Andrew and Gareth will join the firm's estate management team in its Chester office, while Kelvin will be based in the Carlisle office as part of the wider forestry team.
During 2022, Savills appointed 162 people to its Rural division, with 29 of these joining teams in the North.
Andrew, who is a rural Chartered Surveyor and a member of the Central Association of Agricultural Valuers (CAAV), will provide estate management services in addition to strategic land and property advice to a mixture of private and institutional clients across Cheshire and the North West.
Prior to joining Savills, he was extensively involved in the management of a rural estate that involved residential, commercial and agricultural portfolios, including the management of lettings, preparation of agreements, rent reviews and managing debtors.
Arriving alongside Andrew is Gareth, a soon-to-be-qualified rural land agent who is a graduate of Harper Adams University. Joining from Strutt and Parker, where he gained experience of estate management matters such as financing, valuations and the letting and leasing of agricultural and residential property.
As part of his role, Gareth will also be providing consultancy advice to new and existing landowner clients throughout the North West.
With almost 10 years' experience in forestry and woodland management, Kelvin spent the previous two and half years as forest manager and wildfire officer at The Woodland Trust.
His role at Savills, where he has been appointed forestry manager, will see him providing woodland management to a mixture of private estates and institutional landowners across Cumbria and Lancashire, while supporting the firm's existing work and new woodland planting projects in Northumberland, Yorkshire and other parts of the UK.
Paul Hutchinson, director and head of rural at Savills in Chester, said: "We have a strong presence throughout the North of England and Andrew, Gareth and Kelvin will be instrumental in the delivery of the firm's growth plans and strategic objectives."
::
Manchester-based QASSS, a resolution services provider to the home improvement and renewable energy sectors, has appointed a new financial controller as it continues to scale up operations.
Qualified as a Chartered Accountant, Nick Hulme will be heading up QASSS's finance department, which also includes a newly formed supply chain function.
Nick has more than 30 years' experience as a finance professional, with previous roles including finance director for a large North West-based printing company and contract accountant for Lancashire County Council.
Most recently, Nick had been providing financial support services to QASSS while working for its parent group. He will now be joining QASSS on a full-time basis, helping to oversee an anticipated period of rapid growth.
The business has ambitious growth plans for 2023, targeting a 153% year-on-year revenue increase, which will see it expand its client count by 50% and double its current headcount.
Nick said: "I'm really looking forward to getting started in my new role at QASSS. The business already has a clear growth strategy in place and I'm pleased that I have the opportunity to play a key role in bringing that strategy to life and helping the business to continue to flourish."
Ciarán Harkin, managing director of QASSS, said: "We've appointed Nick at a really exciting time for the business as we accelerate our growth ambitions.
"Nick has a wealth of experience in the industry and is already very familiar with our business and our plans for the coming year. He has the skills and expertise to ensure the smooth running of our financial operations and assist the wider team with implementing strategy for scaling up."