People: Together; iSH; Cartmell Shepherd Solicitors; Banc; GSC Grays; Altius; Moorfields; Walker Engineering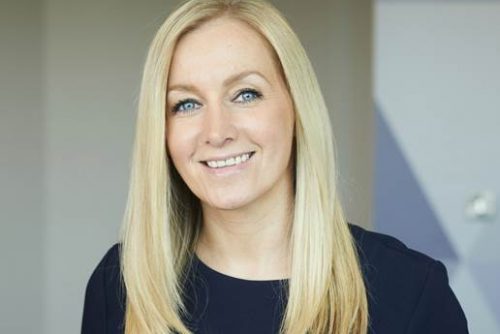 Specialist lender Together has appointed Chloe Cotgrave to the position of personal finance chief operating officer.
Her remit will be overseeing all operational areas for Together's personal finance customers, including the underwriting, customer service and collections departments, as well as first line assurance and customer experience.
Chloe joined Together six years ago, first as head of customer assurance and experience later becoming head of customer transformation. She was responsible for delivering significant projects for the Cheadle-based lender, and has played a key part in driving the company's increased understanding and use of customer feedback, Net Promoter Score (NPS) and Voice Of Customer (VOC).
Previously, she has held positions in industries including automotive services and energy, playing an important part in large organisations such as The AA, British Gas and Centrica.
As a result, she brings to her new role a fundamental understanding of customer service, with experience leading change programmes to deliver positive outcomes for customers, and excellent communication and leadership skills.
Chloe said: "Having started in a call centre myself, I have a firm understanding of what it's like to work on the front line supporting customers. I will continue to work with the excellent personal finance team to deliver our strategic objectives and deliver great service to our customers."
Pete Ball, CEO of personal finance at Together, said: "I am pleased to be able to announce Chloe's appointment into the senior leadership. She brings a wealth of skills, experience within our company and a passion and drive that is a true asset to the business.
"Her promotion is a great example of succession planning in action, and it is particularly pleasing that we are able to fill this role internally. We have an incredibly healthy pipeline of talented people at Together, which both supports colleague's career aspirations and delivers benefits at all levels of the business."
::
A co-founder of a trailblazing initiative brings her far-reaching experience and innovative thinking to an organisation focused on creating more than 700 jobs.
Miranda Kirschel, who set up and led the Women in Nuclear UK (WiN UK) initiative and received an MBE for service to equal opportunities in the nuclear industry, has joined iSH (Industrial Solutions Hub) as regional representative.
Miranda, who was also head of European business development for Atkins, an executive with EY, and head of business and innovation with Cumbria Local Enterprise Partnership, is excited to be joining iSH, which aims to transform communities across West Cumbria through employment opportunities which increase the region's capability.
She said: "I am excited by the opportunity to be part of a regeneration programme which is supported by government and key stakeholders in Cumbria and to have the opportunity to help put West Cumbria on the map for business, innovation and technology.
"iSH will engender collaboration and innovation, production of technology and manufacturing. We will be creating jobs, helping with training and skills and raising visibility of the capability in the region, nationally and internationally.
"It is my job to join the dots, to bring businesses and stakeholders together to enable programmes to happen which will promote the capability of West Cumbria and attract inward investment. This will lead to more diversity and less dependency on one sector and one client for the long term benefit of the region."
Miranda, who started in her new role with iSH on March 14, said: "I am here, ready and driven, to do a fantastic job for Cumbria and to serve, and deliver for, West Cumbria. I am very excited about the opportunity and am 100 per cent committed to making this a success."
John Maddison, iSH managing director, said: "Miranda brings skills and expertise which immediately add to iSH's capability and, equally importantly, she shares the values and ethos which are so important to all the team at iSH in terms of what, why and how we are delivering for the region of West Cumbria, including for the area's people, communities and the environment.
"We have already identified lots of exciting opportunities to collaborate with businesses, industry, research and development organisations, academia, communities, and stakeholders which will help increase the region's capability and deliver on iSH's mission."
::
A legal firm is investing in the future by promoting six members of its team to key positions.
Cartmell Shepherd Solicitors has made the appointments as part of its commitment to strengthening and developing the firm, which employs more than 90 people based at its six offices across Cumbria and Northumberland.
The internal promotions include the appointment of Kendra Winter to senior associate solicitor and Shannon Bateson, Emma Blamire and Holly Berwick to associate solicitors. Jane Oakley has been promoted to an associate legal executive, while Sarah Heal becomes an associate executive.
Managing director, Peter Stafford, said: "Providing opportunities for our team to develop within the business is critical to our ongoing success. Our career structure offers our team the opportunity to progress at all levels where their ambition, skill set, commitment and dedication are recognised and rewarded.
"As well as career development for our solicitors, from trainee positions right through to directorships, we offer clear career pathways for non-solicitor roles such as paralegals and conveyancers, and our support staff."
Newly promoted Kendra, who is based at the Brampton office, joined Cartmell Shepherd in 2014 and is part of the wills, probate and inheritance team. She specialises in providing advice relating to wills, Court of Protection applications, powers of attorney, and the administration of trusts and estates.
Shannon is part of the family law team, dealing with all aspects of marital law, divorce, children, cohabitation and domestic violence, and is based between the firm's offices in Cockermouth and Carlisle city centre, while Emma and Holly both work in the agriculture and estates team. Jane and Sarah are part of the wills, probate and inheritance department.
Cartmell Shepherd Solicitors works with clients across Cumbria, Northumberland and nationally. Its six offices are at Rosehill Carlisle, Carlisle city centre, Brampton, Penrith, Cockermouth and Haltwhistle.
::
Manchester digital marketing agency, Banc, has expanded its digital strategy and production team with four new hires, appointing a paid media specialist, a junior content & SEO executive, a senior paid media executive and an SEO executive to its existing team of experienced digital marketing professionals.
Banc's managing director, Martin Cozens, said: "We're very excited to welcome Tom, Ellie, Mitchell and Nathan to Banc. We're always on the look out for great talent and we've definitely found that with our latest hires."
He added: "We want the very best to join us to help develop our product suite and offerings as Banc continues to grow. It's a great feeling that we're still in a position to attract top new talent."
Banc's head of digital, Kate Woods, said: "It's been great to see the digital marketing team expand in such a short space of time. The new team members have already fit in well, making great changes within the teams."
Across Banc's paid media department, the agency has welcomed Tom Hornby, who's taken on the role of paid media specialist and Mitchell Dannheimer who has filled the position of senior paid media executive.
Tom has more than eight years of paid media experience under his belt and worked across almost every industry including pharmaceuticals, fashion and B2B, with clients such as UKMeds, iHeat and BT to his name. Mitchell, meanwhile, brings with him a range of experience that includes working with the likes of Industville, Pretty You London and Bed Divans.
Joining Banc to help strengthen the SEO offering, Nathan Bretherton takes on the role of SEO executive. With three years of SEO experience, Nathan has worked with a range of B2B and B2C clients at his previous agency TAO Digital.
Filling the position of junior content and SEO executive is Ellie Costain. Ellie has been working in SEO and content for two years at THG Beauty, racking up experience across the in-house marketing team.
Ellie said: "As well as their impressive client portfolio, I was drawn to Banc because of their huge focus on culture and people – the team is full of inspiring experts who are open to helping and furthering your development."
::
GSC Grays, the rural land and property specialist, has added two more key members of staff to its new Kirkby Lonsdale office as part of the company's expansion in the North West of England.
Simon Waller, general practice director, and James Bush, associate farm business consultant, have joined Sam Cole and Holly Story in the office at Kirkby Lonsdale.
Simon is a property consultant and Chartered Surveyor with more than 25 years of experience in land agency, estate management and residential development. He offers a broad experience within the planning and development team offering the rare combination of having worked for both developers and the land owning and farming sector.
James has worked as a farm and estate manager in North Yorkshire for the past 17 years, following several years practising as a farm business consultant in the county. He has been heavily involved in several diversification projects including biomass production and direct farm-to-consumer sales.
David Gray, chairman, said: "Simon and James join GSC Grays at an exciting and challenging time with our ambitious expansion plans designed to deliver our expertise to an ever increasing number of clients in the North West."
::
Altius, a firm of business brokers based in Preston, has appointed Kevin Allcock as its first ever Chief Operating Officer. His appointment takes the headcount to 65 with ambitions to double in size. He brings with him a wealth of experience having operated at board level within several private equity-funded, private corporate, public corporate, and entrepreneurial organisations and has previously worked at Whitbread PLC, the Hemway Group, the Rank Group PLC and the Stonegate Group.
::
Moorfields have appointed a new partner Mark Delaney to head up a new Preston office. With more than 23 years' experience in restructuring and insolvency he will be based at South Preston Office Village, Bamber Bridge. The office launch supports the firm's growth strategy to service clients in the North and increase offices throughout the UK from an existing presence in London, Gatwick and Worthing.
::
Continuing its growth throughout the UK, mechanical and fabrication experts Walker Engineering has announced the appointment of new experienced contracts manager, Ian Brown, growing its total headcount to 26 in the process.
With almost five decades' worth of experience in the sector, Ian has previously worked for a host of well-established firms throughout the North West, with his latest role coming at Cheshire-based DRB Group between June 2015 and January 2023.
With his contract management experience dating back as far as 1999, the highly skilled engineer's role at Walker Engineering will now focus on everything from client management, the estimation and procurement of materials and the leadership of on site teams to ensure that client projects are delivered in a timely manner.
Managing director, Andy Walker, said: "As a family business, the success of the company must always be accredited to the hard work, dedication and determination of our team.
"Ian's extensive experience of working with people, whether that be staff members or clients is second to none and I have no doubt that he will play a pivotal role in helping us deliver and win plenty more contracts and projects across the UK in 2023 and beyond."
Ian Brown, said: "Walker Engineering has a long and proud reputation in the industry, especially in the North West. They are a company that is on a real upward trajectory and I am looking forward to working with Andy and the rest of the team to continue to provide exemplary service for our clients both new and old."
Ian's appointment comes after the Skelmersdale-based firm reported 10 new large project wins in Q1 of 2023, totalling in excess of £725,000.