'Place leaders need to come together' to make innovation districts succeed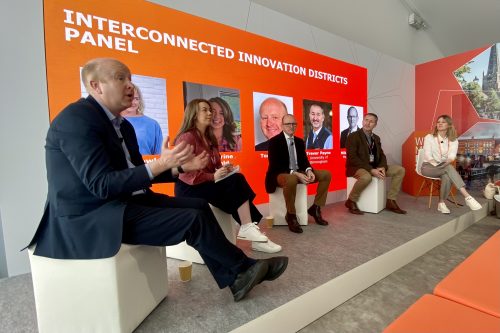 The role of innovation districts in growing the technology and science-led part of the economy and delivering wider economic benefits, came under the spotlight at a panel event on the West Midlands stand at MIPIM.
Catherine Hadfield from the Connected Places Catapult said: "When creating a hub of innovation or an innovation place, it's not one person's job – some people think they have to do more than they do.
"I think place leaders need to come together. I think there's a real role in terms of partnerships. So local authorities, obviously play a huge role, whether it be around regulation and convening partners together, developers play a role in terms of creating buildings that are permeable and public realm, you've got other roles around funding incentives, universities obviously play a huge role, SMEs can be flexible and can innovate really quickly, and you've got your anchor institutions.
"Each of those organisations have a role to play in that and need to recognise the work together towards that common goal. When people have that shared strategy and mission, I think that's when it when it works really well."
Tom Bridges, UK Government and innovation leader at Arup, said: "Getting this pull through to the wider economy, I think it's really hard.
"In the UK we're quite good at the 'R', we're less good at the 'D'. I think there does need to be a spatial vision around innovation districts with a broader investment strategy and package of investment in R&D in places is critical.
"We don't invest enough in R&D in the UK and the public sector doesn't invest evenly across the UK, they don't even follow where the private sector investors go, as work by Richard Jones and Tom Forth has shown. That's why I think the innovation accelerator in the West Midlands is really positive."
Metro Dynamics' Mike Emmerich highlighted the disconnect that often exists between a stated desire for innovation districts to be part of their local communities, and have a social impact, and the reality of delivery.
"If what you want to do is for the people around innovation districts to start to have prosperity. Well, not having everyone on a zero hours contract, not having everybody on the minimum wage, not having everybody working with no training, is a very good way to start that," he said.
"If you're bringing the education system on at the same time, you can really start to make progress. The reason we're doing that is not just enlightenment, it's self interest too, because all the evidence shows that the more diverse the group of people making decisions, the better the decisions are likely to be.
But his experience working on major, place-based innovation around the UK has led him to be sceptical because people usually can't answer one question.
"Whose job depends on it?," asked Emmerich. "Who actually has the day job of making this happen? And the answer is very often nobody, and that's a really important next step."